Cosy up with our latest Winter reads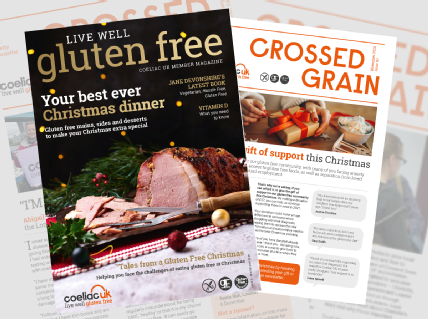 6 November 2020
Crossed Grain
Your November Crossed Grain newsletter is now available to read online, so you can stay up to date on everything that's happening in your gluten free community.
See what we achieved during our Challenge Weekend, learn more about our Christmas appeal, and find out how to take part in our exciting Fundraising Auction, plus much more. Read Crossed Grain here.
Live Well Gluten Free
Your winter edition of Live Well Gluten Free is also out now. In the latest issue of our member magazine, you'll find:
18 pages of delicious seasonal recipes
a sneak peek at Ambassador Jane Devonshire's new cookbook, Vegetarian, Hassle Free, Gluten Free
the latest on our new campaign, Tales from a Gluten Free Christmas.
Plus all of the usual gluten free news, products, advice and information.
Members can log in and read online now. Read our magazine here.
If your publications are usually delivered by post, you will receive them from 6 November onwards.
Not a member? Visit our online shop to get your printed copy.