Asda is the first supermarket to sign up to our Gluten-free Guarantee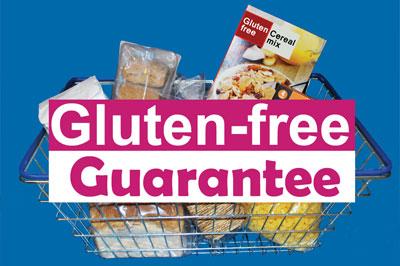 15 September 2014
During Awareness Week this year, we asked supermarkets to sign up to our Gluten-free Guarantee and agree to stock a core range of eight gluten-free items in all their stores to help you manage your gluten-free diet more easily.
And we're delighted to announce Asda as the first supermarket to sign up to the Guarantee, with all Asda stores across the country – including smaller stores - stocking the eight core gluten-free items from today (15 September). The eight gluten-free staple items are: white bread, pasta, cereal, flour, cereal bars, rolls, crackers and one other bread (brown or seeded).
Three other leading supermarkets - Waitrose, Tesco and Marks & Spencer - have also made significant progress in meeting the Gluten-free Guarantee. Sarah Sleet, Chief Executive of Coeliac UK, said: "We are delighted that four of the UK's leading supermarkets have risen to our Gluten-free Guarantee challenge, and we will continue to work with these and other UK supermarkets to make shopping for the basics an exercise free from hassle and frustration."
Find out more on the campaign and read our full press release on the announcement.
Back to news listings
Print page
Add to My Scrapbook