Awareness Week 2019 - Is your IBS actually undiagnosed coeliac disease?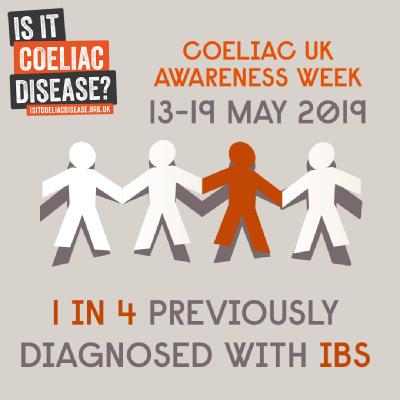 7 May 2019
Awareness Week takes place between 13 – 19 May and we're focusing on diagnosis so that more people ask themselves, 'Is it coeliac disease?'.

With only 3% of British adults aware that the symptoms of IBS (irritable bowel syndrome) are also common symptoms of coeliac disease, we are calling on greater awareness of the similarity of symptoms and urge anyone with IBS to ask their GP for a coeliac disease blood test, if they have not already had one.

As many as 1 in 4 people with coeliac disease were previously misdiagnosed with IBS as many of the symptoms for IBS such as bloating, stomach pains or cramps, diarrhoea or constipation and feeling exhausted are the same as the symptoms of coeliac disease.
Norma McGough, Coeliac UK Director of Policy, Research and Campaigns said: "It is essential that awareness of the similarity of the symptoms increases and that GPs adhere to the NICE (National Institute for Health and Care Excellence) guideline which states that anyone with IBS symptoms should be tested for coeliac disease before a diagnosis of IBS is made."

Read our press release for more details.
Get involved
No matter how much time you have, there is something you can do to help raise awareness. Huge thanks to everyone who has already ordered a pack. So many of you have joined in that we have run out of leaflets! However with posters and symptoms speech bubbles, there are still so many ways to spread the word.
Join Coeliac UK's Awareness Week now at www.coeliac.org.uk/AW19
Back to news listings
Print page
Add to My Scrapbook