Coeliac UK supports the World Pasty Championships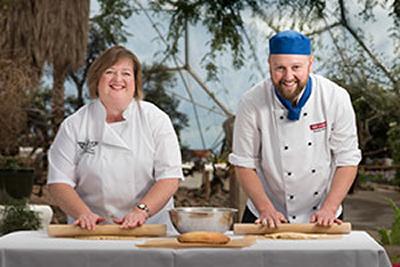 22 February 2017
For the first time, amateur pasty makers can enter a gluten free category in the World Pasty Championships held at the Eden Project on 4 March.
Coeliac UK is supporting the event as it is giving gluten free pasties a world stage and raising awareness of the need for more gluten free alternatives for people with coeliac disease.
Anyone can enter the competition so if you've got a mean gluten free pasty recipe, why not enter and get your recipe included as part of the competition.
Coeliac UK will be at the event on 4 March raising awareness and talking to people in the south west so come and see us if you're there for the day.
For all World Pasty Championships rules and entry details go to www.edenproject.com/pasty/.
Photo: Let Them Eat's Managing Director Lisa Hackett and Eden Project Senior Sous Chef Simon Fooks prepare for the World Pasty Championships, which includes a gluten free category this year.
Back to news listings
Print page
Add to My Scrapbook