Coeliac UK welcomes Food Standards Agency funded research on eating out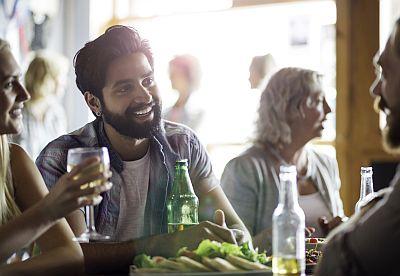 18 July 2017
Coeliac UK welcomes the new research published by the Food Standards Agency (FSA) today, showing increased confidence in eating out since the Food Information Regulation's rules on allergen information were introduced in 2014. Coeliac UK was involved with the FSA funded research which shows comparable results to its own research, specifically looking at eating out in people on a gluten free diet.
We know that for people with coeliac disease eating out is a top concern, and have seen improvements. 86% of people on a gluten free diet say that the experience of eating out has improved or much improved over the last three years. But there is still room for improvement with 54% of people on a gluten free diet reporting that the overall experience of eating out gluten free is difficult or very difficult, and 66% report the whole experience as somewhat or very frustrating*.
For people with coeliac disease, clear information is essential to make a decision on where to eat out and the Food Information Regulation has provided a good basis for caterers to work to. Whilst information on deliberate allergens is a fantastic improvement we are encouraging all caterers to label food gluten free to show their customers what they can eat without fear of cross contamination. As highlighted in the study, providing clear information is good for business both for consumers with coeliac disease or an allergy or intolerance, and the friends and family they eat out with.
Our chief executive, Sarah Sleet is today speaking at Westminster about the challenges faced by people with coeliac disease and following a gluten free diet, and discussing the research findings. The event is part of the All Party Parliamentary Food and Health Forum which provides an opportunity to highlight issues to MPs, Peers and experts in their field.

Sarah is sharing the floor with Heather Hancock, Chair of the Food Standards Agency, who also has coeliac disease. We know that eating out is a top priority which is why it has been the focus of our recent campaign, the Gluten Freevolution. We have also collaborated with the Food Standards Agency on our recently published guidance; Catering gluten free: how to get it right.
*Coeliac UK Eating Out Survey – May 2016 (n= 9,186 people on a GF diet and 972 parents of children on a GF diet)
Back to news listings
Print page
Add to My Scrapbook