Coeliac UK's Gluten Free Food Festival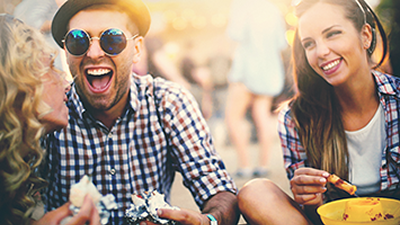 7 June 2017
Join us at our first ever gluten free food festival on 24 June in Salford with special guest, TV presenter Chris Bavin who will be doing a cookery demonstration on the day.
The event is free to attend – but you must register for tickets in advance* - and takes place from 11am – 3pm at the AJ Bell Stadium. You'll have the chance to sample and buy a whole range of gluten free delights from local and national gluten free producers and see what new products are available.
Chris Bavin said:
I am thrilled to be doing a cookery demonstration at Coeliac UK's first Gluten free food festival in Salford. My wife has coeliac disease and so I'm looking forward to meeting and chatting to people who are coming along on the day and will no doubt pick up ideas of new products and tips to take back home.
There will be over forty stands from bakeries to breweries including the event sponsors, Genius and Crabbie's Alcoholic Ginger Beer. You'll also be able to book a face to face chat with a registered dietitian in a free dietetic clinic, visit the Coeliac UK Hub, listen to specialist talks led by leading Gastroenterologist Professor David Sanders and watch a range of cookery demonstrations hosted by Coeliac UK's Home Economist. The day will include a round up from us and our annual general meeting.
*The event is now at full capacity so registration is closed.
Back to news listings
Print page
Add to My Scrapbook