Making the case for gluten-free prescribing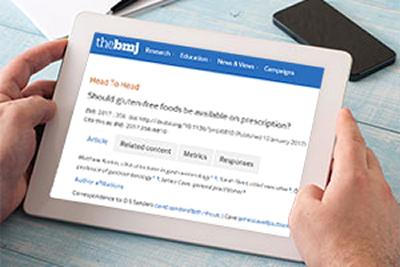 11 January 2017
We are fighting for gluten-free prescribing and we have stepped up the campaign with an experts' debate to be published in The BMJ (previously called The British Medical Journal).
In an article published today, Wednesday 11 January 2017, the BMJ presents a 'head to head' argument over gluten-free prescribing in the NHS. Both contributors agree that patients with coeliac disease should receive support from the NHS to access gluten-free staple foods and the article explores the way that support is provided.
Matthew Kurien, clinical lecturer in gastroenterology, Professor David Sanders, and Sarah Sleet Chief Executive of Coeliac UK present the case for ensuring ongoing access to gluten-free staple foods and highlight that removing prescriptions unfairly discriminates against people with coeliac disease. They explain that gluten-free food staples such as pasta are three to four times more expensive than comparable gluten-containing products and gram for gram, gluten-free bread is six times more expensive than regular gluten-containing bread in the supermarket.
They explain that "targeting gluten-free food prescriptions may reduce costs in the short term but there will be long term costs in terms of patient outcomes" and point out that there is no other example in the NHS of a disease having its treatment costs cut by 50-100%.
On the other side of the argument, James Cave, a GP from Newbury, suggests an alternative would be a national voucher scheme or a personalised health budget for patients so they receive the difference between the cost of gluten-free products and the prescription.
In addition a Member of Coeliac UK, whose daughter's prescriptions were cut over a year ago, has provided a patient's view on the difficulties faced when struggling on a limited weekly food budget to find low cost gluten-free foods to feed her daughter.
We hope the articles will go some way to supporting the case for gluten-free prescribing and give more of an insight into why this support is needed for people with coeliac disease.
The articles, along with a short audio debate, will be published on the BMJ's website from Wednesday 11 January and published in the next edition of the hard copy of the magazine. The article will be free to view for a week from today at www.bmj.com/content/356/bmj.i6810. After that it can only be viewed by those who subscribe (payment required) to the publication which we hope includes a vast number of medical professionals. We also envisage further coverage of the debate in national, regional and trade publications. Read our press release on this debate.
Back to news listings
Print page
Add to My Scrapbook