New gluten free cookbook from BBC MasterChef Champion Jane Devonshire
14 May 2018
We're delighted to announce that BBC MasterChef Champion Jane Devonshire will be releasing a new gluten free cook book this year in association with Coeliac UK.
Hassle Free, Gluten Free, which will be available from 20 September 2018, is packed full of great gluten free recipes for the whole family. Jane has been passionate about gluten free cooking ever since her son Ben was diagnosed with coeliac disease at the age of two, and nearly all of her show stopping dishes on MasterChef were gluten free.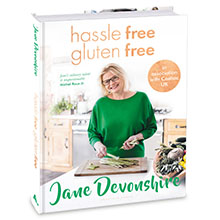 In chapters like 'nibbles, small dishes and lunches' and 'dinner, supper and food for guests', you'll find a huge range of flavours and textures, from classic minestrone soup to fragrant harissa mac and cheese. Desserts include an amazing peanut butter cheesecake, and Jane's chapters on 'cakes, muffins and pancakes' and 'breads and doughs' will get you hooked on gluten free baking.
Each recipe, as well as being checked by Coeliac UK, is delicious and easy to make, challenging the assumption that gluten free food is difficult and inaccessible. Sarah Sleet, Chief Executive of Coeliac UK said, "Jane is a fantastic supporter of the charity and we're thrilled to have worked with her on the cookbook, which will be a wonderful source of inspiration for many people who need to live a strict, gluten free diet for life."
So why not pre order your copy on Amazon now? It will be available to purchase from 20 September. Don't forget to purchase via smile.amazon.co.uk and select Coeliac UK as your chosen charity!
Back to news listings
Print page
Add to My Scrapbook