Your location: Home
Our work in Scotland
Our work in Scotland
Myles Fitt, Scotland Lead
Myles has over 15 years campaigning experience and was previously Policy & Public Affairs Manager in Scotland for Breakthrough Breast Cancer before joining Coeliac UK in January 2015. He has held similar positions for Asthma UK and Citizens Advice Scotland and also spent several years in consultancy working for a wide range of health clients. He has experience of working in both Scottish and Westminster parliaments. In 2009 his daughter Niamh was diagnosed with coeliac disease when she was just 17 months old.
Our work in Scotland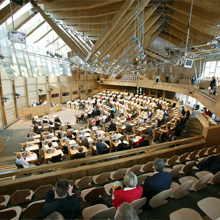 We want to help the estimated 40,000 undiagnosed people with coeliac disease in Scotland get the diagnosis they need.
We want to help those with coeliac disease in Scotland receive the best healthcare from the NHS.
We want to help those with coeliac disease in Scotland have a gluten free diet which is varied, affordable and trusted be that in the home or when eating out.
We are currently working closely with the Scottish Government and NHS Scotland to deliver a National Coeliac Disease Patient Pathway so that from diagnosis to treatment to follow up care, people with coeliac disease get equal access to high quality clinical care. We are also working with the Scottish Government to ensure those with coeliac disease who use prescriptions get the most out of the Gluten Free Food Service, the new national scheme for providing gluten free food through Scotland's pharmacy network.
Our Gluten free Guarantee campaign is benefiting people with coeliac disease in Scotland, where supermarkets agree to make a basket of eight staple gluten free food products available in all stores, ensuring availability and helping people with coeliac disease to manage their gluten free diet with ease. At present, Asda and Morrisons have signed up to this campaign and we are confident that others will follow.
We also work closely with the catering industry in Scotland to provide more gluten free menu options, offering training and accreditation so that customers with coeliac disease have assurance that they can enjoy safe gluten free options when eating out.
If you would like to know more about our work in Scotland and find out how you can support us please contact Myles at myles.fitt@coeliac.org.uk
Print page
Add to My Scrapbook