Your location: Home
Our work outside the UK
Our work outside the UK
Our coeliac society is the oldest and largest in the world and we are often seen as leading the way for other coeliac organisations.
With many of our laws originating in Europe, particularly those around labelling and food, working at European level is an important part of our work. We lobby the European Parliament and work with our European colleagues on legislation that affects us all.
As the owner of the worldwide rights to the trademark protected Crossed Grain symbol we are involved in developing gluten free markets worldwide. Interest in obtaining a license for the use of the symbol is steadily on the increase and we have been approached by gluten free producers from the Americas, Australia and the Far East.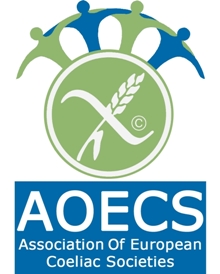 Association of European Coeliac Societies (AOECS)
We are members of the Association of European Coeliac Societies (AOECS), the umbrella organisation of national coeliac societies in Europe. AOECS is an independent, not for profit organisation coordinating international activities and addresses matters of common interest to its members. Sarah Sleet, Coeliac UK's Chief Executive, has been an AOECS Board member since 2009 and served as its Chair from 2016 until 2018. The newly appointed Chair is Tunde Koltai of the Hungarian Coeliac Society. The Association's administrative staff is based in the UK with a registered office in Brussels. Visit the AOECS website for more information.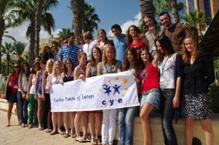 Coeliac Youth of Europe (CYE)
The Coeliac Youth of Europe (CYE) focuses on networking and improving conditions for young people with coeliac disease. It is a working group of the AOECS and its representatives are selected from national coeliac societies across Europe. The CYE annual general assembly is linked to the AOECS general assembly and takes place each year in a different European location. For more information on CYE's activities, which include an annual summer camp in one of its member countries, visit the CYE website.
International organisations
Our international work is not restricted to Europe and we collaborate particularly with coeliac organisations in the Americas and Australasia. Listed below are links to some of the main international coeliac organisations:
ARGENTINA
Asociación Celíaca Argentina - ACA
www.celiaco.org.ar
AUSTRALIA
Coeliac Australia
www.coeliac.org.au
info@coeliac.org.au
BRAZIL
Asociación de Celiacos de Brasil - ACELBRA
www.acelbra.org.br
CANADA
Canadian Celiac Association
www.celiac.ca
info@celiac.ca
CHILE
Fundacion Convivir
www.fundacionconvivir.cl
contacto@fundacionconvivir.cl
CHINA
gluten free Shanghai
www.glutenfreeshanghai.com
contact@glutenfreeshanghai.com
COSTA RICA
Asociación Pro Personas Celiacas de Costa Rica
www.celiacoscr.com
asociacionpropersonasceliacas@gmail.com
INDIA
Celiac India
www.celiacindia.org.in

IRAN
Iranian Celiac Disease
www.celiac.ir
ISRAEL
Celiac Association of Israel
www.celiac.org.il
office@celiac.org.il
MEXICO
Asistencia al Celíaco de México - ACELMEX
www.acelmex.org
ceciliafonolla@acelmex.org
NEW ZEALAND
Coeliac New Zealand
admin@coeliac.org.nz
www.coeliac.org.nz
PAKISTAN
Pakistani Celiac Society
www.celiac.com.pk
info@celiac.com.pk
PANAMA
Fundación de Celiacos de Panama (FUCEP)
www.acepa.blogspot.com
fucepa06@hotmail.com
PARAGUAY
Fundación Paraguaya de Celiacos – FUPACEL
www.fupacel.org.py
secretaria@fupacel.org.py
SAUDI ARABIA
Saudi Celiac Patients Support Group
www.saudi-celiac.com
webmaster@saudi-celiac.com
TUNISIA
Association Tunisienne de la Maladie Coeliaque
www.atmc.org.tn
atmc@topnet.tn
Tel: 00216 71 98 1268
TURKEY
Cölyakla Yasam Dernegi
www.colyak.org.tr
UNITED ARAB EMIRATES
Gluten Free – U.A.E
www.glutenfreeuae.com
glutenfree.uae@gmail.com
URUGUAY
Asociación Celíaca del Uruguay - ACELU
www.acelu.org
consultas@acelu.org
USA
Celiac Disease Foundation
www.celiac.org
celiacfoundation@celiac.org
Celiac Sprue Association
www.csaceliacs.info
info@csaceliacs.org
Useful links
European Food Safety Authority (EFSA)
European Patients' Forum (EPF)
International Alliance of Patients' Organizations (IAPO)
International Society for the Study of Celiac Disease (ISSCD)
Mediterranean Network for the Management of Food-Induced Diseases (MEDICEL)
The European Society of Paediatric Gastroenterology, Hepatology and Nutrition (ESPGHAN)
United European Gastroenterology Federation (UEGF)
CD Medics
PreventCD
Print page
Add to My Scrapbook