Your location: Home
Hear from our volunteers
Hear from our volunteers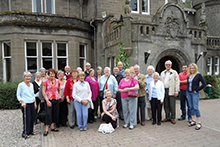 We are lucky to have over 80 Local Voluntary Support Groups around the country giving on the ground help to those who need it most, as well as a network of volunteers who work for the Charity, for example by campaigning in their local areas and carrying out surveys in support of our research. We are indebted to them for giving us their time and benefiting others with their experience.
Hear from some of our Volunteers on their work with us
David Apps
Sevenoaks Local Voluntary Support Group

I support and volunteer for Coeliac UK because other family members as well as myself suffer from coeliac disease. The amount of suffering felt due to the long diagnosis time and the problems this can cause in later life requires help and support in bringing awareness to the general public. This is why I joined the Local Group and is what I am trying to do.
Prakash Nayee
Former Group Organiser for the Cambridgeshire Local Voluntary Support Group

I was diagnosed with coeliac disease in 2001 and was shocked as to what little gluten-free food was readily available in the supermarkets. However, being Indian, most of our food is gluten-free, so I didn't have a huge lifestyle change apart from bread and chapattis. The first year was a steep learning curve but as a scientist I didn't find it difficult to understand what having coeliac disease was about.
It was only in the second year that my wife and I decided to attend my Local Voluntary Support Group. We found it very valuable and we gained much knowledge and handy hints as far as Western cooking goes. It was there that I became part of a community and my father had taught us from a young age: "Don't ask what can my community do for me, but ask what can I do for my community?"
It was for this reason that I wanted to help my Local Group become one of the best in providing support, helping newly diagnosed, veteran, young and old people with coeliac disease with how to cope. I wanted to help understanding what the consequences of having coeliac disease are and get guidance for a gluten-free diet as well as tips and recipes for gluten-free cooking.
I also wanted to bring a variety of companies and eating venues within our reach so that we have a good choice in being able to eat out safely and be able to buy gluten-free food easily.
To achieve all this I became the Cambridgeshire Local Voluntary Support Group Organiser (2010-2013). I wanted to do my bit and create an all round family friendly support group.
Shirley Chapman
Watford and Hemel Hempstead Local Voluntary Support Group
When I was newly diagnosed I was so thankful to find my Local Group. When they needed a secretary I thought what a good opportunity it was for me to help others like they had helped me all those years ago and I am still on the committee now.
Without our help where would all the newly diagnosed go for support? Coeliac UK need all their resourcing in fights to improve our lives.
Steph Cox
Buckinghamshire Local Voluntary Support Group

I've been a Member of Coeliac UK, previously the Coeliac Society, for almost 40 years and been actively involved with the Local Group in Bucks since the beginning.
Coeliac UK has made fantastic progress over the years raising awareness and supporting research members, but I feel that the face to face contact of a self help group is invaluable for the newly diagnosed which is why I've been involved and remain so. New Members are always so grateful to speak to someone who has "been there, done that and got the t shirt!"
Even after all this time with coeliac disease I am still learning about the condition as more and more medical advances are made and awareness of the condition and the availability of products just grows and grows, so being a volunteer is a real two way process.
Do get in touch with your Local Group and help make a difference.
Suzanne Maclean
Manchester Local Voluntary Support Group

I was diagnosed with coeliac disease in 2000 but many of my symptoms continued. I joined Coeliac UK in 2001 and was then invited to join my Local Group in Manchester.
This provided me with lots of information, including some on cross contamination which helped alleviate my symptoms.
I was invited to join the Committee of the Manchester Local Group in 2008 and was pleased to be asked to help with the computer side of things. I had a laptop at home and had also undertaken some computer training so was keen to keep up my computer skills. This was the perfect opportunity to do this as well as helping other people with coeliac disease.
I email Members with information on local events, send out newsletters, and design posters for coffee mornings. I also input news and events to the Local Group pages of the Coeliac UK website.
I enjoy being a volunteer as this provides me with valuable insight into the management of coeliac disease as well as the chance to help others.
Print page
Add to My Scrapbook