Your location: Home
Is it coeliac disease? diagnosis campaign
Is it coeliac disease? diagnosis campaign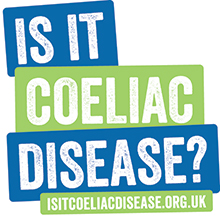 We know around 1% of the UK population has coeliac disease. We also know that only 24% of those with the condition are medically diagnosed. This means that half a million people in the UK are living with coeliac disease, undiagnosed.
Our Is it coeliac disease? campaign formally launched at the start of Awareness Week 2015. This two year campaign aims to reach the half a million undiagnosed people and make them aware of coeliac disease and the range of symptoms associated with the condition. Our launch event was held on London's South Bank on Friday 15 May, and Awareness Week 2016 kicked off on Monday 9 May.
In 2016, we secured the support of Marks & Spencer for the next three years of our campaigns, a partnership that began with their support of the Is it coeliac disease? campaign 2016.
Take the online assessment now*
Campaign aims
The campaign hopes to put people who are suffering with the symptoms of coeliac disease on a pathway to diagnosis, so they can be properly supported to manage their condition and avoid long term health complications.
We aim to halve the length of time to confirm a diagnosis, which is currently on average 13 years, and reduce misdiagnosis of IBS by 50%.
Our long term goal is to confirm a diagnosis for an additional 250,000 people by 2020, so that these people are freed from not knowing what is causing their symptoms, pain and suffering.
Campaign activities
The campaign needs to reach all corners of the UK, capture people's attention, make them think about their own situation or that of their children, other family members and friends who may be struggling with symptoms, and help them investigate these symptoms further and overcome the barriers to diagnosis.

The following activities will occur over the course of the two year campaign:
a TV, radio and digital advertising and engagement campaign

promoting some common symptoms of coeliac disease in a visually striking way to engage people's attention, make them want to share that information with others, and also to find out more at our campaign website,

www.isitcoeliacdisease.org.uk
an online assessment located on our campaign website. The online assessment takes users step by step through the symptoms, the conditions associated with coeliac disease and other risk factors, and then provides some guidance on next steps to take, based on responses to the questionnaire and provides a webmail result to take to the GP
holding a series of pop up outreach events in areas where diagnosis rates are lower. This year we will be holding events in Manchester from 9-15 May, Glasgow from 6-10 June, Birmingham from 18-22 July and Newcastle from 15-19 August. The events will take place in a marquee enabling local people to drop in and talk to someone from Coeliac UK about their symptoms and steps to diagnosis. The week long events were held in London in May, Leeds in June and Cardiff in July in 2015

promotional information to be displayed in GP surgeries and community pharmacies

to prompt people to ask their GP if their symptoms are possibly caused by coeliac disease. Information packs are also being sent to healthcare professionals.

a National Leafleting Day

, new for 2016, in which Members and other volunteers all over the UK come together at the same time on the same day

–

Saturday 14 May

–

to hand out leaflets in towns and cities across the country and raise awareness. Our campaign partner Marks & Spencer offered up all of its UK stores as leafleting locations.
We will update this page regularly as events take place. Make sure to visit our website on a regular basis to see what's coming up, opportunities to participate and help spread the word to the half a million undiagnosed.
*

Accessing the online assessment for Coeliac UK Members

Our online assessment for coeliac disease has been created for people who are undiagnosed and would like to check any symptoms of ill health that they are experiencing. The assessment is not intended for those who are already diagnosed with coeliac disease. For this reason, Members of Coeliac UK will need to create a new account and password to access the assessment. It is not possible to login using your Coeliac UK website password.
Hear from our Patron, Caroline Quentin
Watch our videos to support our Is it coeliac disease? diagnosis campaign
More Is it coeliac disease? diagnosis campaign links
Print page
Add to My Scrapbook