Your location: Home
Is it coeliac disease? official launch event
Is it coeliac disease? official launch event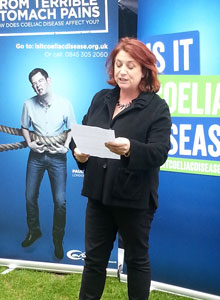 Activities kicked off with a weeklong event on London's South Bank. Coeliac UK staff and volunteers were raising awareness of coeliac disease and providing testing for those experiencing the most commonly reported symptoms of coeliac disease. Testing was generously provided by Tillotts Pharma Ltd using the Simtomax® point of care test for coeliac disease. Over 20 people we spoke to tested positive for coeliac disease and were recommended for further testing with their GP.
Our Patron Caroline Quentin officially launched our Is it coeliac disease? diagnosis campaign on Friday 15 May. The launch event was attended by our Governors, members of our Local Voluntary Support Groups, journalists from The Sun, The Independent, Healthy Magazine, Healthy Food Guide, Essentials Magazine as well as a number of freelance journalists, and the stars of our advertising campaign posters and leaflets Dawn, Paul and Lee.
Caroline Quentin spoke about her personal journey and the difference her diagnosis has made:
I was one of those half a million undiagnosed people walking around for 30 years suffering unnecessarily from a whole range of symptoms that I couldn't put a finger on, and which really did have an impact on my life. I really don't want others to go through what I went through.
I came on board as Patron at a perfect time to support this campaign and I'm so pleased that I can because I'm passionate about raising awareness and because of where I was at in my own diagnosis journey, I knew it was a perfect opportunity to really help the Charity raise the profile of this disease.
Our digital advertising campaign and new campaign website with an online assessment for coeliac disease were also launched in Awareness Week. All our efforts are yielding results with over 10,000 online assessments completed as a result of our Awareness Week activities and now over 30,000 assessments have been completed.
If you would like any further information on our new diagnosis campaign, please contact campaigns@coeliac.org.uk.
Print page
Add to My Scrapbook