Your location: Home
Research Conference 2014 - Understanding the patient; coeliac disease and associated conditions
Research Conference 2014 - Understanding the patient; coeliac disease and associated conditions
Our Research Conference in 2014 was entitled 'Understanding the patient; coeliac disease and associated conditions' and showcased the research of some of the Coeliac UK funded projects.
We filmed the event to extend its reach to those healthcare professionals who were unsuccessful in securing a place at the conference and for our Members who also like to be kept informed of research into coeliac disease and dermatitis herpetiformis.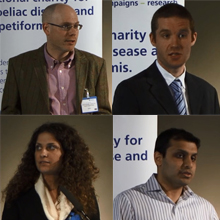 This research has explored patient records in the UK to determine how the rate of diagnosis and the number of people diagnosed with coeliac disease and dermatitis herpetiformis has changed over the last two decades; the effects of age, gender, geographical region and socioeconomic status are identified.
Registered dietitian, Joy Whelan, Northern Ireland, talks about post diagnosis management of coeliac disease under the supervision of Consultant Gastroenterologist, Dr William Dickey; their initiative was named runner-up in the prestigious national 2012 Advancing Healthcare Awards.
Registered dietitian, Leah Seamark describes the steps taken to prepare a case for the Local Clinical Commissioning Group in support of a coeliac disease clinic within the current IBS clinic.
Consultant neurologist, Professor Hadjivassiliou, answers your many questions on neurological symptoms and dysfunction in people with coeliac disease and Dr Hoggard gives an insight into how changes in the brain, due to the effects of gluten, can be captured with imagery.
Osteoporosis, thinning of the bones, is a common complication of coeliac disease; here Dr Riches, consultant rheumatologist, discusses a new test for identifying those people who may be at risk of developing severe osteoporosis and presents preliminary results from the study.
Consultant paediatric gastroenterologist, Dr Gillett, presents results from a 20 year retrospective cohort study of all children under the age of 16 years, diagnosed with coeliac disease and living in south east Scotland. The research showed that the rate of diagnosis had increased six fold over the study period.
The new guidelines for the diagnosis of coeliac disease in children were published in the UK in the autumn 2013; Dr Thomas, consultant paediatric gastroenterologist talks about the Prospective Coeliac Disease Diagnostic Evaluation study (ProCeDE) which is monitoring the diagnosis of coeliac disease in children against the new guidelines.
Dr Aziz, specialist registrar, provides a review of our historical relationship with gluten and the current understanding of non coeliac gluten sensitivity; the complexities around its diagnosis.
Thank you to Glutafin, Juvela, Warburtons and Thermo Fisher.
More Research Conference 2014 - Understanding the patient; coeliac disease and associated conditions links
Print page
Add to My Scrapbook