Your location: Home
Research priorities - pilot project 2014
Research priorities - pilot project 2014
We asked you to tell us about your unanswered questions concerning coeliac disease which may be answered with further research to help to improve the lives of those living with the condition.
Hundreds of you completed the online survey and we collected well in excess of 600 questions. We grouped the questions into themes using the key research areas listed within our Research Strategy:
aetiology; cause, risk or development of disease
prevention of disease and promotion of wellbeing
detection, screening and diagnosis
development of treatments
evaluation of treatments
management of disease
health services
the gluten-free diet.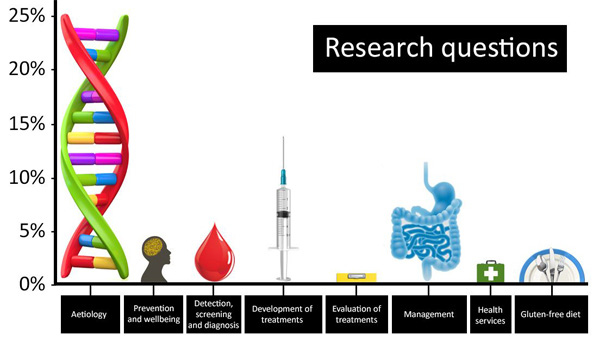 While processing your questions we created two further groups, one for improving our communications and the second for questions outside the scope of the Research Strategy. Almost 40% of the questions fell within these two groups.
The communications group includes questions, which to some extent, have already been answered by research eg are my children more likely to have coeliac disease if I have the condition? We already know from research that first degree relatives of someone with the condition have a one in ten chance of having coeliac disease compared with a risk of one in 100 for the general population.
Print page
Add to My Scrapbook