Your location: Home
Talk to us
Talk to us
We understand that dealing with coeliac disease and the gluten free diet can be overwhelming at times. Whether you have just been diagnosed or have been following the diet for years, it's good to have someone you can talk to for information, support and advice.
There are a number of ways in which you can contact us:
call our Membership Helpline
get involved with your local group
take part in our Member2Member scheme.
Helpline
The Coeliac UK Helpline is a dedicated number for everyone with coeliac disease or those following a gluten free diet. Whether you have the condition or you'd like to call on behalf of a family member, friend or loved one, or if you're a healthcare professional, we're here to help.
How to contact us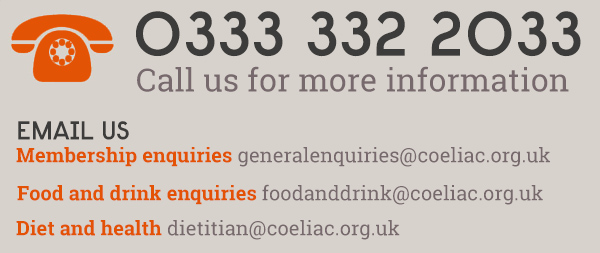 The Helpline is manned by our dedicated team of dietitians, food and drink advisers and Helpline advisers who have extensive knowledge of coeliac disease and the gluten free diet. They provide information and support for every step of your journey; whether you're newly diagnosed or if you have been following the diet for some time.
Our dietitians are registered with the Healthcare Professionals Council and are members of the British Dietetic Association.
How can we help?
We deal with enquiries on a range of topics. Here are just a few examples of the questions we are often asked:
How much gluten do I need to eat to get diagnosed?
I've just been diagnosed. What do I do now?
I'm finding it difficult to accept the diagnosis – how do I cope?
What can I eat?
Whatever your question, we're here to help.
Information and support we provide
Diagnosis of coeliac disease, including information on symptoms, how to get tested and what care to expect.
The gluten free diet. We are the first stop for those who are newly diagnosed with the condition and can provide information regarding naturally gluten free foods, gluten free cooking and details on which foods are available on prescription.
Food queries and labelling. We answer queries on whether or not food products are safe to eat on your gluten free diet, information on the laws around food labelling and provide advice if you are unsure about the information you read on a food label.
Diet advice. Our dietitians provide general diet advice, such as how to eat healthily on a gluten free diet, and how to get enough calcium and iron in your diet. We also provide information for people with diabetes and other dietary requirements such as lactose intolerance.
Latest research. We aim to keep up to date with all the latest research on coeliac disease and associated conditions such as osteoporosis and dermatitis herpetiformis to give you the best evidence based advice.
You don't need to have a specific enquiry; some people call just to talk to someone who will understand, to share their concerns and to discuss how they are feeling. Please be aware that as we don't have access to your medical records, we may advise you to discuss some of your concerns with your healthcare team, who can provide you with specific advice, tailored to your needs.
Information for professionals
The Helpline also provides information to healthcare professionals including dietitians, GPs and pharmacists as well as caterers, retailers and food manufacturers. We have our own group of experts, the Health Advisory Council, who help us to keep up to date with health issues and answer more complex enquiries.
You can reach us on our Helpline from 9am to 5pm Monday to Friday. For queries outside of these hours, please post on our Facebook page or tweet us at @Coeliac_UK and we'll get back to you as soon as we can during office hours.
What our members say
Thank you for all your help, you are a lifeline and I'm so grateful. I don't know what I would do without you!
I spoke to someone earlier who couldn't have been more helpful and offfered very practical advice.
Contact us by letter
Send your letters to:
Coeliac UK
3rd Floor Apollo Centre
Desborough Road
High Wycombe
Buckinghamshire
HP11 2QW
Further sources of information and support
Frequently asked questions about coeliac disease
Frequently asked questions about the gluten free diet and lifestyle
With our 0333 number, you'll spend no more on the call than you would for 01 or 02 landline numbers. If you're calling from a mobile with an inclusive minutes package, your call to us will come out of your minutes allowance. From a landline, calls to the 0333 number are charged at local rate. Calls from payphones can cost more. Calls may be recorded for quality and training purposes.
Print page
Add to My Scrapbook