Your location: Home
Who we've accredited
Who we've accredited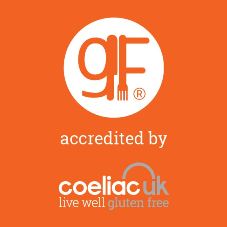 We have developed a GF symbol that caterers can use to show that they follow the correct processes to produce gluten free meals. The symbol can only be used by those who have worked with us on accreditation and meet our standards. We're working with a range of establishments to make sure there is a gluten free option on every high street and for every eventuality.
Below is a list of establishments that have achieved GF accreditation and can provide safe gluten free options.
Restaurant groups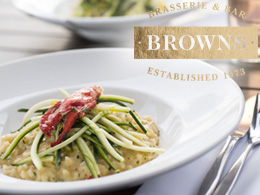 Browns Brasserie & Bar, have successfully achieved gluten free accreditation at all 25 of their locations throughout the UK alongside the launch of their all-new gluten free menu. From Brighton to Edinburgh, you're bound to find a restaurant close by offering a wide selection of their traditional all day brasserie dishes.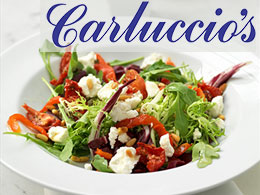 Italian restaurant group Carluccio's has offered gluten free pasta since 2008 and a full gluten free menu since 2010. The gluten free menu offers dishes from their normal menu, so everyone can enjoy the true taste of Italy at Carluccio's. The menu includes a selection of light bite antipasti dishes, salads, classic pasta and main dishes and desserts. The accredited gluten free menu is available in all of Carluccio's 92 UK restaurants and in the two restaurants based in Ireland.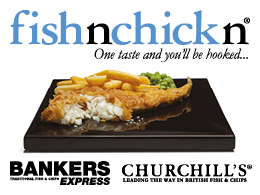 The Chesterford Group have introduced a new gluten free menu to selected stores to enjoy the best of British fish and chips. Their gluten free menu is available on Mondays and Tuesdays in 15 venues across the UK.
Fish'n'chick'n venues are Pitsea, Billericay, Witham, Baldock, Bar Hill, Basingstoke, Sawston, Harlow, Ockendon, Hemel Hempstead, Colchester, Bracknell and Cambridge. The Bankers Express in Hove and Churchill's Restaurant in Stansted.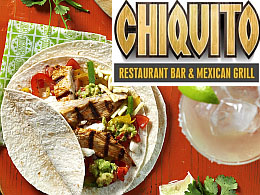 Chiquito Restaurant Bar and Mexican Grill have gained GF accreditation with a dedicated gluten free menu. 88 restaurants across the UK now offer an extensive range of gluten free options so you're bound to find a gluten free Tex-Mex somewhere near you!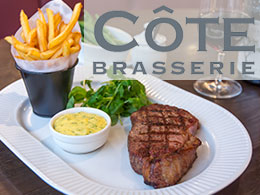 Côte Brasserie, serving freshly prepared French food & relaxed all-day dining, now offer an extensive gluten free menu in their restaurants across the UK. The menu features a range of French classics taken from Côte's main menu, such as moules marinières, half chargrilled chicken with frites and their signature crème caramel. Côte are committed to making people with coeliac disease feel safe and comfortable dining with them.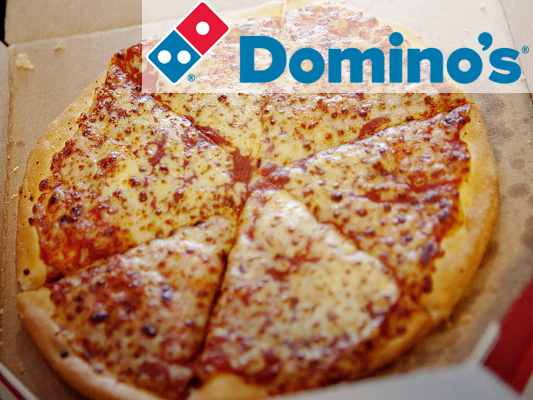 In 2012, Domino's were the first pizza delivery business to introduce a gluten free pizza. The gluten free base is available to order online, in person or by phone from all of their 1,000+ Domino's UK and Republic of Ireland stores at no extra cost.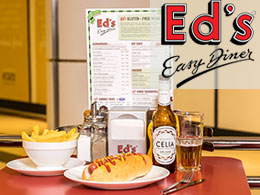 At Ed's Easy Diner over 70% of the main menu is available gluten free on their dedicated gluten free menu, so Ed's fans needn't miss out on their favourites, such as the UK's first ever gluten free hot dog. As well as being one of the first burger chains to serve gluten free buns alongside fries, the gluten free offering also includes all American breakfasts, salads, shakes and desserts. The accredited gluten free menu is available now in all their restaurants.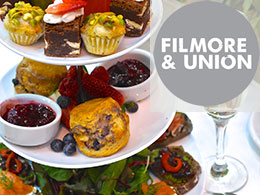 Filmore and Union are an independent healthy eating company with 8 restaurants across Yorkshire, many of them including delicatessens and cocktail bars. They serve a wide choice of gluten free lunch options (even gluten free wraps!), 100% gluten free cakes and 100% gluten free evening menu. Absolutely everything they offer is made with pure ingredients.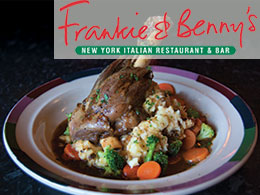 Frankie & Benny's now have one of the largest gluten free menus in the UK with 18 exciting dishes available in all their restaurants. There is something on the menu for everyone, including ribs, New York chicken, a naked burger and Frankie's famous banana split sundae.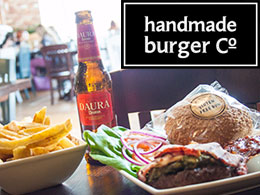 The gourmet burger restaurant chain handmade burger Co has a dedicated gluten free menu which offers over 40 gluten free burgers, including seven vegetarian options, fresh cut chips and a range of salads and sides to choose from at all of their 23 restaurants. handmade burger Co pride themselves on only using the freshest and finest ingredients.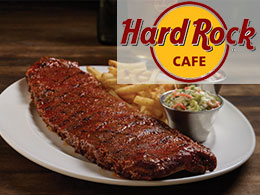 Hard Rock Cafe have a mouth watering gluten free menu which offers many of the gluten containing versions favourites including Wings, Nachos, a wide variety of salads, steaks and three impressive legendary burgers.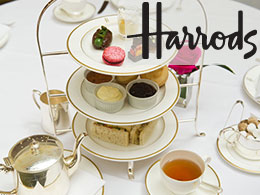 The Georgian Restaurant and the Harrods Terrace are now offering a gluten free afternoon tea which includes a delicious range of sandwiches and desserts. Their chefs are currently working hard on creating many other gluten free options which they will be looking at introducing in the near future.
www.harrods.com/content/the-store/restaurants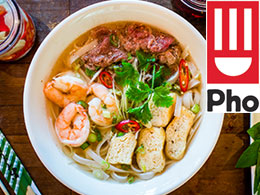 Vietnamese street food restaurant group Pho's main menu (eat in and Pho To Go) is now almost completely gluten free, excluding three beers and the chocolate slab dessert. Pho worked closely with Coeliac UK during the accreditation process and their staff have all received training in the preparation and serving of gluten free food.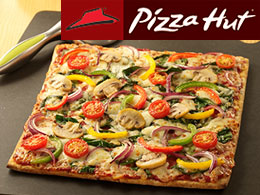 Pizza Hut offers a gluten free pizza base and have worked hard to ensure that all its tasty pizza sauces and toppings, on both their restaurant and take away menus, are also gluten free. They have taken the extra step to make their gluten free pizza bases oblong in shape so you can always be confident that you're getting the right pizza.
www.pizzahut.co.uk/restaurants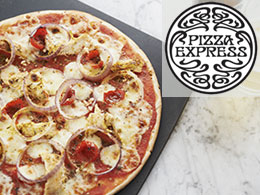 PizzaExpress are proud to have a range of gluten free dishes on our menu, including risotto, sorbets and a pilsner. They've also introduced gluten free Classic and Piccolo pizza bases, so all of their pizza recipes can now be enjoyed, gluten free.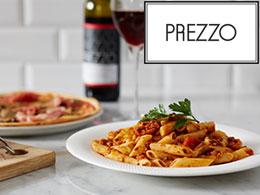 Italian restaurant group Prezzo have launched a new dedicated gluten free menu in their restaurants across the UK. The menu includes a choice of nine classic pizza and pasta dishes, risotto, options from the grill and two delicious desserts.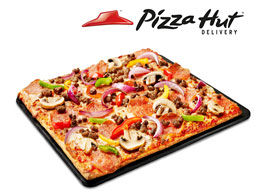 Pizza Hut Delivery offers a gluten free pizza base and have worked hard to ensure that all its tasty pizza sauces and toppings, on both their restaurant and take away menus, are also gluten free. They have taken the extra step to make their gluten free pizza bases oblong in shape so you can always be confident that you're getting the right pizza.
www.pizzahut.co.uk/restaurants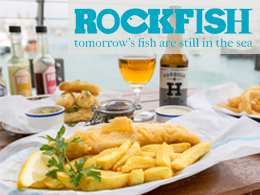 Rockfish are seafood restaurants and takeaways that appeal to everyone, fish lovers, families, young and old, a beacon for the great seafood in the South West region and a place to celebrate and enjoy it. Their entire menu is available gluten free! So now anyone can enjoy the nation's favourite food, in Dartmouth, Plymouth, Brixham and Torquay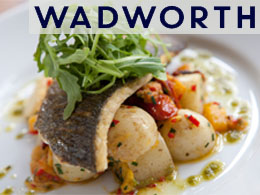 Wadworth & Co is an independent, family owned pub company and brewer based in Devizes, Wiltshire. We're pleased to announce that all of the 53 managed pubs have now gained GF accreditation, allowing you to enjoy delicious, home cooked gluten free pub food across the South West of the UK and London. Their 6X Gold beer is also Cross Grain certified.
View the list of accredited Wadworth managed pubs.
Hotels
Coeliac UK Members, there's never been a better time to get out and explore. Join walking and outdoor specialists, HF Holidays on a short break in the UK and enjoy their accredited venues across the country. Visit their website below now to find out more and request a brochure.
Independent establishments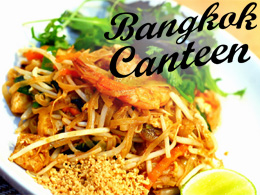 Bangkok Canteen is a family-run Thai restaurant in the centre of Gloucester, founded on the principles of creating the very best Thai dishes with locally sourced ingredients entirely gluten free. Organic and vegan options as well as gluten free beers are also available.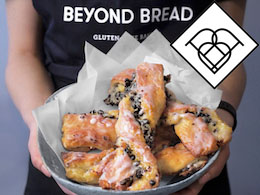 Beyond Bread Bakery is a culinary pioneer who – through a range of naturally gluten free foods – inspires you on a journey to discover new, yet familiar tastes. Beyond Bread Bakery opened its doors first in London's Fitzrovia and now in Islington. Behind the scenes is a team of experts and bakers who not only have years of experience, research and credibility, but who constantly challenge the status quo by exploring and experimenting with new ways to use gluten free ingredients.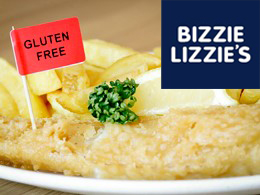 Bizzie Lizzie's have two award winning fish & chip restaurants in Skipton, North Yorkshire. Situated in the heart of this historic Yorkshire dales town, both restaurants can provide a totally gluten free three course meal. Bizzie Lizzie's on Swadford Street offers gluten free fish and chips cooked in a dedicated gluten free part of the frying range amongst other gluten free meal options, whilst Bizzie Lizzie's at High Street Car Park has a choice of gluten free grilled chicken breast, chilli con carne and prawn salad.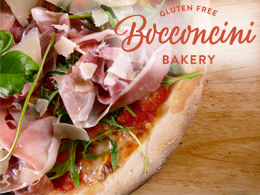 Bocconcini Bakery are a gluten free bakery based in North West London. Using gluten free flours imported from Italy, they provide great tasting, traditional pizza, ciabatta, focaccia, rosetta and baguettes. All of Bocconcini Bakery's recipes are gluten free and accredited.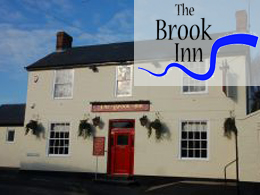 Located in the picturesque Suffolk village of Washbrook, the Brook Inn is a community owned free house with an excellent reputation for food and hospitality. It is especially popular among coeliacs for its impressive gluten free menu, being one of the first pubs or restaurants in the region to specialise in gluten free food and be accredited by Coeliac UK. You'll also find an exciting array of regular choices, specials and vegetarian options as well as yummy desserts.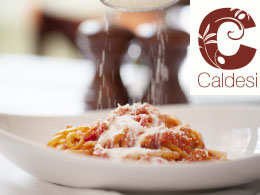 Caffe Caldesi bar and restaurant in Marylebone serves traditional and modern Italian food. We are happy to announce our new gluten free menu. Since Giancarlo Caldesi discovered his intolerance for gluten we are committed to safely serving people with coeliac disease. Pop in for a coffee and gluten free cake or enjoy a three course meal.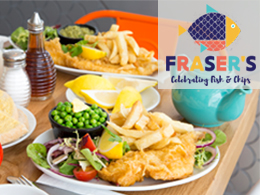 Celebrating Fish & Chips is the motto of Fraser's Fish & Chips. Located right on the prom in Penzance, Cornwall, this award winning fish and chip shop is more than just a chippie. Gluten free fish and chips are available daily to be enjoyed in their restaurant or from the takeaway. With only sustainable fish on the menu and Cornish fish specials daily coupled with award winning chips - well worth a visit.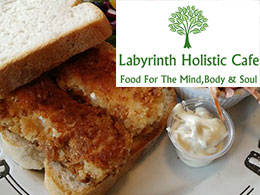 Labyrinth Holistic Café in Stockton-on-Tees is a not for profit cafe & community hub, their entire menu is gluten free and now GF accredited. Their aim is to serve the community with food for the mind, body and soul.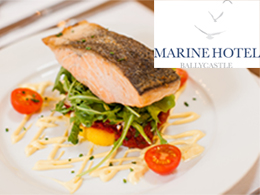 Northern Ireland's only Gluten Free Accredited hotel, Marine Hotel Ballycastle is located on the North Coast of Ireland, occupying an unrivalled seafront position in the heart of the Causeway Coast. Boasting 31 spacious bedrooms, fully licensed bar & bistro with banqueting and wedding facilities - the Marine offers uncompromising service and comforts.
www.marinehotelballycastle.com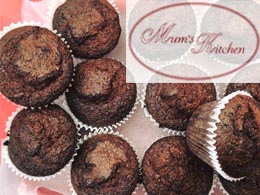 Mum's Kitchen, Kingston-upon-Thames, pride themselves on creating all their products from scratch, using natural ingredients. The recipes are derived from the long lasting traditions of Armenian and Russian cultures. They aim to satisfy customers with dietary requirements with their dairy, sugar and gluten free options. Mum's Kitchen Kiosk is at the Eden Walk Shopping Centre, outside M&S and Boots.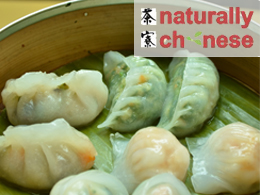 Naturally Chinese encompasses the aesthetics of Chinese dining by way of good food, beautiful surroundings, and fragrant cooking. They present a range of gourmet dishes bringing you the true taste of our Oriental origins. Their exclusive gluten free menu offers a wide variety of choices, prepared by a team trained and accredited by Coeliac UK.
www.naturallychineserestaurant.co.uk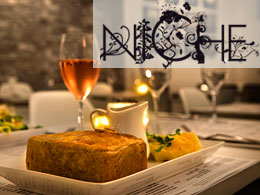 Niche is an independent entirely gluten free restaurant in Islington (Angel tube line) which serves good honest British comfort food with a modern twist.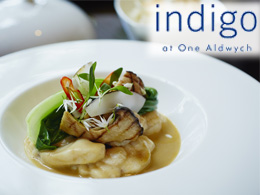 A relaxed and informal restaurant in London's definitive contemporary hotel One Aldwych, Indigo offers a creative British menu, which happens to be entirely gluten and dairy-free. Crafted by Executive Chef Dominic Teague, the menu incorporates the finest seasonal ingredients carefully sourced from the British Isles.
www.onealdwych.com/food-drink/indigo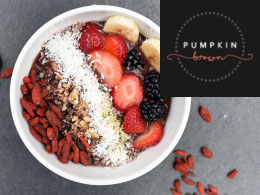 Pumpkin Brown café in Edinburgh takes health and nutrition very seriously. Catering for a whole range of food intolerances including dairy and gluten free, without compromising on taste. Now with GF accreditation, you can enjoy their range of tasty meals safe in the knowledge that their food contains no refined sugar, no dairy and most importantly, no gluten. Bliss!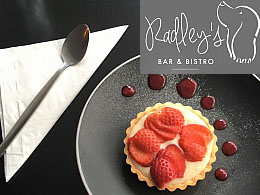 Radley's Bistro & Bar in Hastings have not only been awarded with Coeliac UK's GF accreditation, they were also shortlisted for the 2016 FreeFrom Eating Out Awards in the Independent Restaurant category. Make sure you don't miss their delectable gluten free dishes.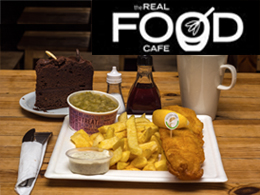 We offer award winning informal road side dining. We have served gluten free food for over a decade and for the last three years we have held the 'Accredited Caterer' status from Coeliac UK. We offer a gluten free menu comprising of soup, filled rolls, salads, fish n chips and homebaking. Customers asking for the gluten free menu now represents a significant part of our business as our reputation has spread.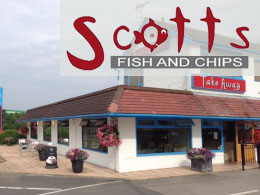 Scotts Fish and Chips own two multi award winning, eat in or takeaway, gluten free, fish and chip shops in Helmsley and Bilbrough near York. Not only do they offer gluten free fish and chips, but also a range of starters, mains and puddings can be had.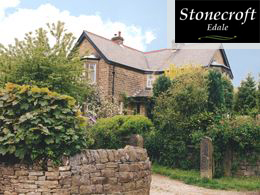 Stonecroft Country Guesthouse is an award winning country Guesthouse in the heart of the Derbyshire Peak District National Park. Stonecroft was winner of the Free From Eating Out Awards (Guesthouses) 2015 and is delighted to have gluten free Accreditation. The menu is totally gluten free and can be adapted to suit most dietary requirements. Please feel free to call us to discuss your dietary requirements and for details of our short break packages.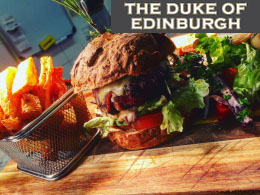 The Duke of Edinburgh pub in Maidstone, Kent thrives on being relaxed and informal. It promotes an environment where customers with coeliac disease can dine with peace of mind by running a 100% gluten free restaurant. They are now accredited with Coeliac UK and have even made the shortlist in the Free From Eating Out Awards 2016 in the Independent Pub Restaurant category!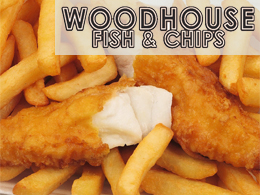 Situated on the A60, corner of Woodhouse Road and Birding Street, Woodhouse Fish and Chips is the only GF accredited fish and chip shop in the whole of Mansfield town. They serve gluten free fish and chips every Monday, Tuesday and Wednesday evenings from 4.30-8.30pm.
www.woodhousefishandchips.co.uk
Museum/Conference centres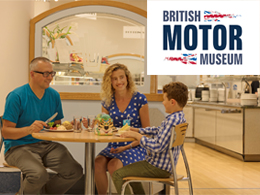 The British Motor Museum, is an independent Museum in the heart of Warwickshire. The venue became the first Museum & Conference Centre to gain 'Coeliac UK GF (Gluten Free) accreditation' in 2015 allowing visitors to now enjoy a wide range of gluten free options in its café, including homemade sandwiches and cakes - all safe in the knowledge that behind the scenes is a physically separate gluten free kitchen to ensure there is no risk of cross contamination. Conference delegates are also catered for with a specially designed gluten free menu.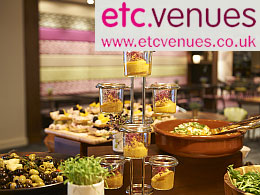 etc.venues provide the perfect space for training, meeting and conferences all accompanied by an in-house teams of talented chefs. Mouth-watering and innovative menus are provided with delegate's needs in mind, which is why etc.venues have gained GF Accreditation. Now all fifteen of their venues can be enjoyed by people following a gluten free diet with peace of mind.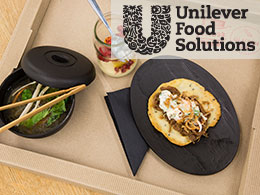 The Knorr kitchen at Unilever House in Leatherhead has now gained GF accreditation to demonstrate to others how simple catering gluten free can be and that it can be a real sales booster. They can now reassure people with coeliac disease that it's safe to eat in the kitchen.
www.unileverfoodsolutions.co.uk
Contract caterers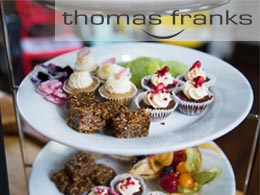 Thomas Franks is the only contract caterer to have been awarded the Coeliac UK GF accreditation and they have a portfolio of 18 accredited venues, including schools and restaurants. They provide customers and pupils with safe gluten free meals and snacks. If you would like to know more about what Thomas Franks could do for you, visit:
Universities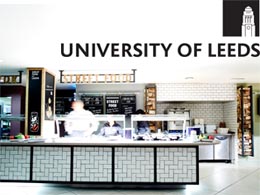 Great Food at Leeds is the University of Leeds catering provision consisting of 13 on campus cafes, an award winning Refectory and Delivered Catering Services. Committed to providing freshly prepared food to suit all dietary requirements, the University has held Gluten Free accreditation since June 2015 with delicious options like chilli beef tacos, baked aubergine shells and mushroom & sweet potato stroganoff.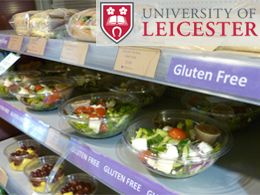 The University of Leicester was the first UK university to receive Coeliac UK accreditation. The University provides a wide range of gluten free sandwiches, soups, salads, cakes and biscuits across its various catering outlets on campus. Students with coeliac disease living in catered accommodation can also now enjoy a gluten free diet.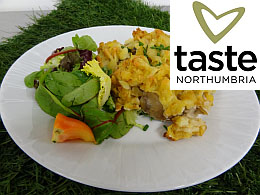 GF accreditation at their CCE Restaurant on Northumbria University campus makes them the fourth University in the UK to become GF accredited. taste Northumbria have worked hard to develop new gluten free options for their menus to better cater for those with coeliac disease in order to make the transition to University life easier than ever.
sharethelove.co.uk/northumbria-home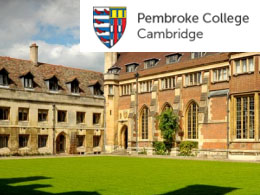 The college's 'Simply Pembroke' range offers students, staff and University Members a variety of safe meat, fish and side gluten free options which are all prepared in a kitchen which is only used to produce allergen free items.
Schools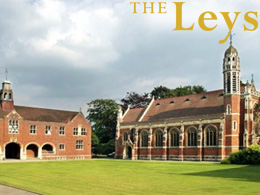 Chartwells Independent are a contract catering company that have been working closely with Coeliac UK to bring some schools onto the Accreditation scheme. We're pleased to announce that The Leys school based in Cambridge is now now GF accredited.
Hospitals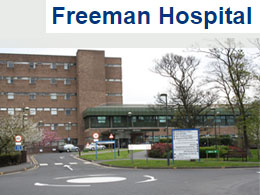 Located in Newcastle Upon Tyne, the Freeman Hospital was the first NHS hospital to become GF accredited by Coeliac UK. Whether you are a patient, member of staff or visiting the hospital, there are gluten free meals and snacks available on the wards and in the restaurant.
www.newcastle-hospitals.org.uk/freemanhospital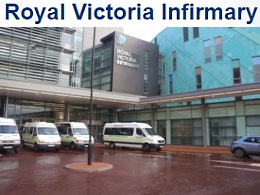 Located in Newcastle Upon Tyne, the Royal Victoria Infirmary was the second NHS hospital to become GF accredited by Coeliac UK. Whether you are a patient, member of staff or visiting the hospital, there are gluten free meals and snacks available on the wards and in the restaurant.
Print page
Add to My Scrapbook