Your location: Home
Exhibit at our 2019 events
Exhibit at our 2019 events
Our events offer a great opportunity for you to meet people on a gluten free diet.
If you are looking to;
engage with over 1,000 attendees from the gluten free community
showcase your gluten free products to those following a gluten free diet
raise awareness of your brand with your target market
be part of a unique event organised by Coeliac UK
They are not to be missed!
Dates and venues:
Gluten Free Food Show, Saturday 16 November 2019, Cardiff Stadium
Stands are still available but are selling out fast! Click on the rate card for more information or call 0131 357 4613 if you'd like to speak to the commercial team to find out more. Download and complete the booking form to confirm your attendance today.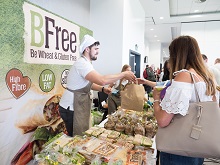 Here's what some of our attendees said about our previous events:
I loved seeing all the products that are available, buying some and receiving discount vouchers for others.
It was most informative and there was a wide range of products on show and for sale.
Having only been recently diagnosed I thought it was a very good day out. I really enjoyed the variety of food on offer especially as many of the products I had not tried yet.
A brilliant day out! I think I was the last to leave!
Print page
Add to My Scrapbook