Your location: Home
Exhibit at our 2018 events
Exhibit at our 2018 events
Our events offer a great opportunity for you to meet people on a gluten free diet.
If you are looking to;
engage with over 2,000 attendees from the gluten free community
showcase your gluten free products to those following a gluten free diet
raise awareness of your brand with your target market
be part of a unique event organised by Coeliac UK
They are not to be missed!
Dates and venues:
23 June 2018
Coeliac UK National gluten free food festival
Green Park, Reading, Berkshire
8 September 2018
All Wales gluten free food show
Cardiff City Stadium, Cardiff
Stands start from £150 (+VAT) for Green Park and £300 (+VAT) for Cardiff City Stadium. Click on the rate card for more information, download the booking form to confirm your space or call 01494 796110 if you'd like to speak to the commercial team to find out more.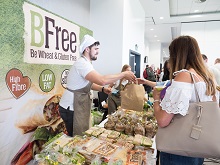 Here's what some of our 2017 attendees said about last year's Gluten free food festival event:
This was the best event I have ever attended and I have been to quite a few.
A great day for trying new brands and products. Was great to introduce my partner to the world of gluten free so he had a greater understanding too.
It was such fun to be able to try samples without having to study ingredients, there were lots of bargain products too, next time I will plan to do a lot more shopping. And free entry too!
It was a fantastic experience for my 11 year old and a pleasure to see her enjoying sampling all the food. We loved it.
Print page
Add to My Scrapbook