Your location: Home
Food and Drink Directory
Food and Drink Directory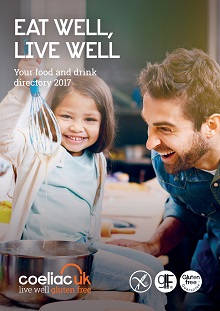 The Food and Drink Directory is one of our key publications and was first produced over 40 years ago. Today, the Directory lists over 18,000 products from more than 700 brands and is circulated to over 70,000 Members and healthcare professionals each year. It is available as a printed book, online on our website and through our smartphone app.
Our unique Food and Drink Directory is considered to be the 'bible' by our members. We know that many people are confused by food labelling and members turn to the Directory for reassurance about what is safe to eat.
How to be part of our Food and Drink Directory
It is free of charge to list your products in the Directory. Contact us by emailing fdd@coeliac.org.uk for information on listing your products.
You can also get greater exposure for your products in both the printed and electronic Food and Drink Directory through sponsorship and advertising. The Directory is a great place to get your products noticed both in the hard copy and online. See our Food and Drink Directory rate card or contact our Commercial Team for more information about the opportunities available.
Print page
Add to My Scrapbook