Your location: Home
Magazine, newsletter and welcome pack
Magazine, newsletter and welcome pack
Live Well Gluten Free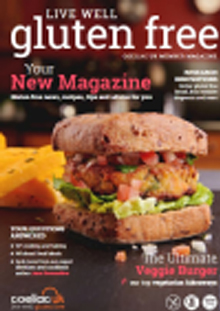 Live Well Gluten Free is the market leading magazine for the gluten free sector. It is our key communication tool and is distributed to the full membership, three times a year in February, May and October.
With a readership of over 100,000, this A4, full colour magazine gives our members up to date information, news and views on all aspects of following a gluten free diet. Our advertising options include standard display advertising, leaflet inserts and advertorial features.
Research conducted with our members indicated that Live Well Gluten Free magazine:
plays a pivotal role in informing them about gluten free products
strongly influences their brand choices and purchasing decisions
is trusted by readers, including both the publication and the companies and brands advertised within.
To find out more about advertising in Live Well Gluten Free download our print opportunities rate card or contact our Commercial Team.
The magazine also includes free product editorial in our feature 'You might like'. To submit your products for consideration download and complete our editorial submission form and send to the Commercial Team.
Products and offers newsletter
Products and offers is our monthly electronic newsletter that focuses on the latest product news and special offers. It is circulated to over 40,000 members around the middle of each month. To find out more about advertising in Products and Offers, download our digital rate card or contact our Commercial Team.
Welcome pack
All new members of Coeliac UK are sent a welcome pack providing them with the information and support they need to get started on a gluten free diet. Sponsors of our welcome pack can include an A5 leaflet about their brand and product range. This opportunity is a key way to target those new to a gluten free diet when they are making crucial product decisions. To find out more about welcome pack sponsorship, download our rate card or contact our Commercial Team.
Print page
Add to My Scrapbook