Your location: Home
Sponsorship
Sponsorship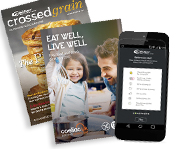 Coeliac UK has sponsorship opportunities available to help you build a strong and relevant relationship between your company and our members and stakeholders.
Increasing your brand awareness, a stronger emotional resonance with our members as well as the wider gluten-free community, as well as gaining kudos for supporting our important work are just a few of the benefits that you can expect.
Some of the unique opportunities available include:
sponsorship of various sections of the website

support of our welcome packs for new members
involvement in our annual Awareness Week at a local and national level
sponsorship of our Food and Drink Guide
support for our conferences, events and exhibitions.
If you would like more information about any of our sponsorship opportunities please contact our Commercial Team who will be happy to discuss them with you.
Print page
Add to My Scrapbook