Your location: Home
Local Group Events April 2017
Local Group Events April 2017
Colchester Local Group AGM
Over 60+ people attended the local group's very interesting and enjoyable AGM last month. Dr Heidi Urwin, Head of Research at Coeliac UK, gave a talk on research which all members found most enlightening. There was quite a Q/A session after the talk that was most useful with members clearly having given some thought to questions they wanted to raise.

The second speaker was Gary, a local caterer. His venue is Armstrong's at the Pavilion in Clacton. His wife has coeliac disease so he has a vested interest in catering for people with allergen problems. Most of his menu is cooked using gluten free ingredients and he sources the most delicious bread and rolls. He is currently finding a suet meat pudding to add to the menu, which the committee and members await with excitement. In addition to talking about his venue, members were given a real insight into how difficult it is for caterers to provide options for all allergens, which members found really quite surprising.

After the business was over, 45 members and guests stayed for a slap up lunch of lamb tagine, followed by various cheesecakes and desserts, all prepared by Gary. This turned out to be one of the local group's most successful and enjoyable AGMs
Colchester Local Group – awareness campaign
Keeping busy the local group also organised an awareness raising stand in Sainsbury's at Stanway. They couldn't get a slot in awareness week, so went for the next best option. There was a lot of footfall but unfortunately the volunteers were told not to hand out info leaflets unless directly approached. Having said that, they did have at least a dozen really interested people who took away information on both Coeliac UK and the Colchester Local Group, with of course diagnostic info. What's more there was a large amount of Sainbury's gluten free food on the table to promote their goods and even told customers where to find it.

Whilst not everyone stopped at the stand people were walking in and looking at the banner with the symptoms on taking in the key information Overall the committee agree this is always a worthwhile exercise.
Festive dining in South Wiltshire
The South Wiltshire Local Group's Festive Meal at the Milford Hall Hotel, Salisbury on Thursday 12 January 2017 was a great success. 26 members of the local group enjoyed a delicious meal. David Ferguson, Group Organiser. thanked Roger Wiliams for all his arrangements to make the event such a success.
Sausage tasting in Ipswich
The Ipswich Local Group enjoyed a gluten free sausage tasting event at the end of February. It was very well attended with local members sampling five different gluten free sausages brands. The local group were very fortunate to have donations from Pepperillsmeats and Mann's, a local butchers as well as some well-known supermarket sausages. Each table was asked to rate the sausages for flavour, texture and aroma. There was no clear winner, but it just showed how far gluten free sausages have come over the last couple of years. The committee and members all agreed it was great fun – why not try the same in your area?
"Ask the Expert Event" in Glasgow
In attendence were; Sarah Sleet CEO Coeliac UK, Dr and Miles Fitt, Scotland rep of Coeliac UK.
The "Ask the Expert" event organised by the Glasgow Local Group was attended by 50 members and guests in addition to the thee "experts": Sarah Sleet, Cheif Executive of Coeliac UK, Myles Fitt, Scotland Lead at Coeliac UK and Dr El Nujumi, Mhairi Squire (Dietician). Th event proved to be an informative afternoon with presentations by the panel members followed by a question and answer sessions. The delicious homemade gluten free baking provided by thecommittee members was the icing on the cake (pun intended!)
Waitrose Cheese and Wine Evening –in Hereford
On a bitterly cold evening last month members gathered in the coffee shop at the Hereford Local Group of Waitrose, eagerly waiting to see what treats the staff had dreamed up for us to sample.
To get our taste buds going each table was served with a dish of Tyrrells Sea Salt Popcorn and a glass of San Leo Rosata (sparkling Rose). Guests then moved onto a portion of Capricorn goat's milk cheese on a wedge of Paiarrop date and walnut. The sweetness of the dates contrasted beautifully with the sharp taste of the cheese. The wine was a Sauvignon Blanc – and there was elderflower cordial for anyone who wanted a soft drink. The next taster was P'tit Basque ewe's milk cheese with Morello cherry jam. As before, the sweet and sour tastes blended well. This was accompanied by a red wine – Costiere de Neime.

While each taster was being served Muriel, from the cheese and deli counter, explained what each one would be, and where it could be found in the store.
There were also dairy free options – which included the date and walnut slice wrapped in Parma ham, also olives with chilli flakes.
Then it was time for a wedge of Westcountry Cheddar cheese with a Paris silverskin onion and a small glass of Hereford cider.
To round off the evening, a portion of Colton Bassett Stilton cheese was served on a leaf of gem lettuce, with a spoonful of honey beneath the cheese. An interesting and very tasty combination. Of course you couldn't have Stilton without Port, and we weren't disappointed!
Cathy and Alan Holmes, who served on the committee and had stood down last year, were presented with a bouquet of flowers and a bottle of wine in thanks for their many years of hard work.
After thanking Muriel and her team for providing us with a lovely variety of tasters it was time for Neil to show us around the store. He explained that not all gluten free products were on the 'free from' stand, as there are various items in the chiller and freezer cabinets.
All in all a thoroughly enjoyable evening thanks to the commitment both of the volunteers and Muriel and her team.
North East and West Cumbria Local Group
The North East and West Cumbria Local Group held an event at Penrith Rugby Club on March was well attended. We had a baking demo by Sharon Living the Ginger Baker from Longridge Preston-she made various cakes lemon drizzle/ginger cakes/coffee & scones -she donated 3 beautiful cakes to the buffet ( we always have a feast).
At the North East and West Cumbria Local Group AGM there was a demo by Fiends Fell a local baker who makes pies/quiches /cakes etc that was well received & again we had an excellent buffet we always have a raffle prizes mostly donated & money raised goes to group funds to help with rising cost of venue hire etc.
Coffee mornings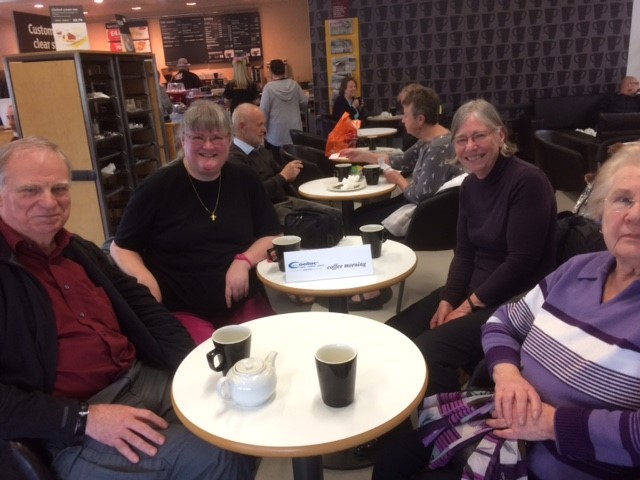 The Leicestershire Local Group coffee morning took place on April 7. The local group normally have 4 or 5 people who regularly attend having formed a good friendship over the years .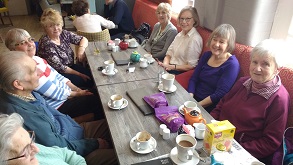 East Devon and Exeter Local Group hold regular coffee mornings held each month on the third Wednesday from 10.30am at Franklins in the Strand, Exmouth
Print page
Add to My Scrapbook