Your location: Home
Local Group Events August 2017
Local Group Events August 2017
Bristol Local Group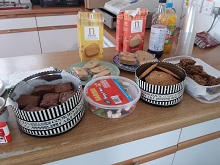 The Bristol Local Group held a coffee morning in Yate on 17 June. Homemade cakes and flapjacks were brought along by members and members dropped in throughout the morning fir tea, coffee, cake and a chat.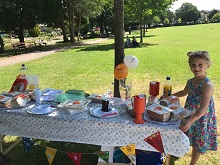 There was also a family picnic in the park on 2 July in Canford Park, Westbury on Trym. Many new faces turned up along with more regular members. The smaller children played while the adults and teenagers had a good chat together in the sunshine. Some Ener G gluten free samples were tested out, kindly donated by @GeneralDietary.
Gloucestershire Local Group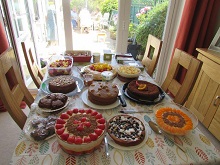 The local groups held their annual Committee Garden Party on Sunday 9 July from 1230 until 1700. The weather was glorious and everyone who attended had a great time.
There was a selection of desserts - mostly homemade. There were salads, quiches etc. to start but, the committee joked that as somebody with coeliac disease, it is the desserts that they are really interested in!
Hereford Local Group
On a lovely sunny morning Committee Members of the Hereford Local Group set out to cross the border into Wales hoping we would have a good turnout for our coffee morning near Builth Wells - an area in which we had not arranged an event before.

Val –a local group member, who lives with her husband near Howey, had organised the hall ready for us when we arrived. Beautiful cakes were on display (baked by Val), the water was on the boil, now they just needed the visitors!

Slowly, people started to appear and they had a really good turnout with 18 in total. It was nice to see some familiar faces and lovely to meet new ones. Friendships were being forged, ideas swapped on where to eat and where to buy gluten free food in the local area.

Glutafin had kindly supplied the event with items for a raffle - enough so everyone who came along could go home with a little treat! The event was such a success that another coffee morning has been organised on 21st October – same venue – 10.00am – 12.00pm.
Thanks go to Val and her husband for setting up the hall and also to everyone who joined us for a very enjoyable morning!
Ipswich Local Group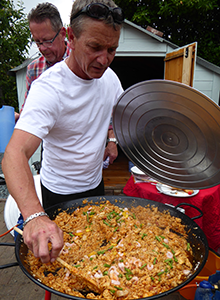 Teresa and Jeff hosted a Paella Sunday lunch, which was enjoyed by a number of members, family and friends. Jeff talked through how to get the colour and flavour just right. This is the second time Jeff has shared some of his favourite recipes with us.
Isle of Man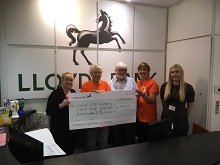 Lloyds bank in Douglas, Isle of Man held charity dress down days at work over the year and a few local charities were chosen, with the Isle of Man Local Group being one of them. Each charity received different amounts with the Isle of Man Local Group being presented with £350. On the photo the two people on the ends are from the bank, second from left is the Group Organiser, Alison Woods, Mike Tucker, Group Treasurer in middle and Judith Cain, Group Secretary on the right.
Medway and Maidstone Local Group
32 members of the Medway and Maidstone Local Group had a very enjoyable fish and chip supper at Marinos in Gillingham in June. Unfortunately no photos of the event but they promise to be more camera happy next time!
Sheffield Local Group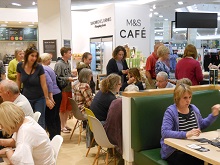 On Wednesday 10 May over 80 people from the Sheffield Local Group attended a gluten free Tasting event at Marks and Spencers. The Committee were able to visit four areas each serving different items of gluten free food.
The store also had a large display of their gluten free product range. The raffle prize was a large hamper of their products with the money raised going towards a Sheffield Hospital Charity. The evening proved to be very enjoyable and it is hoped that it will be repeated in the future.
South Herts Local Group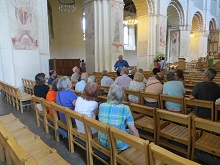 The South Herts Local Group had a combined lunch/cultural visit at the Cathedral and Abbey Church of St Albans. Jean Pavan, the Group Organiser is a guide so arranged the tour and did a double tour: one on ground floor, explaining all the history of it and then where another for the 44m tower.
In the photo taken on the ground floor you can spot the wall paintings, from 1230, considered as national treasure.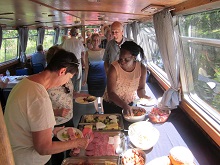 The South Herts Local Group also took a canal boat along the river Lea in Broxbourne-Herts
They had a wonderful weather during the trip, which lasted four hours. The company provided the gluten free food so members all enjoyed a relaxing meal and day out.
Wessex Local Group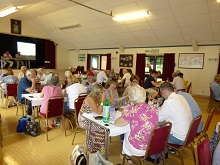 On Saturday 8 July 50 guests came to the local group's quiz at North Baddesley Village Hall, with the committee being really pleased to see some new faces. Everyone had a great evening and it most definitely worked better having a break to eat the fish and chips together. The local group's usual Fish and Chip caterer was unavailable but The Little Fryer from Bitterne rose to the occasion and delivered extremely tasty fish and chips.

Alan once again did the committee proud with a superb variety of questions in an attempt to get everyone's brains working. It was interesting to note the winners were sitting at the same table as the previous Quiz winners - a lucky table perhaps? Thanks also go to Janet who somehow managed to extract £83 from 50 guests for the raffle.
Thank you to everyone who helped to make it such an excellent evening.
Print page
Add to My Scrapbook