Your location: Home
Local Group Events December 2016
Local Group Events December 2016
Belfast Local Group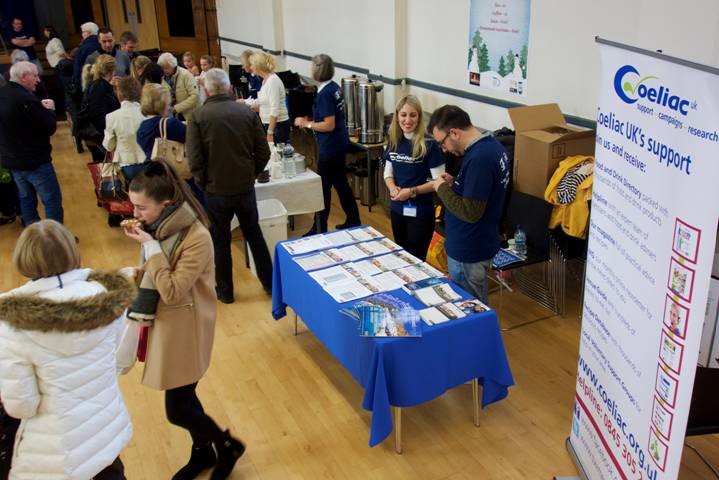 The food fair took place on Saturday 26 November at the Methodist College Belfast. The Local Group organised a range of suppliers from national brands as well as local producers such as Taste of Goodness and Fresh Gluten Free.
A guest dietician who talked about living with coeliac disease and answered questions from the audience and a cookery demonstration was given by local award winning chef Michael McCamley on an alternative three course Christmas dinner.
Great support also come from Delicious Alchemy and Warburtons who provided treats for the refreshment stand. Donations from Marks and Spencers, Fish City and the Vineyard ensured a fantastic range of goodies for all.
Berkshire Local Group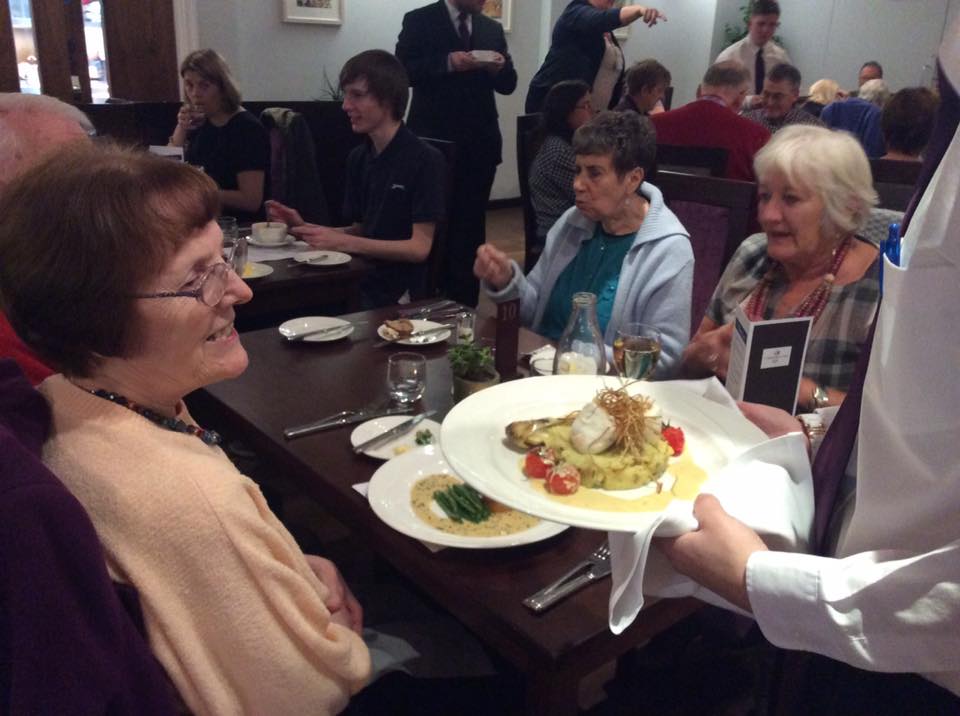 The Committee treated 45 Members and guests to a three-course meal at Basingstoke College of Technology in the Catering School. The a la carte dinner was served by Year 1 and 2 students with Year 3 doing the cooking. A brilliant night enjoyed by all - thanks and well done to Erica Barker who organised it!
Bristol Local Group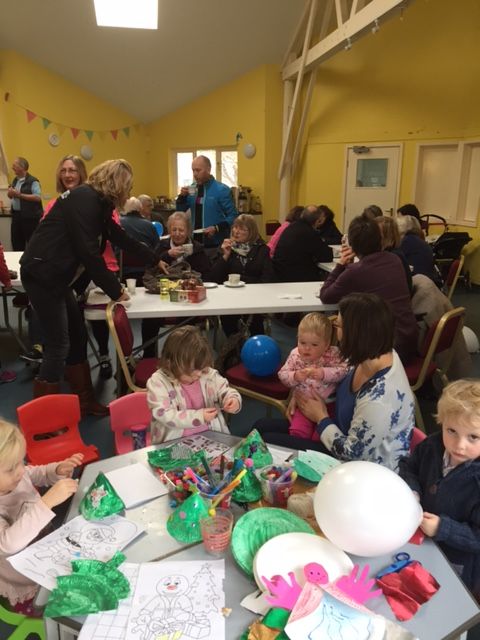 Thank you to everyone that come to our recent family Christmas coffee morning. The event was held it in south Bristol at a local farm. 38 people attended including 12 children who had great fun making use of the farm's play area! The Committee served lots of tea and coffee alongside biscuits and mince pies, and the event gave a chance for attendees to meet other Members and their families over a festive treat, whilst Christmas crafts kept the children busy.
The event raised over £100 which more than covered the cost of the event. As well as being a good fundraising event Members came up with some great ideas for future events - watch this space!
Colchester Local Group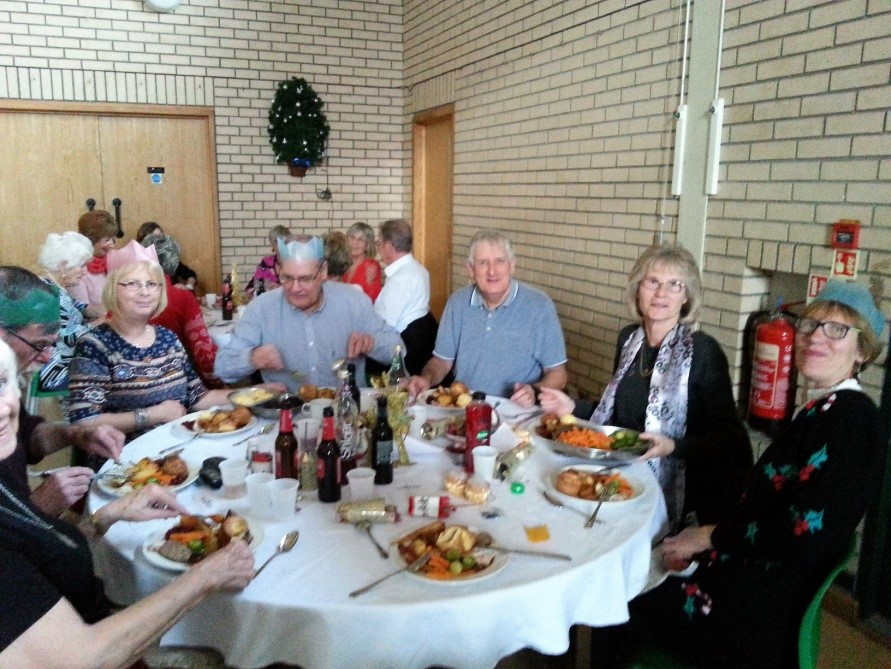 The Colchester Local Group celebrated with a Christmas meal with all the trimmings at the Venture Centre in Lawford. Over 60 Members attended the event and a fun time was had by all. The grand draw generated a lot of interest and first prize was won by Sue. The Members also supported the tombola stall, bring and buy and various games including roll the coin to win the bottle, guess the weight of the cake and guess the number of sweets in the jar.
With a background of music and a fun festive quiz to get everyone thinking, it was a great start to the Christmas 2016 celebrations. The Committee extend their thanks to Treos in Harwich for their superb catering service and to everyone for the hard work that made this event possible.
East Devon and Exeter Local Group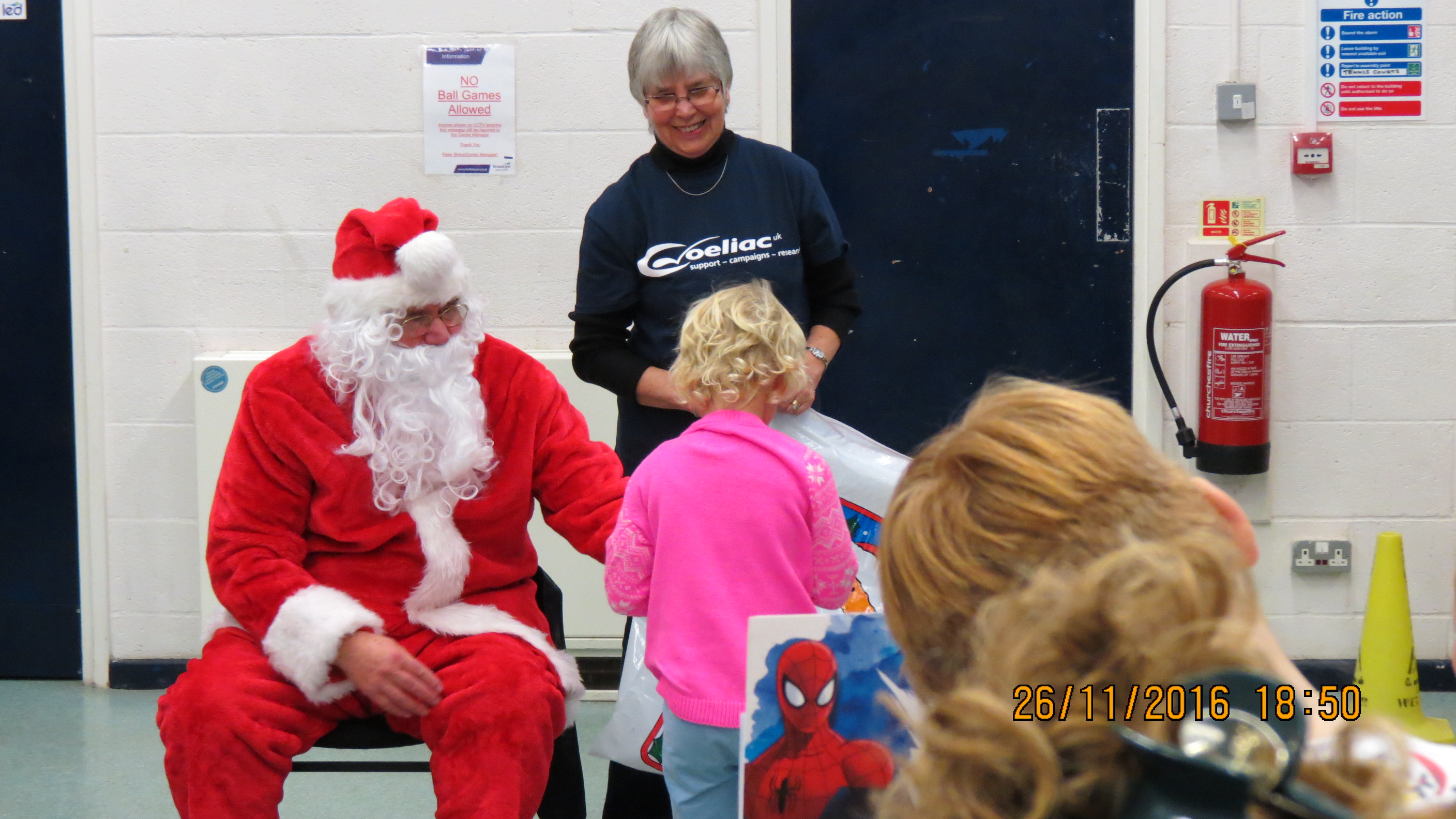 The Local Group's children's Christmas Party was held on a Saturday afternoon in November 2016. Once again we had the friendly team at Broadclyst Leisure Centre to organise the activities in the main hall while the Committee and parents set up the gluten-free party food on the balcony. Father Christmas came along and a great time was had by all. Many thanks to Tesco, Warburtons and Glutafin for supplying most of the food.
Gloucestershire Local Group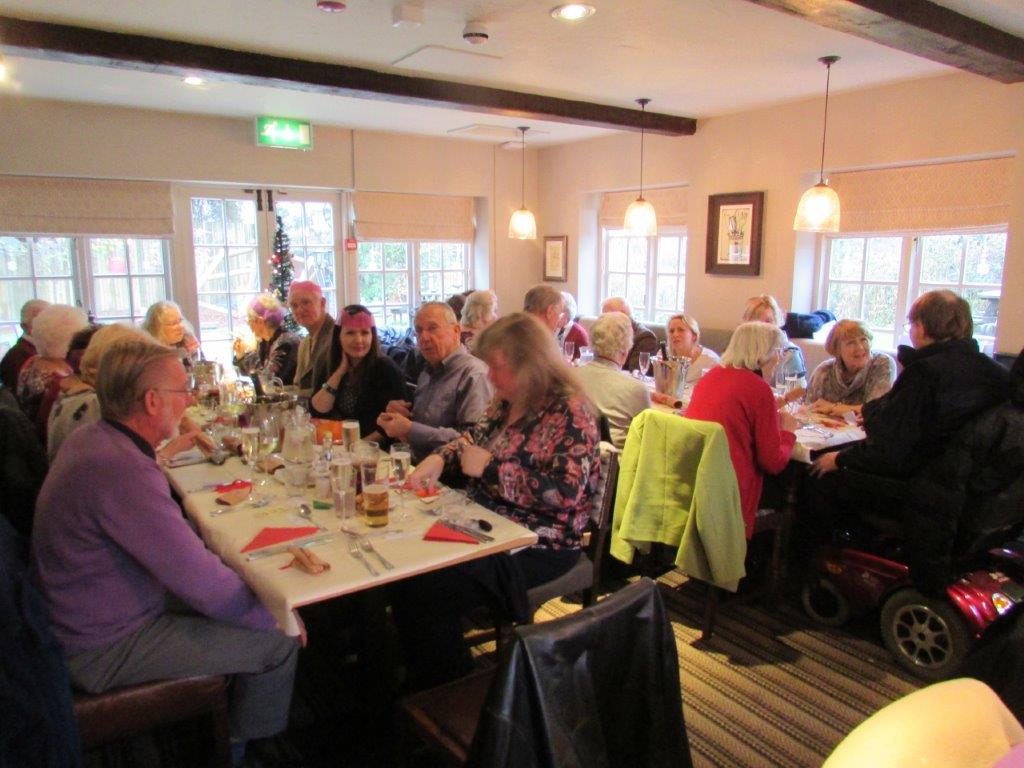 The Gloucestershire Local Group had their annual Christmas lunch on December 2. Thirty-four people attended and everyone had a good time.
GUTs
The GUTs had a city break in Birmingham where we were joined by lots of Members who had never been to an event before. It was exciting to see so many new faces. Members enjoyed a boat trip, meals out and other activities organised by the Committee. Plans are now underway for the AGM in January.
Hereford Local Group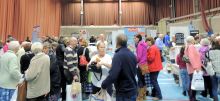 This year's food fair at Hereford was different from previous years. The Committee had seen a drop in footfall in 2015 despite attracting a good number and variety of exhibitors. Having undertaken an entry survey in 2014 and discovering our newspaper advert was having a very low impact, it was agreed to spend the money on a more interactive experience for attendees by including three cooking demonstrations for the first time this year. Pete Wilce and his team of Eventtechs provided a 50" high-mounted TV Screen and sound system which worked very well for the spectators and also filled just enough of the remainder of the large sports hall venue to create an atmosphere rather than a din! Attendees stayed longer and footfall increased by nearly 100 this year. The demonstrations also allowed the Local Group to involve the restaurant sector for the first time – Hereford Wagamama's Head-Chef, Simon, cooked a few of their popular dishes while explaining to the visitors how aware and careful their restaurant is when preparing food for people with coeliac disease and other allergens. We hope to build on this, breaking down the barriers to eating out.
We had a number of new exhibitors, providing various treats from pork scratchings to savoury pies, waffles to cookies, all of whom were pleased with their sales at the event. Also, one of our Members provided Short Mat Bowls which was of great interest to the many children attending and we had a great raffle prize table again this year. The Committee send their thanks to all those who generously supported the event.
Leeds Local Group
It has been a busy few weeks for the Leeds Local Group. After a break of a few months the awareness stall on Leeds market recommenced. There has been a drop in total numbers but the Committee are looking at ways to increase numbers.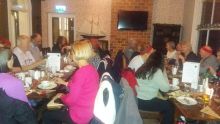 On 2 December 26 people attended the Local Group's Christmas meal at the Midnight Bell in central Leeds. The food was excellent and the portions were large. Everybody had a good time.
On 5 December 3 Committee Members were on hand at Morrisons in Guiseley near Leeds to help with the launch the pilot of their new gluten free food on the go range, including freshly prepared pizza with a customer's own choice of toppings. It deserves to be a success.
Manchester Local Group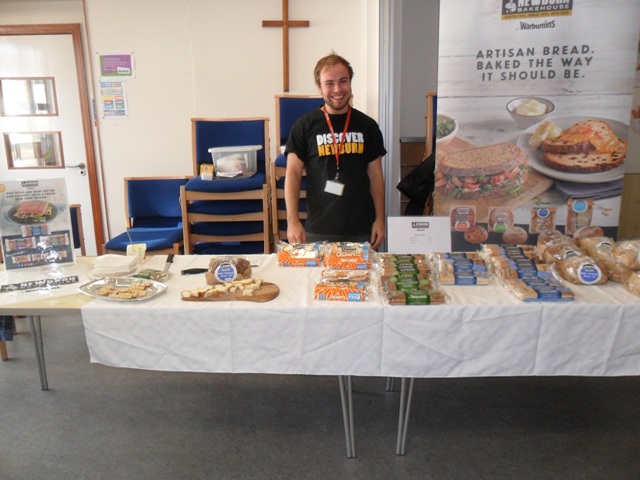 The Manchester Local Group held their Autumn meeting on Saturday 8 October 2016 which was really good. Three manufacturers attended tempting Members with their products. There was also a talk and discussion section with Helen Collett, a dietician with Bury NHS. A good time was had by all and it was lovely to see so many Members continuing to look so well on a gluten-free diet.
As well as as the autumn meeting, The Manchester Local Group held a meal on 9 November at Smith's Restaurant in Eccles. Excellent food, service and company. What a great way to brighten an autumn evening!
Sevenoak
s Local Group
The Local Group had an excellent pre Christmas Gathering of the Sevenoaks Local Group on Saturday 26 November at Christ Church URC Hall in Sevenoaks. Alan Williams from Gluten Free Foods did a talk and taster session with cookery demonstration. After this Members had the chance to buy a range of their products at a greatly reduced cost. The Committee served afternoon tea, coffee and home made cakes along with extra goodies from Gluten Free Foods. A very worthwhile afternoon was enjoyed by all.
Sheffield Local Group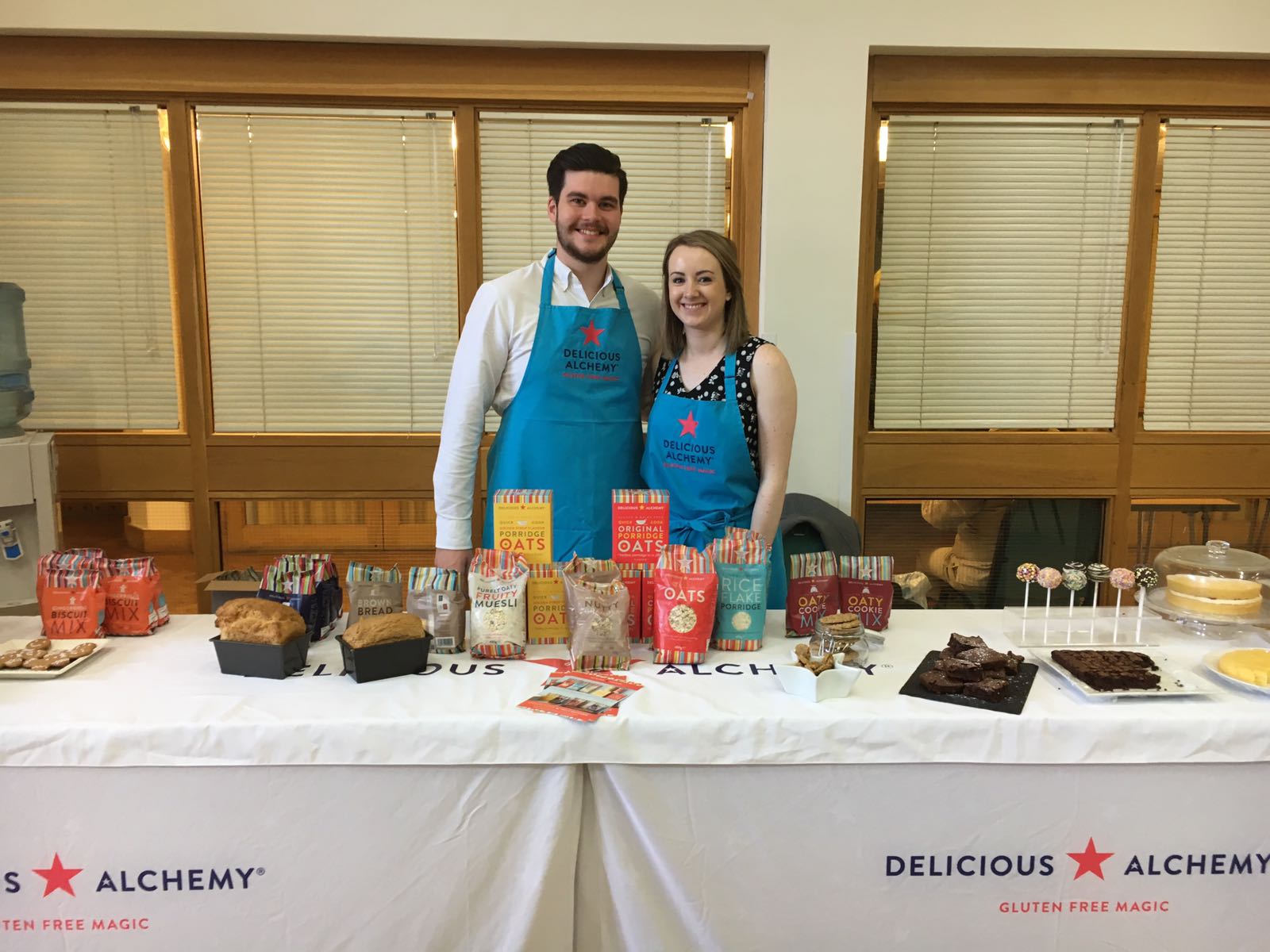 The Sheffield Committee organised a meeting on 8 October where Members were able to take refreshments and visit stalls by manufacturers including Delicious Alchemy and Voakes. The Committee had a good number of prizes on the raffle table generously donated by Members and manufacturers with money raised going to Coeliac UK. The children were kept entertained at the children's table and our resident Dietitian Gillian Goddard was available to answer dietetic questions
At 11.00 a.m. we moved into the Conference Room for the presentation given by Emma Killilea, founder of Delicious Alchemy, entitled "Cross Reactivity and Your Well Being". The subject proved interesting and stimulated a lot of questions at the end.
After the talk people moved back into the Hall to collect raffle prizes and make last minute purchases.
South Wiltshire Local Group
The South Wilts Local Group held their AGM and Consultant's Presentation held on 24 November 2016. After the AGM business was completed there was a detailed and most informative presentation given by Prof. Nicholas Harvey: Prof. of Rheumatology and Clinical Epidemiology within Medicine at Southampton University.

Professor Harvey explained about Osteoporosis and the link with Coeliac Disease. He illustrated how the bones both build and lose calcium and what that structure looks like in section. He gave great details that were clearly understood by all in the hall. The many individual questions from the members were answered at the end and his visit was much appreciated by the Coeliacs and also the visiting members of the local Osteoporosis group.
Swansea Local Group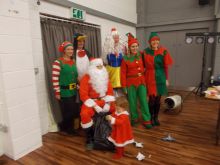 It was great to see the children having a fantastic time and in particular enjoying the range of homemade gluten-free food. A big thank you to the organising Committee Members for their hard work and making the party a success
Wessex Local Group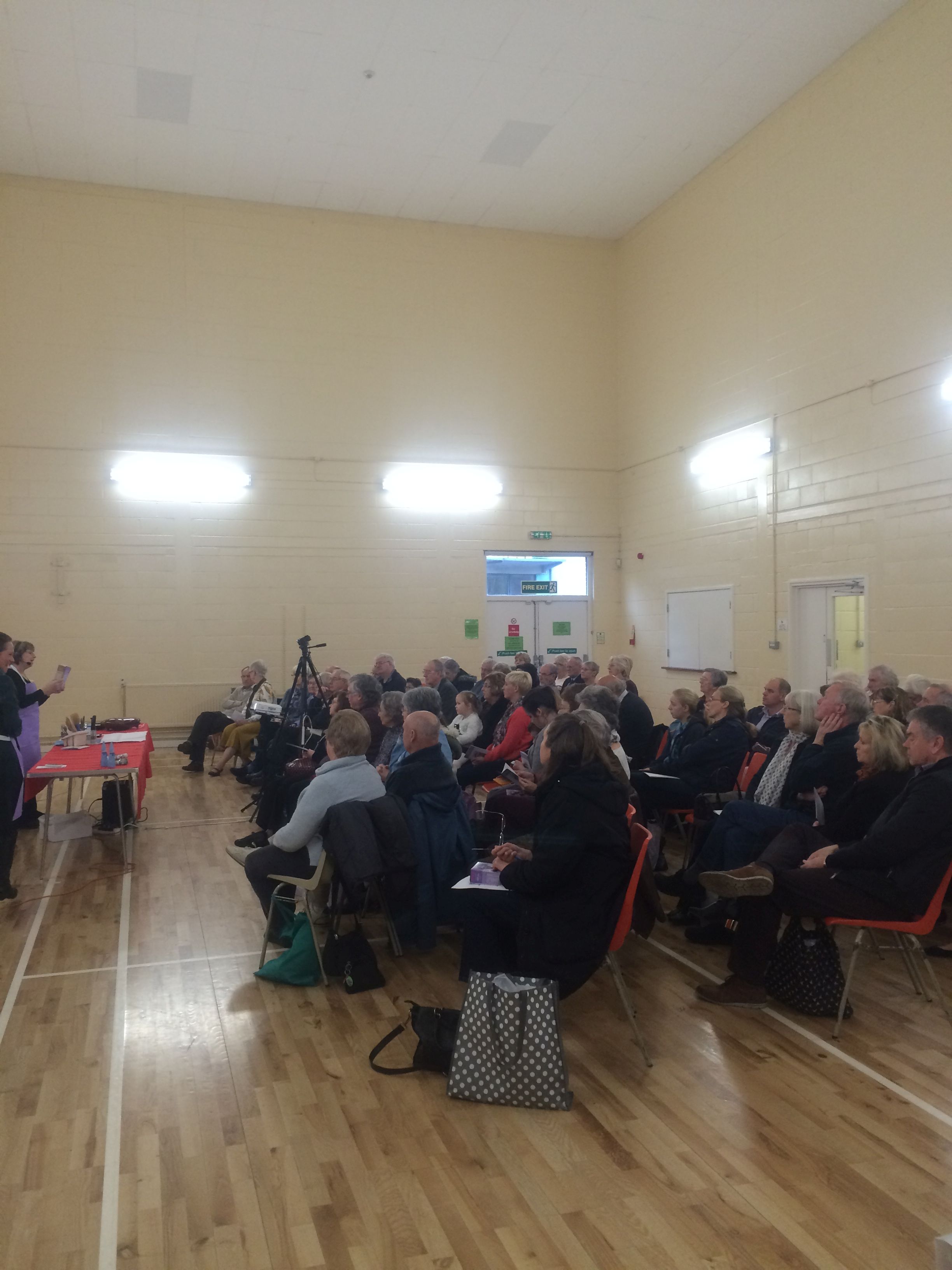 On Saturday 26 November nearly 80 Members descended on Winchester to attend a cookery demonstration by Juvela. We were all enthralled with the ease and expertise of Rosemary and Joanna from Juvella who demonstrated several recipes from their latest cookery book. We all then had the opportunity to sample the results. Needless to say there was no evidence of their hard work when we finished.

The Local Group greatly appreciated Juvela's support and a very special thank you to Rosemary and Joanna for their encouragement and dedication.
Print page
Add to My Scrapbook