Your location: Home
Local group events June 2017
Local group events June 2017
Ayrshire and Arran local group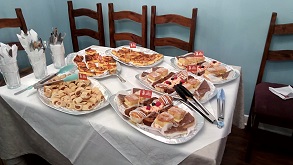 The Ayrshire and Arran local group added the quiz provided by the Coeliac UK Volunteering team to their AGM which was a great success. Everyone really enjoyed it commenting that it was good to have something light hearted after the meeting.


Bath and West Wiltshire quiz and supper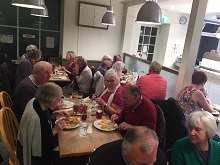 The Bath and West Wilts local group went to Barnacle Bills in Frome for a quiz night followed by delicious fish and chips with mushy peas. Members and family took over the whole venue on Monday evening (the day they change all the cooking oils).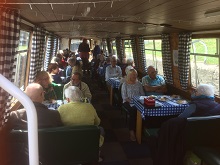 Trip down the Kennett and Avon canal
Trying out a new venture, the committee organised a 2 hour trip on board the Kenavon Venture which included a gluten free cream tea and hot drink. The event was thoroughly enjoyed by all 40 plus members, relatives and friends.
Well done to the committee for such a successful new event.
Cookery demonstration in Colchester

To mark the end of Coeliac UK Awareness week, members in Colchester were treated to a cookery demonstration hosted by the Goodness Food Company. In addition to hearing about the company, Faith demonstrated her method for making gluten free flour which she then used to make a quiche as well as an apple pie. In true Blue Peter style, the audience sampled the ones she'd made earlier.
The demonstration was followed by a simple but delicious lunch put on by the committee of salad, coleslaw and gluten free scotch eggs from Marks and Spencer.
Raising awareness at Dorset County Hospital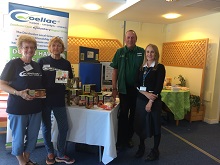 The Dorchester local group teamed up with dietitians at their local hospital to raise awareness. Steve Damon from Morrison's donated a hamper of gluten free foods which, put into a raffle, helped the local group to raise £45. Volunteers from the local group spoke to a large number of people including staff making for a very successful event.
Meal at Exeter college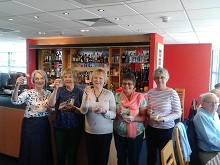 The East Devon and Exeter committee organised an excellent gluten free lunch for members at the 'Thirty four' training restaurant at Exeter College. The local group's requirements were fully met giving the students valuable experience for their future career. Various flags, cards and leaflets were given out to help publicise Awareness Week.

Alongside the meal the committee organised a raffle with prizes kindly donated by Kay's Cakes.
Children's party in Edinburgh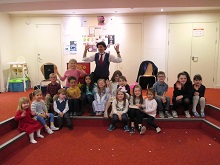 The Edinburgh local group hosted a party for their "10 and under" age group. 20 children attended the event and had a great time, enjoying entertainment provided by Jango the Clown followed by copious amounts of party food, all completely gluten free. All children left with big smiles as well as their party bags, book voucher and balloon! The committee were grateful to Glutafin/Dr Schar and Sugar Daddy's, a gluten free bakery based in the city. With one of the guests was a little girl who is gluten, dairy and soya free. Sugar Daddy's took on the challenge donating 20 gluten, dairy and soya free chocolate cupcakes to ensure nobody missed out.
Moments like this highlight just how much help can be found amongst the local groups and how much compassion there is amongst our volunteers and the community.
Manchester local group spring AGM and meal out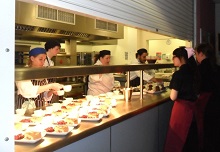 The Manchester local group Spring AGM took place at Walkden Methodist Church, in April. 60 members and friends attended to hear about the local group and vote in their committee. The committee had also organised a cookery demonstration by Dr Schar which was very interesting, after which everyone enjoyed a cup of tea or coffee and a good catch up. It was a successful event organised by all.
The Manchester local group Awareness Week meal this year was held at The Signature Restaurant in Bolton College. Just under 40 members and friends came together to attend what was agreed by all to be an exceptional meal, beautifully prepared and served by the catering and front of house students.
Awareness raising at Darent Valley Hospital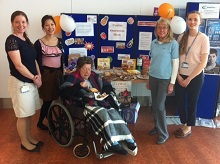 Fiona Turnbull, the Group Organiser of the Sevenoaks local group, spent a lovely day with the dietetic department of Darent Valley Hospital to raise awareness of the condition and charity. Fiona has done this for many years with the local group having built up a very good working relationship with the hospital. The dietitians were on an hourly rota throughout the day on the stand with Fiona. The local group had samples of gluten free bread and cakes on offer throughout the day for people to try, which always proves a great way to start conversations and improve understanding of the diet. In the afternoon there was a Gastro Outpatients' clinic which led to a good many conversations with people interested in knowing more about coeliac disease or currently going through the diagnosis process.
People really valued the time the committee were able to give to answer their questions and valued being able to get answers to the little questions that crop up in their minds, they always consider too silly to ask a doctor about.
South Herts local group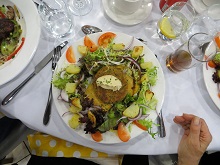 The South Herts local group meet twice a year to eat food produced by the catering school linked to Watford College. The school book the restaurant and ensure a gluten free menu for all to enjoy.
There are two great advantages to this set up, firstly the pupils get first hand experience about handling, cooking and serving gluten free food which will prepare them in the future. Secondly, members get to not only enjoy a superb meal but in different venues allowing for very different styles of cooking.
Coffee morning fundraiser and meal out in South Surrey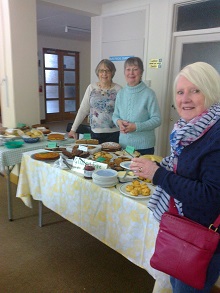 The South Surrey local group held a coffee morning, offering a friendly environment for members to meet, hear from others and share their stories about diagnosis, eating out and shopping gluten free locally. The local group attached a fundraiser to their coffee morning sending the proceeds back to Coeliac UK.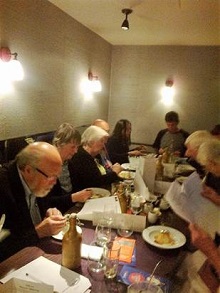 The South Surrey local group enjoyed a meal at Cote Brasserie in Godalming, a newly accredited restaurant. 16 members came together for lovely food, and guests were well looked after by the staff. To try and get the little grey cells working members had a go at the quiz created by the Volunteering team – tricky in parts but great fun!
Wessex local group linking with three hospitals
The Wessex local group teamed up with Southampton General Hospital, Winchester Hospital and Lymington Hospital to raise awareness during Awareness Week.

In Southampton they linked with Anne Sanderson, GI Clinical Nurse Specialist,and members of her dietetic team to hold a stand in the foyer. The local group provided plenty of gluten free snacks to ensure all who passed by stopped to ask questions and, of course, to have a taste. All agreed it was a very enjoyable and worthwhile exercise.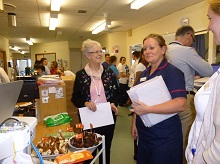 Winchester Hospital organised two Trolley Dashes around the wards, building on their efforts last year. Wow, what a difference in knowledge in just one year. Last year the local group did not find many staff who understood the dietary needs of patients with coeliac disease, with many just advising that they had different menu choices. This year 75% of the staff spoken to not only understood but also were alert that patients' visitors could inadvertently bring in food which was not suitable. Obviously a lot of work has been undertaken at Winchester and they are to be congratulated.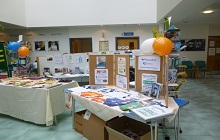 The committee also teamed up with Shirley James, Gastronintestinal Nurse Specialist at Lymington Hospital to hold a stand in the reception, Again the committee organised a wonderful selection of gluten free food to tempt everyone. Shirley had arranged for an article regarding the event to be published in the Lymington Advertiser and Times. The local group had a steady number of visitors and it was a really good opportunity to talk about the local group, charity, condition and diet.
Wolverhampton local group Supper Club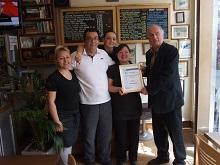 The Wolverhampton local group has a Supper Club, where they go to various restaurants in the City and try out their gluten free menu. Venues are judged on how confident people with coeliac disease felt to eat there, based on knowledge of the condition and their processes. The Supper Club were delighted to announce Café Maxsim in Wolverhampton as their overall winner.
Trent local group AGM
The AGM was well attended and the raffle raised funds. The local group had a good discussion after the AGM regarding availability and prescribing of products. Jenny delivered a cookery demonstration, cooking up three lovely dishes for attendees to try. Unfortunately this had meant to be a Juvela cookery demonstration but they'd had to cancel. Our thanks to Jenny for stepping up.
Awareness Week with Marks and Spencers
Over Awareness Week a number of local groups attended gluten free events organised by Marks and Spencer. We are really grateful to all local groups who were able to support Marks and Spencer, especially given the late notice.
Berkshire local group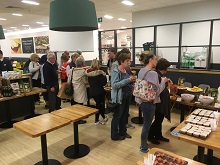 The Berkshire local group attended two Marks and Spencer events in Reading and Camberley with around 150 people attending in total. Staff set up their table in the Food Hall in Reading and in the café at Camberley. In both there were lots of nibbles and samples for people to try.

The events were so successful that the stores are already in discussion with the committee about holding another event soon to showcase an even wider selection of products.
East Devon and Exeter local group
The committee linked with the flagship store in Exeter to talk about the condition and gluten free diet. Group Organiser, Malcolm Dodd, gave a talk to the sixty people attending the event, outlining the work of the charity, local group and handing out the campaign leaflets. It was a really busy and successful event.
Edinburgh local group
The Edinburgh local group also supported two events, one in Prince Street store and the other in the Gyle store. In both staff put their gluten free stands in the café, handing out lots of food for people to try and answering their questions about the products. Committee members were at hand to talk about the charity and hand out campaign leaflets. Unfortunately they were so busy they didn't have time to take any photos!
Leicestershire local group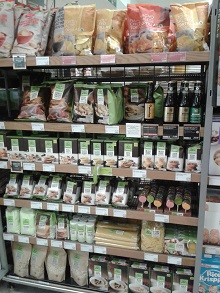 The Marks and Spencer store at Fosse Park invited the Leicestershire local group to attend a gluten free evening. The event proved a great opportunity to taste some of the products that the store stock and hear more about their gluten free range.
Trent local group
The Trent local group had a successful Awareness Week, starting with the Marks and Spencer evening at the INTU shopping centre in Derby. Approximately 50 people attended the well organised evening, where people enjoyed samples of gluten free lasagne, macaroni cheese, quiche, biscuits, cake and trifle. Simon Rhead, Food manager handed out booklets and explained about the range and the availability. He also took comments from people with coeliac disease about the products and listened to their individual likes and dislikes. It was a worthwhile evening.
Wessex local group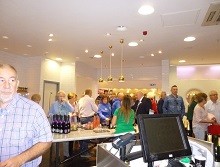 The Hedge End store invited the local group along to support their first ever gluten free tasting evening. Around 200 people attended the event, where they enjoyed a variety of gluten free foods. The committee were incredibly busy – it seemed like everyone wanted to talk to them. At the end Store Manager Laura presented the committee with flowers as a thank you – a lovely touch at the end of an exhausting but rewarding evening.
West Sussex local group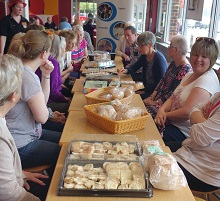 The West Sussex local group organised several events across West Sussex: a cream tea in Pagham, a coffee morning and lunch in Worthing where we rolled out the Gluten Freevolution and a celebratory lunch in Billingshurst. The local group also supported other events taking place locally including two Marks and Spencer tasting events in Chichester and Shoreham, a Schar roadshow in Horsham and a tasting at Worthing Sainsbury's. Everyone enjoyed themselves! The events were all really well attended, attracting members and non members alike including those who were gluten intolerant. They were really surprised to learn of all that Coeliac UK does. Tasting events were the most popular and the retailers commented that it also helped them to learn more about gluten free needs so the committee will arrange more nearer Christmas.
Several local groups also linked up with Morrisons during the week
Leicestershire local group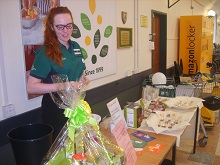 As part of Awareness Week, Morrisons Coalville arranged a 'taster day' where they offered a range of their free from products for customers to try. Staff were at hand throughout to answer questions about the products and leaflets about the charity were handed out.
Edinburgh local group
The Edinburgh local group got a phone call from Amie McIntosh, Community Liaison Officer at the Hunter's Tryst Morrisons store with news that they were donating a gluten free hamper to the local group. As the committee had recently hosted a New Members Get Together, they decided to put the names of all those who'd attended into a hat and draw out a winner. What a lovely idea and treat for the lucky winner.
Trent local group
Jenny Richardson, Group Organiser, was invited to collect a hamper provided by Morrisons at Ilkeston which they had put together for the local group's AGM. This provided a lovely addition to the event, especially for the raffle winners!
Print page
Add to My Scrapbook