Your location: Home
Awareness Week 2016 - Is it coeliac disease?
Awareness Week 2016 - Is it coeliac disease?
What's Awareness Week all about?
Awareness Week, which took place from 9-15 May 2016, was this year's big push to improve diagnosis and to empower more people to ask themselves 'Is it coeliac disease?' With a staggering half a million people in the UK currently undiagnosed, we built on the success of last year's Is it coeliac disease? campaign for 2016, highlighting the most commonly reported symptoms of the condition, including anaemia, with a range of initiatives. People all over the UK, both Members and non-Members alike, joined in to spread the word.
Is it coeliac disease?
There are a range of symptoms including constant mouth ulcers, crippling fatigue, stomach pain, regular bouts of diarrhoea, anaemia and weight loss. If you suffer from these or other unexplained symptoms, take the assessment and see if you are at risk of coeliac disease.
What went on
Social media takeover
We extended our reach online more than ever before, thanks to our successful Thunderclap campaign and symptoms selfies flooding social media to spread the word about diagnosis.
Take a symptoms selfie
We asked our Members to get involved with Awareness Week and post their symptom selfies and we've loved seeing them! The lucky winners were Carly Round and Jessica Rachel, check out their selfies below.
Thank you to all who got in touch and shared your photos with special thanks to Carly and Jessica who each won a copy of Phil Vickery's latest cookbook, 'Essential Gluten-free.'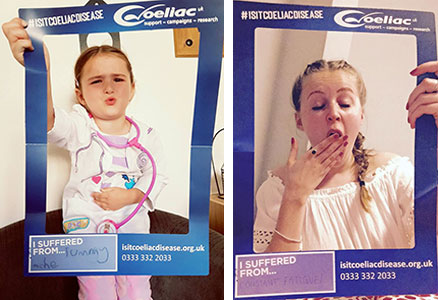 Our Thunderclap reached over a million people
Thanks to all of our wonderful Members and supporters, we reached over a million people with our Thunderclap campaign on Monday 9 May. We more than trebled our original target and were supported by the high-profile likes of Morrisons, the Food Standards Agency, Phil Vickery and our patron Caroline Quentin. We're so grateful to everyone who helped make the campaign such a runaway success. Find out more here.
Pop up event
Throughout Awareness Week, we pitched up at Piccadilly Gardens in Manchester for our pop up event. As well as talking about the symptoms of coeliac disease and handing out leaflets, we offered on the spot testing to those at risk.
If you missed us in Manchester, then don't worry, we are holding several pop up events throughout the summer. The next one is in Glasgow from 6-10 June.
Awareness Week in the media
Getting the diagnosis message out there through the media is a core part of Awareness Week. From delicious gluten-free recipe collections to a serious look at the symptoms undiagnosed people may be suffering with, take a look at some of our Awareness Week press coverage here.
National Coeliac UK Leafleting Day
It's all about spreading the word, which is why we took to the streets to raise awareness with National Leafleting Day on 14 May. We were thrilled to have the support of Marks & Spencer, offering up its stores as locations across the country.
Find out more on our diagnosis campaign
Visit our campaign page to find out more on our diagnosis campaign.
More Awareness Week 2016 - Is it coeliac disease? links
Print page
Add to My Scrapbook