Your location: Home
What we achieved during Awareness Week 2016
What we achieved during Awareness Week 2016
Awareness Week was a huge success: people all over the UK got involved with our campaign, we smashed our original campaign targets, and best of all, more people than ever are able to ask themselves 'Is it coeliac disease?' We're really proud of what we've achieved – take a look below at what's been going on.
Making a big online impression this Awareness Week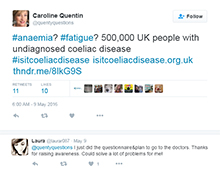 On social networks like Facebook and Twitter, once a particular issue is discussed by enough people it begins to trend.
This means it features on all pages of the social network, which encourages even more people to join the conversation.
Well, thanks to the support of our Members, individuals and organisations across the country we managed to feature on four of these trends within the United Kingdom on Monday 9 May.
All of these trends were directly related to our 'Is it coeliac disease?' campaign, and helped reach countless new people who were using the social network at the time.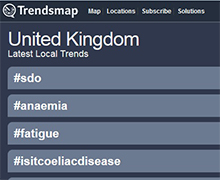 Not only was #isitcoeliacdisease trending on Twitter, but the symptoms #anaemia and #fatigue also featured alongside '#CoeliacAwarenessWeek.
This impact was undoubtedly bolstered by an unprecedented response to our #isitcoeliacdisease Thunderclap request, which reached over 1 million people through nearly 1,750 posts.
Thank you so much to everybody who signed up to the Thunderclap, or is continuing to make themselves heard online. We wouldn't be able to reach nearly as many people without supporters like you.
Symptoms selfie competition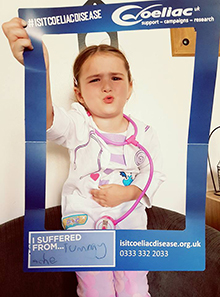 As part of our Awareness Week social media drive, we've been asking Members to use our selfie frames to take photos that describe their symptoms, helping us to flood social media and highlight the diverse array of symptoms that people with coeliac disease may face.
With two copies of Phil Vickery's latest cookbook, Essential Gluten-free, up for grabs we've seen some amazing entries already.
From the arty and creative to unbelievably cute, check out some of our favourites in the gallery below and keep an eye on Facebook and Twitter for the winners.
Awareness Week in the media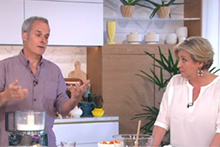 Getting the diagnosis message out there through the media is a core part of Awareness Week, and a huge number of outlets have taken up our story to spread the word about coeliac disease symptoms, gluten-free living, and the importance of asking 'Is it coeliac disease?'
On TV
Our patron Caroline Quentin's appearance on This Morning has already made a visible impact, bringing the conversation about coeliac disease symptoms to a national stage. As well as sharing her diagnosis journey, she and our Food Ambassador Phil Vickery put together a delicious gluten-free apricot tart.
We'll also be airing our popular TV ad again throughout May, so keep your eyes peeled.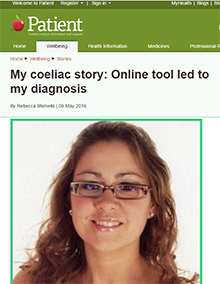 Print and digital coverage
An amazing number of news, lifestyle and entertainment outlets have taken up the 'Is it coeliac disease?' message in a number of articles about Awareness Week, coeliac disease diagnosis, the work of Coeliac UK, and living gluten-free. here are some highlights:
BBC Goodfood - 10 things you think are gluten-free but aren't
Telegraph & Argus putting the spotlight on our 'Is it coeliac disease?' campaign
Good Housekeeping listing facts and myths about coeliac disease
Patient.info - Coeliac UK case study Rebecca Shimells shares how the our campaign helped her get diagnosed
The Daily Record - Coeliac UK Member Dawn's diagnosis journey from super tired to superhuman
Huffington Post - Coeliac UK Chief Executive Sarah Sleet's guest blog about diagnosis
Mail on Sunday names www.coeliac.org.uk as their website of the week ahead of Awareness WeekBig Hospitality - post by Coeliac UK Head of Food Policy Kathryn Miller about gluten-free catering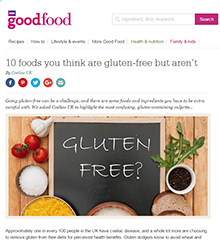 Essentially Catering magazine on highlighting the link between anaemia and coeliac disease
International Business Times round up of the best gluten-free restaurants in London
Elle UK shares their favourite gluten-free recipes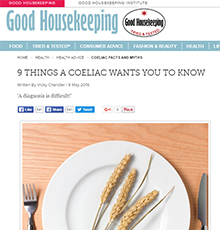 This is just a small sample of the huge amount of Awareness Week coverage out there. For a complete list, visit our Awareness Week media news round up.
National Leafleting Day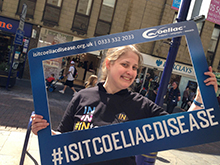 On Saturday 14 May, hundreds of volunteers all over the country turned out to support Coeliac UK's National Leafleting Day.
Their inspiring efforts have brought us that much closer to reaching the 500,000 people in the UK with undiagnosed coeliac disease, so we are incredibly grateful to all of them. Check out the gallery below for some more pictures of the leafleting in action!
Awareness Week Walks
On 6 and 7 May, the weekend before Awareness Week, our hugely popular Awareness Week fundraising walks took place in Abingworth, Bourton-on-the-Water, the Brecon Beacons, Dovedale and Lulworth Cove. With sponsorship from HF Holidays and debbie & andrew's sausages, our walkers raised more than £2K for Coeliac UK and had a lot of fun in the process.
Check out our gallery below to see more of our Awareness Week activity, from more selfies to the Awareness Week Walks, our Manchester pop up and everything in between.
Print page
Add to My Scrapbook