Monday: Cook along with Jane Devonshire
Coeliac UK Ambassador and MasterChef champion, Jane Devonshire kickstarted the week with a virtual cookalong at 10am on Monday 11 May.
Jane showed us how to make the perfect gluten free peanut butter and chocolate chip cookies, as voted for by our social media community.
Missed the cookalong? You can still take part!
Simply prepare the ingredients and equipment below in advance, then watch Jane's video below and have a go!
Ingredients
150g caster sugar
150g crunchy peanut butter
1 large egg
50g chocolate chips*
Kit
Electric hand whisk
Large bowl
Dessert spoon
Baking tray lined with greaseproof paper
*Please check our Food and Drink Information for suitable products.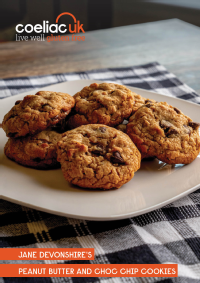 Download the recipe card
You can download the recipe card to follow as you go here.
Make a donation
Bringing you new experiences in your home and keeping you connected with your gluten free community is what we do. We provide support, advice and a helping hand when it's needed. And it's needed now more than ever. Please help support the future of Coeliac UK by making a donation.