Your location: Home
A coeliac? Or a person with coeliac disease?
A coeliac? Or a person with coeliac disease?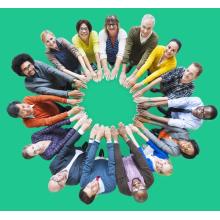 How do you refer to yourself and how should others refer to you and your condition?
Identity is important and it's a topic that's been rattling around the Coeliac UK office for some time. We've heard from some very passionate Members that being called 'a coeliac' defines them too much by their condition and that being 'a person with coeliac disease' puts the person first, not the condition, which is preferable.
There are different schools of thought on this and we thought we had the balance right.
As the charity for those with the condition we choose to put the person first and that has always been our terminology and we have always encouraged others to do the same – for example when we comment on government policy documents we get this changed or when it comes to talking to commercial companies or clinicians we make the point that the term 'coeliacs' can be perceived as offensive. But we don't refuse to report others using the term in our publications as we recognise that for some people, being 'a coeliac' is part of their identity. Healthcare professionals, caterers, manufacturers and other parties refer to people as 'coeliacs' as we know so many of you do too. We've so far not challenged this mix of terminology as we felt it reflects what our community does – so you may have seen a mix in things like the adverts in Crossed Grain and in Member quotes that we've used.
So far, our surveys have shown a 50:50 split in opinion, so it hasn't shown a strong enough steer to say that what we're doing isn't right.
But how do you feel about it?
Should we refuse to publish others using the term 'a coeliac' or carry on making sure that we use our preferred term 'people with coeliac disease' and encourage, rather than enforce, others doing so? Or do you see yourself as 'a coeliac' and prefer this terminology?
We'd love to hear more from you on your thoughts, so please do comment below and let us know what you think.
5 January 2016
In: Community
Print page
Add to My Scrapbook