Your location: Home
Coeliac / celiac / coelaic / coeliacs identity crisis
Coeliac / celiac / coelaic / coeliacs identity crisis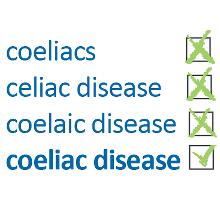 When you were first diagnosed with coeliac disease (or your loved one was), you probably thought that navigating the complex world of gluten-free living would be the only confusing stumbling block you'd come across. But a quick look at the Coeliac UK website search records suggests otherwise – who knew that just the spelling of a word could be so baffling? We're all bound by a condition that still many people can't pronounce or spell.
You have probably heard your condition called many different things over the years. From 'celiac' to 'coelaic' and of course, the ubiquitous 'coeliacs', we've seen almost every incarnation of the word you can think of. While the number of people who think coeliac is pronounced 'kholiac' is reducing over time, we're still seeing from searches on our website, that spelling 'coeliac' is still not easy for many.
And let's face it – that's hardly surprising, given that it's a difficult word and people are coming to us for information. So let's break it down and start at the beginning. It's not celiac / coeliac / coeliac or coeliacs. It's coeliac disease. The word 'coeliac' itself originally comes from the Greek root 'koilía' meaning 'belly'. That's the reason for the slightly tricky 'o'. A lot of vowels can trick the eye, which is probably why the American spelling drops one to make 'celiac' – for some people that's probably easier, but we love the quirkiness of the English language, so have a soft spot for that silent 'o'.
Some people may abbreviate by removing the word 'disease' but this is not strictly correct as 'coeliac' (or 'coeliacs' in plural form) is sometimes used to refer to a person or people with coeliac disease in a medical context. It's understandable if some people don't like the word 'disease', but the fact is that coeliac disease deserves to be taken seriously as an autoimmune condition.
Whether you go for the American version, abbreviate away, or just sometimes write 'coelaic' as a typo, the important thing is that we're here to help. If you don't know the difference between coelaic / coeliac / or celiac, or if you have any questions at all about the condition, then we're here to answer any questions you might have.
3 October 2016
In: Community
Print page
Add to My Scrapbook