Your location: Home
Glorious gluten free bread
Glorious gluten free bread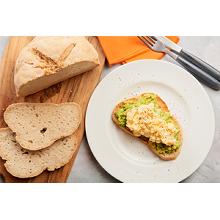 Baking great gluten free bread is probably one of the most rewarding things you can do in the kitchen, but we all know how challenging it can be.
After hearing from countless members about the difficulty of finding a failsafe recipe, we got our new Home Economist, Louise, on the case to develop some brand new gluten free bread recipes for all occasions.
You can find the recipes on our Home of gluten free recipes, but that's not all – Louise has put together a blog packed full of tips and tricks to make sure your loaf comes out beautifully every time you bake. Don't forget to upload your pictures and videos to our members' gallery.
As well as blogs from Louise, our Home of gluten free recipes is host to an array of changing content to inspire your free from cuisine. To make the most of the freshest ingredients, check out our In season produce feature, or find out what's In the kitchen as each month we bring you new ideas and advice.
For August we're focusing on managing vegetarian and vegan diets as well as living gluten free, and telling you all you need to know about seasonal figs and raspberries. You can also find out all about gluten free ice cream.
21 August 2017
Print page
Add to My Scrapbook