Your location: Home
"Is it coeliac disease?" in lovely big positive numbers
"Is it coeliac disease?" in lovely big positive numbers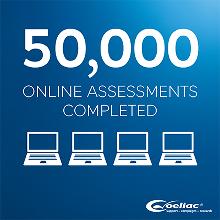 50,000 people have now taken our online assessment for coeliac disease. That's a pretty big number, representing a vast amount of people seeking advice from us about their symptoms.
If you've not yet heard about www.isitcoeliacdisease.org.uk, it's our online assessment which people can take if they think they might have coeliac disease. It asks people about their health, assesses their symptoms, and then makes a recommendation about whether the person should go to their GP and ask for a test.
While 50,000 is a fantastic number, equally as good is the fact that around 87% of those people were recommended to seek further investigation and testing with their GP. Even more impressive are some of the numbers from the campaign as a whole:
25,000 – the number of leaflets we gave out the general public
35 – the number of days we were out and about across the country in London, Leeds, Cardiff, Manchester, Glasgow, Birmingham and Newcastle at our pop up events
almost 500 people were tested at our events through the campaign, with 17% of those testing positive and referred to their GP for further investigation
30 volunteer Members generously donated their time to raising awareness and sharing their experience with others on the pop up stand.
The real results will, of course, be found when we see a rise in diagnosis – but that'll take time to filter through. People will need to think about the information they've received from us and get into the process of seeking diagnosis with their GP, a process we offer plenty of support with.
One thing that's been clear throughout the campaign is how people 'just get on' with life despite their symptoms. We've had so many conversations on our stands that show just how strong people can be, but no one should have to suffer needlessly. Sometimes getting an answer and moving on with a happy healthy life is the best path, because let's face it – living with bloating, nausea, mouth ulcers, unexplained anaemia and chronic fatigue just isn't right. We're passionate about that key message and are proud to have reached so many people.
For us, encouraging numbers like those above mean that we are taking real steps to driving real changes in real people's lives. So if you're experiencing symptoms, why not join them? These are the kind of statistics you'll want to be a part of.
28 September 2016
In: Campaigns
Print page
Add to My Scrapbook