Your location: Home
Next phase launched in development of coeliac disease vaccine
Next phase launched in development of coeliac disease vaccine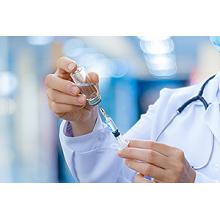 You might already have heard about research underway in Australia to develop a potential vaccine for people with coeliac disease. Called NexVax2, the vaccine could help about 95% of the coeliac community (those with the HLA-DQ2 gene) and is underpinned by previous research work funded by Coeliac UK.
In 2005, we awarded a research grant to Dr Bob Anderson. He identified the toxic fragments of gluten for people with coeliac disease. It's this knowledge, along, with further research, which underpins the development of NexVax2.
The vaccine is designed to reprogramme immune cells to become tolerant to gluten, working alongside a gluten free diet to eliminate the effects of gluten contamination. Ultimately, it's hoped the vaccine might one day replace the gluten free diet though this could be a long way off.
New treatments need to go through a series of clinical trials before they can be licensed for medical use. This involves a number of phases and can take up to 15 - 20 years:
Phase 1: Checking for side effects and testing the dosage. Usually about 30 people
Phase 2: Does it work in the people with the condition? The drug is tested against a placebo (non treatment). Usually about 200 people
Phase 3: How effective is it? The drug is tested in hundreds or thousands of people and can then be licensed for medical use.
Phase 4: How does the drug perform in the long term? This involves following people over a series of years
For more details about the clinical trial process, please visit www.coeliac.org.uk/clinicaltrials.
Four phase 1 trials for NexVax2 have taken place in Australia, New Zealand and the USA. These trials involved having weekly or twice weekly injections, over three to eight weeks, at different doses. The phase 1 trials showed that the vaccine was safe and provided more information on the immune system's response to gluten. It also gave an indication as to the best therapeutic dose.
At the end of last year, a phase 2 trial was launched, again in Australia, New Zealand and the USA. This trial will test specific therapeutic doses in a larger group of around 150 patients. There will be six weeks screening, 16 weeks of treatment with twice weekly injections, and four weeks post treatment. Full details of the trial can be accessed at www.clinicaltrials.gov using the NCT number NCT03644069 as a search term.
Following a successful phase 2 trial there will need to be a phase 3 trial to test how effective the vaccine is in hundreds and thousands of people with coeliac disease before it can be licensed for medical use.
Interestingly, ImmusanT, the company developing the vaccine for coeliac disease, is applying a similar principle to developing a potential vaccine for people with Type 1 diabetes. We will provide further updates as they become available so keep an eye out for more news.
4 February 2019
In: Campaigns
Print page
Add to My Scrapbook