Your location: Home
Our first ever TV advert
Our first ever TV advert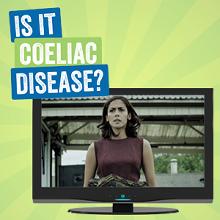 Our first ever TV advert, which is part of our Is it coeliac disease? campaign is helping us drive up diagnosis.
Turning on the TV and waiting to hear the sound of the train pulling up and seeing the snake tighten around her waist, we were off! Our first ever TV advert and the UK's first coeliac disease advert.
It was the peak of an exciting project knowing that millions of people were seeing our advert in their homes and might just be asking themselves, "Is it coeliac disease?"
So many people live with symptoms for too long and reaching out like this was unprecedented for the Charity in helping us help those in need to get that all important diagnosis. We've had an exciting year with our Is it coeliac disease? campaign and being able to work more closely with our community throughout has been a pleasure and a real plus for our campaign.
Real Members lent us their diagnosis stories, faces and time and supported the campaign by being featured in our artwork and talking to the public at our pop up events. With these activities, alongside the TV advert, online assessment tool and other advertising, we've been making lots of noise to try and capture the attention of the nation, all with a lot of help from Caroline Quentin our Patron and a little help from Donald the boa constrictor.
And now we're seeing results. Not just from the great statistics that we're getting in from our digital campaigns and the viewing figures of the adverts, but from real people who are feeling the benefit of the campaign. Just last week, this was posted on our Facebook page:
I've been saved by the Coeliac UK online tool for self diagnosis... It took printing off the results and showing to my GP before the tests would be done.
This is what it's all been about. Hearing from a new Member who has been diagnosed and joined our community as a result of the campaign made our day.
Everyone who got involved with the campaign should take something from this. So many of you took on the challenge of the campaign and held events, gave out information, supported our pop up events or shared social media statuses to help make more noise about coeliac disease – and it's worked.
This is what we do; our (gluten-free) bread and butter, if you will.
We know we've still much to do to raise awareness with the general population and healthcare professionals, but we're getting there. Getting the diagnosis message out is a key priority for Coeliac UK and 2016 will see us continue to bang the drum for improved diagnosis and drive people to consider Is it coeliac disease?
So if you're with us, and you've seen the campaign, welcome. It's an exciting journey ahead to get more people diagnosed and receiving the support they need to manage their condition so make sure you join us for the next time.
#isitcoeliacdisease
17 November 2015
In: Campaigns
Print page
Add to My Scrapbook