Your location: Home
Q&A with Warburtons' Chris Hook: the evolution of GF food production
Q&A with Warburtons' Chris Hook: the evolution of GF food production
As we celebrate 50 years of Coeliac UK and gluten free support, we caught up with Chris Hook, Warburtons' Free From Director, about how gluten free food production has changed over the years.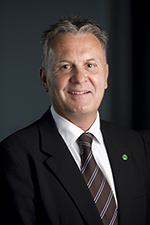 What was the biggest challenge in gluten free production back in the late 1960s and what's the biggest challenge nowadays?
Production was challenging because gluten free products fell apart. Bread was so difficult to make that it had to come in a tin and tasted nothing like the broad range of baked products you can buy now.
Is there anything you think manufacturers can do about the high cost of gluten free products, particularly bread?
All parts of the supply chain have a role to play. Compared with wheat bread, gluten free products require more ingredients and are produced on a smaller scale so we can't make the savings associated with larger batches.
What role have you played in the development of gluten free? What more do you want to achieve in the future?
It's easy to take for granted now, but back in the day gluten free products just weren't available in big supermarkets. I was really proud to have secured the first ever gluten free UK supermarket listing all those years ago. There is still more that needs to be done – for example, I'd love to see gluten free options available everywhere, whether that's in a retail or out of home situation.
From January, we will be rebranding the Newburn Bakehouse range to Warburtons Gluten free. Bringing our gluten free range under our mainstream Warburtons brand will enable us to do even more to normalise gluten free and to help even more customers get access to the products they need.
Thanks to Chris at the team at Warburtons for answering our questions. Find out more about what's going on for our anniversary at www.coeliac.org.uk/50years.
30 January 2018
In: Community
Print page
Add to My Scrapbook