Your location: Home
Raising awareness together
Raising awareness together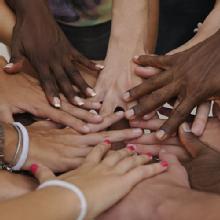 Working at Coeliac UK gives us the chance to properly connect with our Members.
Working at Coeliac UK gives us the chance to properly connect with our Members, who both support, and rely upon, the work of the charity. Through this connection, we have been able to build an understanding of what matters most to improve health and quality of life for people with coeliac disease. One of the biggest issues and clearest priorities is timely and accurate diagnosis.
Despite the research that goes into making these decisions, the human side of undiagnosed coeliac disease cannot be overlooked either. Take Phillipa, for example, who suffered with stomach pain, mouth ulcers, stunted growth and was extremely underweight for two years before finally being diagnosed with coeliac disease. She didn't receive that diagnosis until testing that took place after being admitted to hospital for malnutrition, which is simply not acceptable. For somebody like Phillipa, having the tools available to tackle her condition, and the knowledge to understand the gluten-free diet is essential. And that's not even mentioning that her diagnosis means she no longer suffers with constant stomach pains.
That's why, for the second year in a row, we're working flat out to get people the right diagnosis so that they can start getting to grips with their diet, and start to feel better. So, once again, we're spreading the message that if you suffer from anaemia, frequent diarrhoea, nausea, mouth ulcers or a host of other symptoms, you need to ask yourself 'Is it coeliac disease?'.
As is always the way with our fantastic Members, we have seen huge support behind our campaign to find the 500,000 people in the UK living undiagnosed with coeliac disease. People across the country have signed up to spread the word on our National Leafleting Day on Saturday 14 May, and we're over the moon to have Marks & Spencer supporting the event as well. With our online Thunderclap campaign we reached over a million people and got #isitcoeliacdisease trending. We've got people getting creative with their symptoms selfies, using our specially designed selfie frames, and we've got individuals and local group hosting their own' Is it coeliac disease?' events across the country.
This year, everyone here at the Coeliac UK office is looking forward to spending time campaigning side by side with the Members and making a difference to the lives of people who are living with a condition they may never have heard of. Your support means a healthier and happier future for many people who will go on to become part of our wider community.
For more information on what we've done together visit us at www.coeliac.org.uk/awarenessweek, and play your part in raising awareness of coeliac disease and the gluten-free diet.
13 May 2016
In: Campaigns
Print page
Add to My Scrapbook