Your location: Home
Supporting our Members through the gluten-free diet
Supporting our Members through the gluten-free diet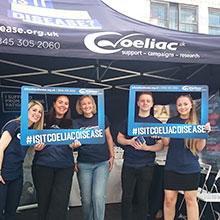 From Monday – Friday 9-5, we're here to help you.
As you might have seen from our coverage on our website and social media, we've been out and about a fair bit this summer. Our campaign pop up events, Annual Conference and the other events we attend such as the Allergy and Free From Show and the BBC Good Food Eat Well Show provide excellent opportunities to get our message out there and meet Members and non Members alike.

As you might expect we're always asked many questions about the gluten-free diet and other conditions associated with coeliac disease and it's always a pleasure to be able to help people navigate that difficult start in learning a life gluten-free and inspiring with tips and hints in maintaining that gluten-free diet.
Everyone's dietary needs are unique, but there are still common themes that emerge when we hear from our Members. From associated conditions like lactose intolerance and Type 1 diabetes to getting tested and understanding more about testing, there is so much information that we can provide.

Our dietetic clinics at our Annual Food Fair and Conference are an important opportunity to speak to Coeliac UK dietitians face to face, but we offer continual support for people following gluten-free diet day to day, all year round. By calling our Helpline on 0333 332 2033, you can speak to our gluten-free food experts and dietitians and receive the support you need to adhere to the gluten-free diet in a way that's right for you. From Monday – Friday 9-5, we're here to help you.
12 August 2016
In: Community
Print page
Add to My Scrapbook