Your location: Home
Our amazing supporters
Our amazing supporters
A huge thank you to everyone who got involved with Awareness Week this year.
With your help, we hope we've reached people with the message that coeliac disease could be the answer they're looking for. Coming together to say the same thing is so powerful and thank you to everyone who gave up their time and supported our cause.
Here are just a few of our amazing supporters. If you would like to send us your photos, we'd love to feature you here.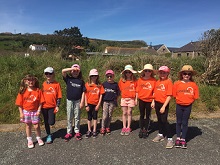 Caitlin Butterfield took part in her annual support of our Awareness Week, this year hosting a four mile sponsored walk in aid of Coeliac UK. She was accompanied by her friends and parents. Caitlin decided on the route she wanted to take, and the walk started at a local woodland which led up to the coastal path and finished on the beach. Caitlin's parents said: "Since following a gluten free diet, and gettin the right support she has gone from a tired, pale, no energy child to a healthy, happy bright young girl. The change was very quick. Diagnosis was a relief that the condition could be managed." Thanks to Caitlin for always being so supportive of Coeliac UK.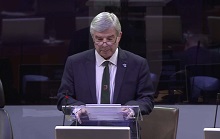 Dai Lloyd AM held a 90 second statement in the Senedd during Awareness Week which you can watch here. It gave profile to our campaign amongst Assembly Members and highlighted our key messages and some of the challenges people with coeliac disease face. Thank you to Dai for his ongoing support of the charity and helping us ensure that we are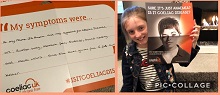 Amelia is 10 years old and has raised awareness of coeliac disease by posting this photo to her Dad's Facebook. Friends and family donated over £215 in less than 12 hours! Amelia has managed to deal with her diagnosis through participating in sport, working hard at school and educating people on the disease and her family is very proud of her. Thanks so much for your support Amelia!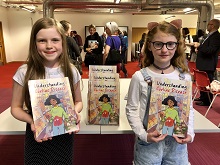 Niamh and Ailish both aged 10 at the launch event of the Understanding Coeliac Disease comic in Dundee. Both girls have coeliac disease and both their stories are featured in the comic. The comic has been produced between University of Dundee and Coeliac UK using real life stories of how people with coeliac disease face everyday challenges on a gluten free diet and you can download it here.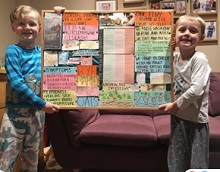 The Heale boys, Dexter aged 7 and Corey aged 5, were both diagnosed earlier this year and wanted to make their school more aware of how serious coeliac disease is. For their class projects they did a presentation on coeliac disease and even made gluten free biscuits for all their classmates and teachers to try. They are also planning a sponsored walk to raise money for Coeliac UK later this year.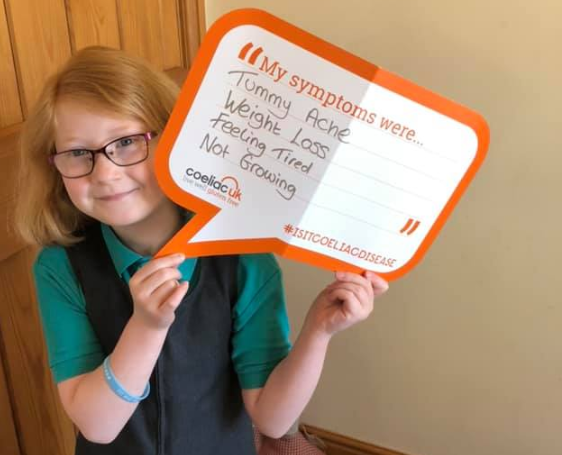 Sophie raised awareness at her school during Coeliac UK Awareness Week, telling people about her symptoms and coeliac disease.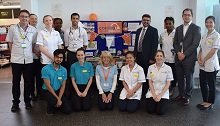 Fiona Turnbull of our Sevenoaks local group spent the day Darent Valley Hospital hosting an information stand with seven dietitians, two student dietitians and four gastroenterologist consultants who helped man the stand and answer people's questions.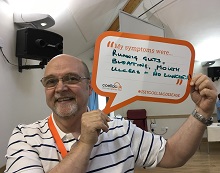 Mike Wilcock from our Sevenoaks local group getting involved by sharing his symptoms on our symptoms bubble.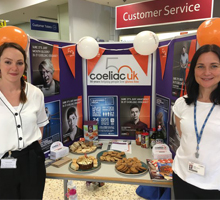 Sasha and Anna spent the day at Tesco raising awareness of coeliac disease and fundraising for Coeliac UK.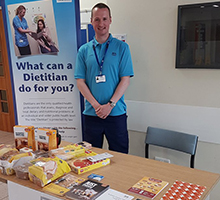 Gordon McAndrew raising the importance of questioning 'is it coeliac disease?' at NHS Lanarkshire.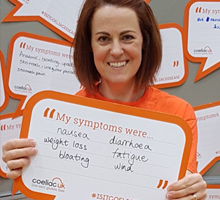 Claire shared her pre-diagnosis symptoms using our symptoms bubble to help raise awareness and asked people to take our online assessment 'Is it coeliac disease?'.

University Hospitals Bristol NHS Foundation Trust team hosted an information stand who helped raise awareness of coeliac disease and answered people's questions.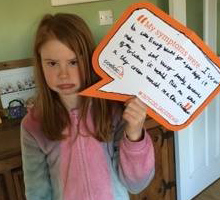 Elodie aged 8 used our symptoms bubble to raise awareness of coeliac disease.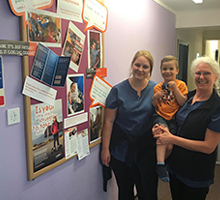 Tan and his Key Worker and Director of Par Moor Pre School & Nursery made a display for Coeliac UK Awareness Week, with posters, and photos of Tan whilst he was consuming gluten to help raise awareness.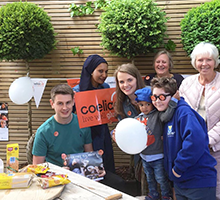 Kerry raised awareness by holding a gluten free BBQ and tea party for all the family.

My Free From Kitchen used their social media to spread awareness of coeliac disease and shared our bubble symptoms and posters.
Print page
Add to My Scrapbook