Your location: Home
Our community
Our community
While we work as the patient voice for people with coeliac disease and dermatitis herpetiformis, we know there are many of you out there in your local communities raising awareness and highlighting the needs of people with the condition too. Everyone's contribution is valuable and with more of us, we can make more noise.
Below are just some of those special people helping to get coeliac disease noticed.
Telling my story
A family from Wales
I agreed to be a media case study for Coeliac UK because I want to raise awareness of coeliac disease.
I have conversations from time to time with people who have symptoms but haven't been tested because of lack of information on their part and lack of expertise from their GP. I only wish someone had shared their story with me when I went through six years of not knowing what was wrong with my child.

Earlier this year I was asked by Coeliac UK whether I'd be willing to be interviewed for our local newspaper who had contacted them as they were interested in printing a "human story" about coeliac disease ahead of Awareness Week. I was visited by a lovely lady reporter and we chatted for about half an hour - I could've done this on the phone if I'd wanted. I felt prepared as Coeliac UK had emailed me some factsheets and I was able to weave the important information I wanted to get across into our family story. Later that day a photographer came and took pictures of me with both of my children who have coeliac disease.

A long two page article was printed in the paper and online, bringing out the facts as part of our story. I hope people will find it interesting so that many read it and, among those readers, maybe some will be helped to discover that they have coeliac disease too.

Shortly afterwards we were asked about being interviewed by BBC's The One Show for a feature on gluten-free food. Unfortunately, our interview was not used on the programme due to lack of time available on the day. We were obviously very disappointed we weren't featured but I am still glad we did it as the children really enjoyed being "film stars" for a few hours and it was good for them to have a think about their life with coeliac disease and how they could help others like them to get diagnosed.

We were also very pleased to be asked to be featured as a family in Crossed Grain Magazine for the My Story article in the Autumn/Winter 2013 edition and to share our story with members. I would encourage anyone who has the chance to be a media case study to do it, so that others too may be helped and that awareness will be raised.
Raising awareness of gluten-free food
Rosie Norman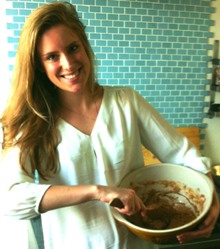 Rosie was diagnosed with coeliac disease aged 13 (she is now 26) after being very ill at school. She was very underweight, breaking bones quite often and was anaemic. She was diagnosed with coeliac disease and osteopenia which led to her family being tested and resulted in her mother finding out, aged 40, that she had coeliac disease too.
Being at boarding school meant Rosie had to take control of her diet from a young age:
The Coeliac UK Food and Drink Guide and Crossed Grain magazine was my Bible!
Over the next year Rosie flourished, putting on weight, her bone density increased and she felt so much better. This positive involvement with food led Rosie to take a new career path to become a dietitian, hoping to specialise in gastroenterogy and treat people with coeliac disease and perhaps do science research in this field too.
I decided to start my website www.glutenfreerosie.com and I have started a monthly gluten-free supper club in my London home and, although it's early days, it has already been a great success.
Being passionate about gluten-free living and spreading awareness of coeliac disease has shaped Rosie's career and she has done all of this on top of a demanding and academically rigorous full time degree which has meant late nights and lots of cooking but it is all worth it.
Writing about coeliac disease
Alex Gazzola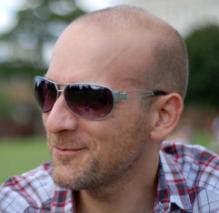 My involvement in world of coeliac disease began when I was asked to write a general book on food intolerance in 2003. Even as a health writer of some years, I'd barely heard of gluten at the time, never mind coeliac disease or autoimmune conditions, and so a crash course of learning was needed. What I found out was intriguing: here was a protein, found in a few types of innocent looking grains, which could cause serious, sometimes difficult to detect disease. I was hooked.
I started to research coeliac disease whenever I could persuade an editor to run a story on it, and wrote articles for health and women's magazines, for supplements, and for papers such as the Daily Mail. More recently I was asked to write a dedicated book, Coeliac Disease: What you need to know, which was shortlisted for a Guild of Health Writers Award last year. I'm also on the team at CoeliacsMatter.com and the FreeFrom Food Awards, which rewards and discovers great gluten-free (and dairy, egg and nut-free) foods – and hopefully drives the Free From industry on to better things. Even though I'm not coeliac, I'm closely involved with the coeliac community, especially online, via Twitter (I'm @HealthJourno) – where I occasionally host gluten-free 'chats' – and Facebook.
I try to regularly update my blog, Food Allergy and Intolerance Ink, where I like to explore controversies or issues surrounding all kinds of food hypersensitivities, not just gluten-related ones, and hopefully get some passionate debate going. I'm not afraid to disagree with anyone – be they coeliacs, nutritionists or even on some rare occasion Coeliac UK! – and hope everyone feels able to disagree with me too. Although it's important to be clear on facts, it's useful for us all to challenge something we're unsure about. Discussion and debate and the sharing of information and ideas among the Free From community is, I think, the way forward. That's how we educate and improve things for all those living with challenging dietary restrictions.
Podcasting about coeliac disease
Peter Stewart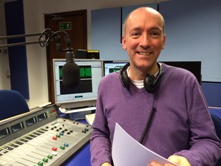 Peter Stewart, professional broadcaster and Member of Coeliac UK presents 'The GFree Radio Show' the UK's first and the world's only weekly 'audio-blog', or podcast.
As there are already many superb written blogs, and because of my radio background, it was sensible to do something for the gluten-free community that was different. And as each podcast is in (gluten-free) bite sized chunks, people can listen while they are doing something else. 'The GFree Radio Show' is presented in a magazine style with a wide variety of content.
I cover news items and comment (perhaps a new survey or research into coeliac disease, or links between gluten and other health issues) and food updates (such as new gluten-free products and their availability), or other items regarding nutrition and exercise. But the main difference is the interviews. On radio you can actually hear what people have to say: the passion for their new product or their despair over their diagnosis.
Each weekly episode contains at least two interviews. Usually one with a gluten-free food supplier, who have ranged from home bakers to 'multinationals' such as Heinz or Warburton/Newburn's. Or it might be a chat with a someone with coeliac disease who's written a great blog, or is passing on advice about, say, eating gluten-free on holiday, or at Glastonbury.
We've run a series of expert advice on setting up a gluten-free food business; interviews with parents of children with allergies, a newly diagnosed teenager whose journey we're following, and a mini documentary from a gluten-free supper-club. We've heard from a record-breaking cross-Atlantic rower who has coeliac disease, from the Olympic medal winning cyclist Craig Maclean, and the organiser of a gluten-free restaurant/deli tour of New York. Our interview with the organiser of the 20ppm campaign in the US, minutes after the FDA announcement was made, was included in the next edition which was online within two hours. Our conversation with Cheryl Ryder of Dribble Delights was in the episode immediately after she'd won funding for her allergy free baby food; our conversation with Genius' Lucinda Bruce-Gardyne coincided with her profile in the Sunday Times.
'The GFree Radio Show' is free, and all archive episodes are available to download or stream on phones or computers via itunes, YouTube and at www.gfreeradio.com and www.bit.ly/hearitnow and you can keep up to date with what's in each show by following us on Twitter @GFreeRadio.
Raising awareness at school
Lucy Armer
After being diagnosed with coeliac disease in February 2016, six year old Lucy Armer from Yorkshire wasted no time in getting involved with Coeliac UK's fund- and awareness-raising activities.
Having suffered with symptoms like weight loss and fatigue, Lucy was keen to join in with Awareness Week 2016 to spread the word about her condition, both to improve diagnosis rates and to help her classmates understand more about the challenges she and other people with coeliac disease face.
As part of Coeliac UK Awareness Week 2016, Lucy put together a fantastic presentation to inform her class about coeliac disease. After telling her story, she explained her symptoms and her experiences of living on her new gluten-free diet. When the presentation was over, everyone tucked into some tasty gluten-free treats. Her dedication and commitment to Coeliac UK was so impressive that she was even featured in her local newspaper, the Barnsley Chronicle. She finished off Awareness Week by leafleting with her family on National Leafleting Day.
Pietro Casati Kuyath
Two years ago I was diagnosed with coeliac disease. It wasn't necessarily a great surprise, as I struggled to gain weight and suffered from frequent diarrhoea.
My sister was also diagnosed the previous year but with totally different symptoms. Her growth was hindered and yet she showed none of the common symptoms associated with coeliac disease. It helps having another member of the family on a gluten-free diet but it doesn't help that I am Italian, and will never be able to savour the taste of an authentic pizza Margharita!
Now I am more informed about the disease it doesn't affect my life as much as I thought it would. I can find everything I like to eat in the gluten-free section of supermarkets. I wish I could come across more cafes offering gluten-free cakes and sandwiches, but I think in time most cafes and restaurants will have gluten-free options, in the same way that vegetarians are catered for.
Four months ago I had to produce an informative piece of writing for my English Assignment at school and thought that it was a great opportunity to conduct research on my coeliac disease. I decided to write my own leaflet, giving my personal perspective of the disease and factual information on the condition and was delighted that it was received with praise from my teachers.
A special mention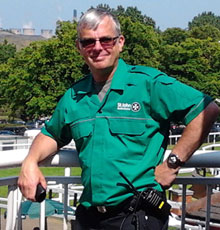 We'd like to say a big well done to Member Bob Smith who has given an abundance of his time to volunteer for St John's Ambulance, giving a massive 3,000 hours to help people in Leeds who require emergency care. Bob received a special mention in the Yorkshire Evening Post and is calling for more volunteers to join him. Bob said:
I hope this shows that even with challenges like having coeliac disease, we can still lead active lives and do our bit.
Well done Bob!
More Our community links
Print page
Add to My Scrapbook