Your location: Home
Coeliac disease and professional sport
Coeliac disease and professional sport
Olympic and Paralympic medallist Craig MacLean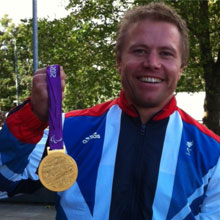 Craig MacLean has achieved something rather remarkable in spite of having coeliac disease.
The athlete had endured 12 years of debilitating cramps, extreme exhaustion and very low iron levels and underwent numerous tests and investigations during his time with Team GB - but coeliac disease wasn't tested for. Training became harder as Craig pushed his body and he was experiencing dizzy spells.
Diagnosis
After the birth of his daughter, Craig went back to his GP after enduring further symptoms of insomnia and depression and the GP took blood, this time testing for coeliac disease.
You can read more about Craig's story in our summer 2014 Crossed Grain magazine.
The effect of undiagnosed coeliac disease
As Craig looks back, he feels having undiagnosed coeliac disease was having a huge impact on his athletics career. Although he competed in the 2004 Summer Olympics in Athens, he was dropped from the GB Team just before the Beijing Olympics. Craig said: "I was very frustrated that I didn't make the GB Team for the Beijing Olympics in 2008 and I'm convinced that my undiagnosed coeliac disease was affecting my track times".
Getting back on track
Since diagnosis and keeping to a strict gluten-free diet, Craig feels his body has begun to heal and he is able to train harder and longer than he did before.
In 2010, shortly before being diagnosed with coeliac disease, Craig decided to switch disciplines and became a tandem pilot for the visually impaired. Teaming up with Neil Fachie in 2011 they won gold at the Para-cycling Track World Championships and at London 2012, and competing at his first Paralympics Games, Craig won a gold medal as the tandem pilot for Anthony Kappes.
"I participated as an able bodied athlete in the tandem bike category for the visually impaired and I was delighted to win a gold medal in London. In previous games the pilot didn't receive an actual medal but they decided to award them to both riders - it was a very proud moment."
In 2013, Craig was awarded an MBE for services to cycling and continues to train and compete, now feeling better than ever before.
Bronze medalist Laura Gallagher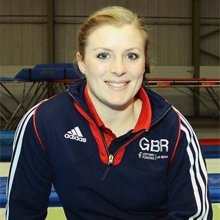 Laura Gallagher is part of the Great Britain trampoline squad. In 2012, she was awarded a bronze medal in the European Championships - all the while having coeliac disease and dermatitis herpetiformis (DH).
We caught up with Laura to find out how she deals with her diet during training and how it's had an impact on her sport.
How were you diagnosed with coeliac disease?
"Since I was 12 years old, I'd been getting this rash all over my body and it was bothering me; I was really aware of it whilst I was competing in competitions. Over the next few years I saw various GPs but none of them were able to diagnose what it was. It was only last year when I had a blood test as part of an annual check with the GB squad that my test came back and said I had an underactive thyroid. I'd been getting progressively tired but didn't mention it to anyone. Training was getting tough and about a month later the rash came back - it was getting worse - so I went back to my GP and had another blood test which suggested I had coeliac disease. It was then suggested that the rash was dermatitis herpetiformis and this was all confirmed when I had a biopsy."
Has your diagnosis had an impact on your training?
"Since starting the gluten-free diet, I am able to train for longer instead of feeling uncomfortable and having to cut short training sessions. My rash has disappeared and I can now focus on my training without feeling bloated like I was before. The diagnosis helped me answer all of the questions I had and helped me understand what I was previously feeling."
What's the biggest change you've had to make since diagnosis?
"I had to get familiar with the ingredients I can and can't have, so it was a big lifestyle change to fully understand my new diet. It was definitely a change for the better though! Planning ahead is key; I have to make sure I'm prepared for the day ahead."
If you could give some advice to someone who has coeliac disease and worries that it may have an impact on their ability to take part in sport or any other hobby, what would you say?
"I'd say never let it stop you. You can do anything - I feel heaps better now compared to the time before my diagnosis. A lot of it is mind over matter; if you want to do something then do it."
Photo credit: Aran Jefferies, Latitude Photography
Great Britain swimmer Jasmine Seamarks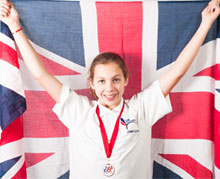 Jasmine Seamarks is a severely hearing impaired swimmer who has represented Great Britain at the European Deaf Swimming Championships in Russia. Jasmine also took part in the World Deaf Swimming Championships in San Antonio, USA in summer 2015, setting a British record for 50m Backstroke, 100m Backstroke and 400m individual medley.
Does the gluten-free diet affect your training?
"When I first found out I had coeliac disease I was worried; being a swimmer, we tend to eat lots of pasta and snacks. I had to change my diet overnight but still needed the calories as I swim 18 to 25 kilometres per week! I was really happy when I found the gluten-free pasta which I was able to get on prescription - I don't feel it tastes any different to what I was eating previously.
I now embrace the Free From aisles in supermarkets and within two months of my new gluten-free diet I was stronger and faster than before and my pains had gone.
I was overjoyed at being picked to represent Great Britain at the World Deaf Championships this summer and all the coaches have been impressed with my improvement in and out of the water. I can now build up my stamina which was previously a problem in the longer distances. Has the diet hindered me? No, the diet has only helped!"
What's the biggest change you've had to make since diagnosis?
"After swimming competitions (before being diagnosed with coeliac disease), I would eat lots of fried chicken, breaded chicken and chips - I was a real fast food junkie so that had to change. However, I can still have chips at my local fish and chip shop when I want them.
Travelling abroad now means I have to prepare beforehand, and I take the food translation cards with me when I travel. I've learned to take my own gravy to places when I eat but I find lots of places are very supportive in my gluten-free diet.
I'm lucky that my Mum is a great chef and makes me gluten-free cakes which I find better than normal cake!"
What advice would you give to someone who has coeliac disease and worries about the impact on getting involved in sport?
"I have improved so much since starting my diet that I have been able to make a move to a more senior training club which is fantastic and I've been picked for the Great Britain Deaf. I can now train harder, swim faster and swim for longer since starting my gluten-free diet - the impact has been really positive so I'd say just think about the difference it can make to you."
Great Britain golfer Luca Randall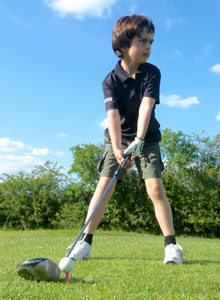 Luca has already achieved some fantastic things in his sport, including qualifying for the IMG Academy World Junior Golf Championships in San Diego – the tournament which Tiger Woods won at the age of eight. He was also the youngest ever member of Bourn Golf Club near Cambridge, joining when he was only three years old. Luca first swung a golf club at the age of two, not long after he started his gluten-free diet. His Dad, Neil, is a single handicap golfer and he realised that Luca had a talent for the sport.
Diagnosis
Luca's first signs of coeliac disease were when he was 20 months old and suffering with irritability, extreme tiredness, weight loss and a very swollen abdomen. After diarrhoea, constipation and vomiting followed, a blood test picked up coeliac disease, just after his second birthday, with a biopsy confirming his diagnosis in the autumn of 2010.
Gluten-free golfing
"Luca copes very well with his gluten-free diet," says Mum Delia. "He says that it means he has to eat healthier foods, like fruit and vegetables, and he likes those, so he's happy. The gluten-free diet has completely changed Luca's life; within a few months, his energy returned, he started growing and putting on weight, his abdomen looked normal again – our little boy was back!" Luca said, "I feel awesome!"
Luca took part in the IMG Academy World Junior Golf Championships in San Diego, California in July 2015 and finished in the top ten.
Carla, part of the British Canoeing TID (Talent Identification and Development Academy)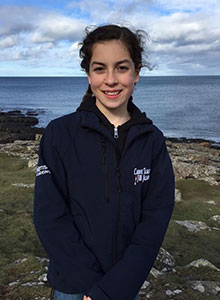 Carla was selected to be part of the British Canoeing TID (Talent Identification and Development Academy) for canoe slalom. This is a lottery funded programme to find sporty fit youngsters who have the potential to develop into international athletes. Carla's mum, Louise, tells us more about the sport:
Can you tell us a bit about Carla's sport?
Carla takes part in canoe slalom in a kayak (sitting down using a paddle with two blades) and canoe (kneeling down with a single blade). The aim of the sport is to navigate down a course passing through green downstream gates and red upstream gates as fast as possible. If you touch a gate you get a two second penalty, and for missing a gate you get a 50 second penalty. Competitors have just two runs down the course and your fastest time counts. It is a high adrenaline sport requiring a mixture of skill, strength, fitness and a touch of bravery.
How did she get into it?
We are lucky to live near the National Watersports centre at Holme Pierrpont, Nottingham. Carla's older sister Izzy took up canoeing a few years ago, which sparked Carla's interest. After joining the club last summer, in October Carla was selected to be part of the British Canoeing Talent Identification and Development Programme. To be selected Carla was up against all of the Year 7 and 8's at her school. She had to perform the Beep Test (where she scored an impressive 9.7) as well as gym testing and an assault course, and was very pleased to be one of 12 children asked to join the programme. She now trains three nights a week and regularly attends weekend races. She is already in division two for both kayak and canoe slalom, and in July won her first division two race.
What does she hope to achieve in her sport?
The Programme aims to find future Olympians and GB Team members, so those are the long term goals. In the short term, she is enjoying training and competing with her friends and racing on increasingly challenging water, with the chance of getting to division 1 this season. This Summer Carla will travel to Prague to train for a week at an international race venue.
What would she say to other youngsters who have coeliac disease?
Having coeliac disease can make things more difficult sometimes when you are out, but shouldn't prevent you being fit and active. Being diagnosed made such a difference to Carla's health that the benefit of following her gluten free diet outweighs the difficulties overall. Carla enjoys baking and cooking gluten free food for her whole family. She is especially good at making gluten free waffles, which can make a fantastic healthy breakfast.
Ellen's challenge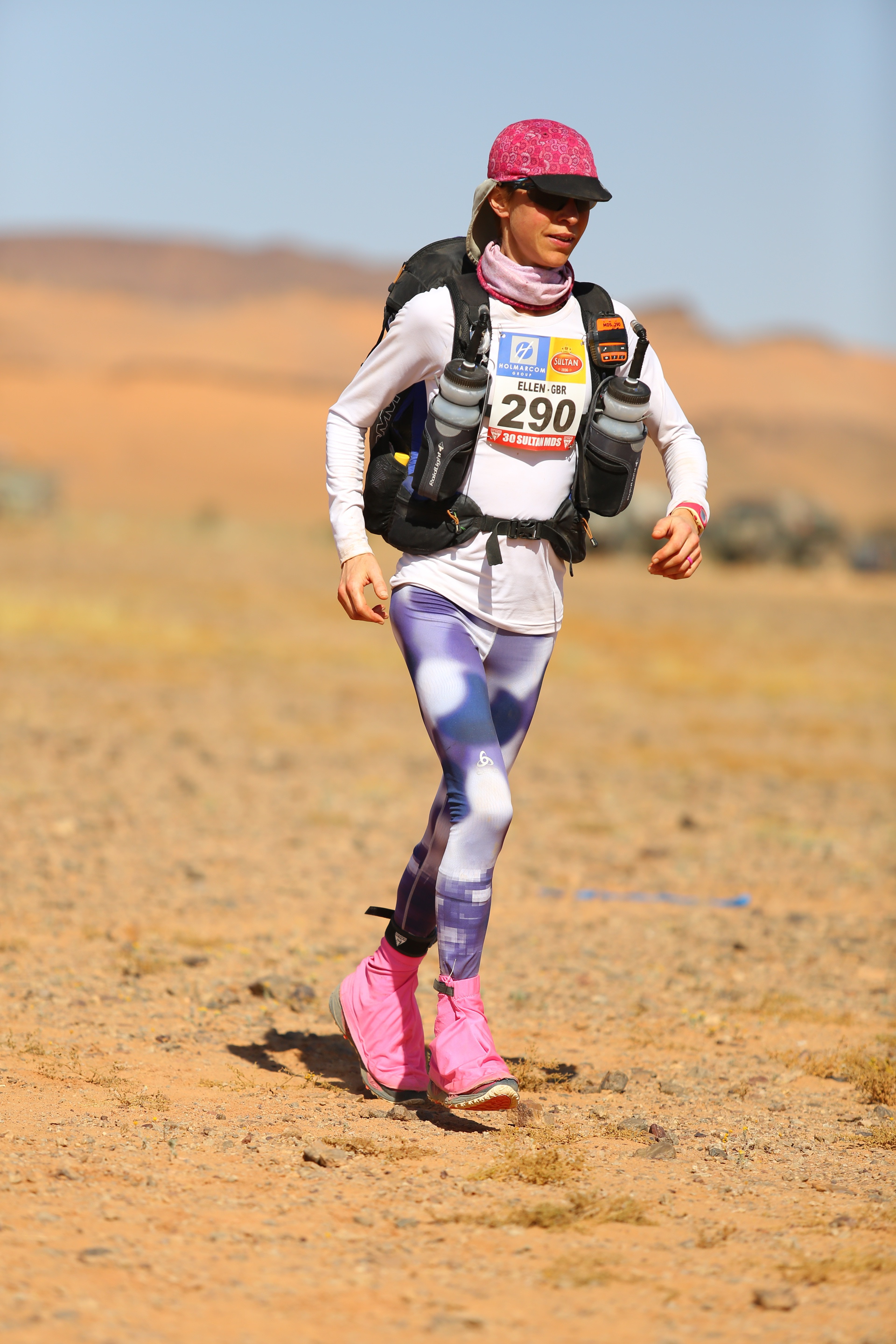 Ellen Goldsmith completed the Marathon Des Sables, known as the toughest footrace on earth, despite having coeliac disease. The 250km foot race in the Sahara required Ellen to be self sufficient during the challenge, and so she decided to make all of her own gluten-free food which was also lactose free due to Ellen also having lactose intolerance. Ellen completed the challenge after much dedicated training despite having her condition.
I felt exhilarated, restored of my confidence and passionate to continue my journey into ultra running.
Print page
Add to My Scrapbook