Challenges suitable for under 18s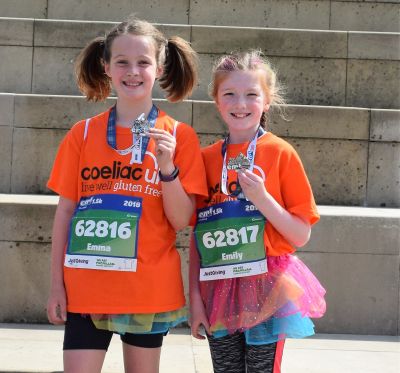 Many adult challenge events have a junior version specifically for under 18s, so if you're a young person looking for a fun way to raise vital funds for Coeliac UK, you can take part in one of our events or find your own one:
With your parent's permission, you can sign up for a place in one of these events and we can help you to fundraise for it; just let us know what you have signed up for! Please note that your parent or guardian will be required to register you for these events.

For more information on taking part in these events, or to request a fundraising pack, please contact fundraising@coeliac.org.uk, or call the Fundraising team on 01494 796724.

Frequently Asked Questions
Is it difficult to fundraise?
Getting involved in fundraising events and activities, no matter how small or large, can be a fantastic way to give back and raise funds for charity.
Larger events will take more time and effort to organise but smaller events can be easy to set up and run, so however big you're thinking please get in contact with our Fundraising Team to talk about what you'd like to do.
There are many ways you can fundraise without giving up a lot of your precious time and we are grateful for any time you are able to give.
Whether you're willing to supply your local supermarket with our collection tins, offer your help at a pre-planned event or even take on a challenge such as a half marathon, there are many ways you can get involved.
Contact our Fundraising Team to find out more about the ways you can give your time to fundraise for Coeliac UK.
How can Coeliac UK support my fundraising?
We are grateful to all of our fundraisers for taking the time to raise vital funds for Coeliac UK and to help you in your efforts, we can provide you with some key fundraising materials.
Whether you'd like a t-shirt sporting the Coeliac UK logo to wear at an event, a collection box, a banner, balloons, posters or anything else, please get in touch with our Fundraising Team and we'll be able to supply you with these.