Join the Coeliac UK Challenge
We achieved something great, together!
Thanks to everyone who took part on 19 - 20 September 2020 and helped us to complete our 2500km journey around the UK.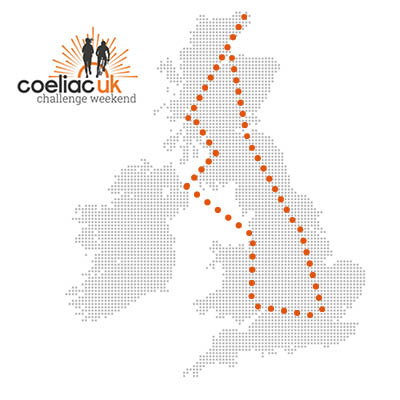 Your participation - and the money that you raised - is amazing so thank you to you and everyone who supported you. We need this income to continue our work to make sure no life is limited by gluten. Your involvement makes all the difference.
Over the weekend we had more than 150 supporters taking part across all areas of the UK. We are just pulling together all the numbers, stories and photos submitted by everyone and we hope to include some of these on this page so come back and see it soon..
The weekend was such a great expression of support that we hope we can do it again next year!
Why take on the challenge?
Every year, hundreds of our supporters take part in Challenge events such as the London 10K and Great North Run, raising thousands of pounds for Coeliac UK.
Due to coronavirus, we're expecting to lose 75% of the income we normally receive through Challenge events this year – that's £80,000 - which is why we're reaching out to our gluten free community for support.
By taking part in the Coeliac UK Challenge, you can ensure that Coeliac UK continues to be here for everyone who needs to live gluten free, today and tomorrow, whilst doing something great, together.