Your location: Home
Skydiving
Skydiving
Key information
Date: multiple to choose from
Location: multiple to choose from
Event type: skydive
Challenge level: moderate/challenging
Registration fee: £70
Minimum fundraising pledge: England and Wales - £395, Scotland and NI - £450
Experience the ultimate high by taking on the challenge of a lifetime for Coeliac UK!
Enjoy the amazing thrill that comes with free falling for thousands of feet at over 120mph on a skydive.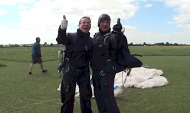 With skydiving sites throughout the UK and jumps taking place all year round (weather permitting), there is plenty of opportunity to take to the skies and raise vital funds for people with coeliac disease. All you need is a sense of adventure and the drive to raise a minimum sponsorship of £395.
Most people opt to jump in tandem, jumping from at least 10,000ft, while attached to a qualified professional skydiving instructor, but you can choose to jump alone.
Book your skydive today or email fundraising@coeliac.org.uk for the latest parachute jumping news.
Jump for free - all you need to do is raise £395. Once you have reached this goal Coeliac UK will pay the cost of the skydive and any extra sponsorship you raise will greatly be appreciated by us.
Print page
Add to My Scrapbook