Awareness Week activities
#ShineALightOnCoeliac
Shining a light is all about having fun and being as BRIGHT as you can be! And Coeliac UK is here with all sorts of activities and fun from 10-16 May:
Connect with friends and family: share gluten free recipes and experiences, as well as tips to avoid cross contamination. We're spreading the word that gluten causes pain and illness for people with coeliac disease. Check out our tools for children and young people for more information.
Enjoy eating out again safely at Gluten Free accredited venues
Daily competitions from the gluten free brands you love
Tasty gluten free recipes, including a cupcake cook-along with Coeliac UK Ambassador Jane Devonshire and our own gluten free pizza party
Share stories about living with coeliac disease to help raise awareness of the condition and what it takes to live gluten free
Raise £50,000 to give children and young people like Caitlin a better, healthier future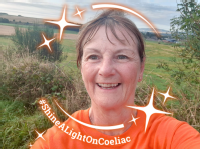 The more we come together, the brighter we shine and there really is something for everyone to enjoy this May. Whatever you do, make sure you shine brightly and spread the word on social media! Use our twibbon for your profile and help get #ShineALightOnCoeliac trending by sharing your story.
(Example of our #ShineALightOnCoeliac twibbon).
Join the challenge
Help us reach our £50,000 target by taking on a fundraising challenge. You can do whatever you like, just shine as brightly as you can and have fun! Here are some of our ideas:
Run, walk or cycle 50km
Spend 50 minutes per day skipping, hopping, hoola hooping
Create brightly coloured art inspired by your experiences with coeliac disease
Bake 50 gluten free cupcakes and decorate them so they sparkle!
Sign up now to get your pack – we've got printed or digital options to suit your budget.