Get involved this Awareness Week
Help shine a light on coeliac disease
When we all shine together, we can make a difference for the people who need us: the 1 in 100 people with coeliac disease and their families and friends too. So join in with the #ShineALightOnCoeliac challenge and help us spread the word. Using the theme of 100, choose how you want to shine a light and if you can, raise some funds along the way. Make your challenge as easy or as difficult as you like!
Why not get physical and do 100 press ups every day during Awareness Week? Or challenge yourself to swimming 100 lengths? You could even spend 100 seconds per day hula hooping! Whatever you choose, you can make a difference.
Or get busy in the kitchen: by baking 100 GF biscuits or decorating 100 dazzling GF cupcakes. You could even get the whole family together for a 100 question quiz if you like! Whatever you do, just make it bright.
Mythbusting and Q&A with coeliac disease specialist Cristian Costas (@coeliac_dietitian)
On Thursday 12 May at 6.30pm, join coeliac disease specialist dietitian Cristian Costas for a Facebook live chat focusing on popular myths about gluten free and coeliac disease. Plus, take the opportunity to ask any questions you have about your condition and diet.
Becky Excell and Jane Devonshire's 100 in 100 challenge
Our amazing ambassadors Becky Excell and Jane Devonshire got involved with the challenge LIVE on Facebook on Monday 9 May. They answered 100 questions from our community in 100 minutes! There were also 10 fantastic prizes up for grabs on Monday, including a gluten free tasting menu for 2 with wine at Indigo at One Aldwych*.
*Over 18's only, T&C's apply
Spread the word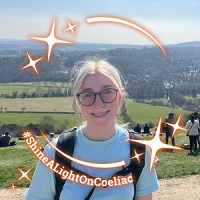 And don't forget to raise awareness on social media. Tell your coeliac disease story using #ShineALightOnCoeliac and share our posts to reach as many people as possible! Remember to tag us @CoeliacUK so we can support you. Add our Twibbon to your profile picture.
By doing all this, not only can we help more people understand coeliac disease, but also raise £100,000 to support those who need us most.