Your Stories
Thank you to everyone who has shared their story with us to help #ShineALightOnCoeliac. Why don't you join in too and post yours on social media? Make sure you tag us on Facebook, Instagram and Twitter.
Check out the information on the links below that we've created especially to help children, young people and their parents live well gluten free.
Ellie, 19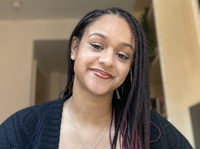 "Having coeliac disease made me self-conscious growing up as I didn't want to appear to be high maintenance. It can be awkward explaining why you need a 'special' diet and a lot of people don't understand cross contamination, which was difficult at school in cooking lessons. But awareness has risen in recent years and Coeliac UK have really helped with that. It helps me feel more confident talking about my needs. Now I'm at university, I know the importance of not being afraid about checking with places if they can really offer safe gluten free food. I would recommend everyone to be assertive and speak up! The more awareness there is about coeliac disease and gluten free, the better it will be for our whole community."
#ShineALightOnCoeliac is all about raising awareness and funds to help our community. Find out how you can get involved and join the challenge.
Dan, 24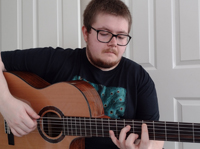 "I was diagnosed with coeliac disease when I was at university. I found living gluten free difficult and quite stressful at first. I used to be especially anxious about going to restaurants. But over the last couple of years it's gotten much easier. I feel confident I can eat out safely with my friends at Coeliac UK's GF accredited venues and not stand out as being the 'difficult' one. I'm actually really looking forward to restaurants opening up again after the lockdown. I'm in a band and will hopefully be going to gigs, so will be using the Gluten Free on the Move app to check for GF accredited restaurants."
Toby, 8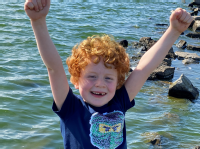 "I felt different to everyone else, so it was important to talk to my friends and school about my coeliac disease. Information from Coeliac UK helped me and my parents explain things to them more easily and now they understand how important my gluten free diet is. I'd love to find somewhere where I know all the food is safe for me to eat."
Lauren, 19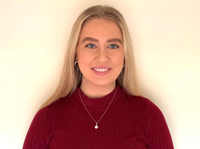 "When I started university, I had the responsibility of maintaining my gluten free diet on my own for the first time. It was tough. I wanted to fit in with my new friends and was scared to stand out as different. It's not easy to tell people not to use your toaster or butter when you've just met them, especially after a student night out! When I did find venues that said they were gluten free I was always worried if they understood about cross contamination. But going to Coeliac UK's GF accredited venues is so reassuring. You can feel confident they understand how to provide safe gluten free food and it makes socialising so much easier."
You'll find safe, gluten free options on the menu at over 3,000 Gluten Free accredited venues across the UK on our Venue Guide or by using our award winning Gluten Free on the Move app. Find out more about Gluten Free Accreditation.
Caitlin, 11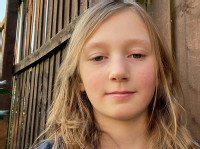 "When I was first diagnosed at 5 years old, I had no idea what it meant, I was just sad I couldn't eat my favourite foods anymore. Coeliac UK helped me understand what I can and can't eat, which helped me feel happier and more confident. They also have a Young Champions pack which helped me explain my coeliac disease to my friends so that they understand me too. I like raising money to help others like me feel better in the future. I have done sponsored walks and lots of other activities. Thank you Coeliac UK for helping me, I'll definitely keep raising money for you."
Lucy, 18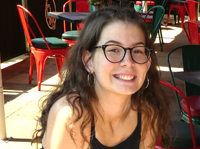 "Having coeliac disease can make things harder when you can't join in and enjoy things with everyone else. It was tough at school. The only gluten free meal they could offer me was a jacket potato – every day! So I always had to take in packed lunches even though I wanted to have the same or similar meals to my friends. I also missed out when people brought in treats for special occasions. It doesn't help when you're not sure what's gluten free, especially when brands change recipes for certain products.
"But Coeliac UK has been the most helpful thing ever! Now I know what's gluten free and have a trustworthy source for the latest advice. Without their advice I'd struggle with my diet. My friends have also been very supportive and check with me about venues that can offer safe gluten free options. It's totally fantastic to have more choice these days – things have improved so much since I was little."
We have lots of resources to help family or friends understand coeliac disease and the gluten free diet. Why not start by checking out our handy gluten free checklist and supporting a child with coeliac disease leaflet?
Archie, 15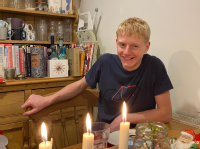 "When I was first diagnosed, the gluten free diet took some getting used to! My parents heard about Coeliac UK and we joined with a family membership. It was so useful to have somewhere to go to find out more information, and the Food and Drink Guide was really helpful for mum and dad when they were doing the food shopping. We also really enjoy the recipes that come in the magazine and reading about new research taking place into coeliac disease. We use the Gluten Free Food Checker app to scan ingredients in a supermarket and Gluten Free on the Move look for places where we can eat out safely, which makes things much easier! We also used one of the travel guides when we went away to Italy."
Aged 18-30? Connect with other young people with coeliac disease via Gluten Free Under Thirties (GUTs), which provides information and support through their social media channels.
Felix, 7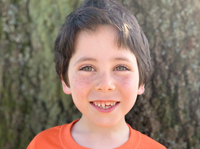 "Since not eating gluten I feel so much better, so I don't worry too much about not being able to eat some of the things I liked before. But it is really important to feel included at school – I'd be sad to be left out. Luckily my school has been great. Zoe, who does the catering, has been really kind to me. She makes sure I get a gluten free school lunch, with all the foods I love, and I can queue up and sit with my friends! She even changed the gravy for the whole school so I can have the same as everyone else when we have roast dinner. It's my favourite! There are lots of things I can't eat, but still lots I can. And anyway - most ice cream is gluten free!!!"
Olivia, 9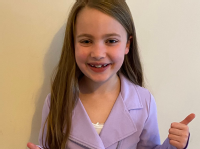 "Social events and school can sometimes be tricky when you've got coeliac disease. If someone brings in treats that aren't safe, you can feel left out. Coeliac UK offers a Young Champions pack which helped raise awareness with pupils and teachers at school. There are also loads of useful links on the Coeliac UK Website to help families, including info packs for schools, letters to teachers, and healthcare plans. This was so helpful for our family! School is much easier now. To give back we fundraise for Coeliac UK. Mummy and daddy do their Gluten Free Lottery every month, and I also did a fundraiser which raised over £500. I'm very proud of that!"
Our free school information packs are designed to help schools manage your child's condition effectively, wherever you live in the UK. Find out more here.
Lucy, 11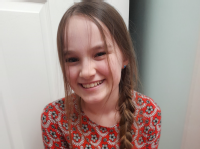 "Living gluten free is hard sometimes, like special events at school when I can't have the same as everyone else, or having to explain why I need a 'special' menu. I also like trying new things so eating out can stress me out when I don't have as many options to choose from. Lockdown actually made things easier in a way – eating at home all the time meant I didn't need to worry as much. Raising awareness with Coeliac UK has also really helped me over the years. I have done presentations to my class at school, handed out leaflets and held gluten free tea parties with my friends. I helped provide content and activities for the Young Champions pack when it was first released, too. I used it at school and even did a presentation in assembly! It made things easier and helped people understand how gluten affects me."
Our Young Champions pack aims to give anyone aged 5 to 11 the confidence to talk about their coeliac disease. Find out more here.
Charlotte, 19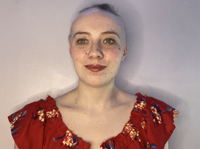 "I've had a tough time with coeliac disease after being diagnosed at 14 through a regular screening for my type 1 diabetes, another autoimmune disease. Even though my family was supportive I struggled big time at school. I was bullied really badly and accused of attention seeking by students and teachers. When the canteen finally took it seriously, I was served first to avoid any cross contamination. That just led to accusations of queue jumping and preferential treatment. The bullying got worse and worse so in the end I had to move schools – now a brighter future is in sight! My friends are supportive of me and my gluten free diet. And I absolutely love my new college, where the kitchen has plenty of gluten free choices. It has helped to have advice and tips from Coeliac UK as well, especially to manage both coeliac disease and type 1 diabetes."
We've put our resources for children and young people in one place for you. Go to our Information and tools page to find out more.