Your location: Home
Donate by text message
Donate by text message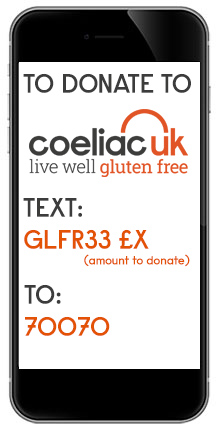 Support Coeliac UK in raising funds by using JustTextGiving by Vodafone
This free service has no set up or fundraising costs, no network charges and every penny donated comes directly to us. Gift Aid can also be added to this donation.
Supporters of Coeliac UK can make donations of up to £10 by texting GLFR33 and either £1, £2, £3, £4, £5 or £10 to 70070. The amount will be added to your bill.
This is a wonderful way for us to raise money - it's speedy, simple and spontaneous. Thank you so much for your support.
Print page
Add to My Scrapbook