Your location: Home
Féaron on creating a support network for our younger Members
Féaron on creating a support network for our younger Members
Féaron Cassidy was the Group Organiser of the Coeliac UK Gluten-free Under Thirties (GUTs) group for three years. She explains how the network is an important way for young adults to support each other.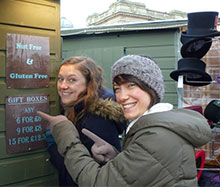 After I was diagnosed in June 2012, I joined Coeliac UK right away.
It was all really overwhelming but I was so relieved to find Coeliac UK had clear, simple information. Once I had become confident with the gluten-free diet, I noticed young people joining Coeliac UK's Facebook group and that they were are as worried as I was when I was first diagnosed.
I felt I wanted to be involved in telling people: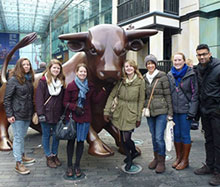 It's ok, you can trust people, you can eat out, you can eat pizza in Italy and a burger in a diner and in patisseries in Paris – you just have to do a bit more research than other people!
It's a bit weird asking for advice about going on a first date or moving into halls or starting a new job when you're at a tea and cake morning - so Gluten-free Under Thirties (GUTs) provide a more gluten-free beer and pizza type environment!
It has been so rewarding to make a difference in people's lives and meeting others who have made such a contribution, both in the committee and also from other Members.
Aged 18 to 30?
If you would like to join Coeliac UK GUTs, visit their webpage and join their Facebook Group.
Print page
Add to My Scrapbook