Your location: Home
Case studies
Case studies
Phillipa Ellen Hempstall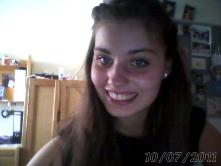 Age at diagnosis: 11
Time taken for diagnosis: 2 years
Before diagnosis I was extremely underweight and experiencing severe tummy pains, mouth ulcers and lack of growth which doctors continued to misdiagnosis as 'tummy migraines' and 'possible irritable bowel syndrome'. It wasn't until my tummy pains got worse and stunted growth became more obvious that doctors admitted me to hospital with malnutrition and I was tested for coeliac disease, which was confirmed by a biopsy and endoscopy.
At first the thought of changing my diet was daunting and I found it particularly hard at parties and gatherings where there was food available which I couldn't eat, often leaving me feeling left out. However as I have grown I have learned to enjoy my diet. My family have become accustomed to the gluten-free way of life and I loves to bake gluten-free cakes, breads and savoury snacks with my mum. It is really reassuring to see so many more restaurants providing gluten-free options as awareness is raised!
Since diagnosis and starting the gluten-free diet I have much more energy and my tummy pains have completely vanished!
Jack Campbell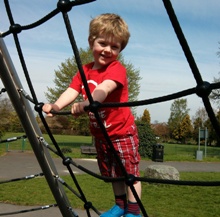 Age at diagnosis: 2.5
Time taken for diagnosis: 6 months
Jack experienced various symptoms including low energy levels, irritability, problems with his teeth, random sickness and diarrhoea. Luckily Jack's diagnosis process was quick, our doctor was determined to get to the root of Jack's anaemia so ran routine blood tests, including a test for coeliac disease. After the diagnosis and within two weeks of him going gluten-free, his development changed dramatically. His energy levels were boosted and the difference in his vocabulary was incredible. At first we carried lots of gluten-free snacks out with us for fear of him missing out, and we found it all a bit daunting, but now we know where to go and always look for a cafe that serves jacket potatoes if we're stuck! We're very happy about the gluten-free options at ASK, Pizza Hut, Prezzo which helps with family outings and for when Jack's older.
Jack has taken to his diet really well. He tells people he has a 'special tummy' and always checks with us before he eats anything. We have tried to make our kitchen safe so it's easier for everyone. He goes to nursery 4 days a week who have been brilliant at accommodating his diet too.
Dan Baines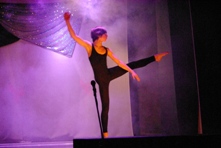 Age at diagnosis: 8
Time taken for diagnosis: 5 years
Dan experienced numerous symptoms before diagnosis including lethargy, bloating and projectile vomiting. He turned almost overnight from a very happy baby to a grumpy toddler! He became a very fussy eater and would not walk anywhere.
We visited the doctors on a number of occasions and were told he was anaemic but other than that they couldn't find anything wrong. We finally saw a different GP who suggested coeliac disease straightaway; at about the same time I had read a small article in Sainsbury's magazine about coeliac disease and was going to mention it to the doctor! A blood test was done which was followed shortly afterwards by an intestinal biopsy, confirming that Dan had coeliac disease. Since being gluten-free Dan has grown in stature and has boundless amounts of energy. He is a keen contemporary, street and break dancer as well as a member of our local football team so consequently is very rarely still. We would never have imagined him being able to be so active before his diagnosis.
It is difficult for Dan to go to new friends' houses for tea although many existing friends are keen to help and have stocks of gluten-free biscuits and fish fingers in case he visits. Dan is a typical teenager and just wants to be the same as his friends. Having to think so carefully about his diet means he does feel different and he gets quite upset about this at times. As a mum I would do anything to make his life easier and I spend a lot of my time visiting different supermarkets to ensure we can get all his favourite gluten-free things. I enjoy cooking from scratch so we experiment with lots of recipes and there are not many things that we can't make gluten-free with a bit of effort.
Without Coeliac UK we could not have managed at all. They are an invaluable source of ALL our information and we know that they raise awareness and because of this more people now know what gluten free-means even if they can't always provide a gluten-free service.
The work done by Coeliac UK with a number of restaurant chains such as Pizza Hut, PizzaExpress, Ask and Dominos have made eating out and socialising much easier for all of us. Prior to these chains offering NGCI meals if we planned to eat out it involved a large amount of research before we visited new places as well as a huge amount of questioning when we arrived at the venue. Now we know that in most major towns and cities there will be one or more choices of places where we can stop to eat without prior planning. It also means that Dan is able to enjoy social occasions with his friends without having to miss out on things like birthday parties or eating out after a cinema visit.

Amber Langdown
Age at diagnosis: 1
Time taken for diagnosis: Two months
At around 12 months old, Amber began to become slightly withdrawn and tired more often than she had been previously. By 14 months, she was being sick almost every other day and began to lose weight, becoming more withdrawn and tired, preferring to be held and watch over children play rather than join in. It took two months of appointments at the local GP, followed by an appointment at Bristol Children's hospital to get a diagnosis. A blood test was taken which indicated coeliac disease (the first time we had heard of it). This was followed by a biopsy at the hospital to confirm the diagnosis.
She had the biopsy at 18 months, and following this was admitted to the hospital for almost a week as her immune system was so low and her weight had dropped. As soon as we had the results back from the biopsy, we switched Amber to a gluten-free diet.

Even before Amber had the biopsy, we registered with Coeliac UK and have been amazed at the help and information which has been provided. Amber is just over two now, and we haven't explained what she has yet, but the booklet for children has given me confidence.

At home, my husband and I are also gluten-free to enable Amber to have the confidence to share food with us, and this is the same when we eat out together as a family. This will continue for our next child too, due in June.

Everything we eat is now homemade where possible, encouraging us all to eat well. We have also become more aware of the content of food, and food labelling – this has changed the way we have shopped (less in supermarkets) and eaten out, being lucky to live in Bristol where there are a number of alternative choices to the large supermarkets and becoming more experimental with different options for baking. The GP has been great in allowing us to change amber's prescriptions as we adjust and her tastes and dietary needs change.

Eating out has always been a big part of our lives, from before Amber was born and up to the diagnosis and we feared that this would change - it has changed, but made us more open to the options that are out there and the different types of places we can visit. By slightly adapting our lifestyle and making more preparations before any trip, we are slowly becoming more confident with eating out and travelling.

We have even managed to take Amber away to Italy and found gluten-free pizza and pasta to eat and found the attitude to coeliac and gluten-free food preparation really welcoming and encouraging, it wasn't seen as a major concern and most places would be happy to provide alternative options for us.

Eating out is still a concern if we are somewhere new or different – so far we have found that there are some places which are really good, and most will check with the chef but we still find there is cross infection which is hard to trace. We have found a number of places that label items such as cake, as gluten-free, but they then use the same knifes to cut the cake / aren't wearing gloves to handle the food - we then have to explain that may no longer be gluten-free which isn't always understood. With wheat / gluten-free seen as a lifestyle choice for some, I get the impression that the variety of gluten-free options becoming available is more to do with this development, rather than cafes and restaurants really understanding and training staff into recognising the seriousness of coeliac disease.

Amber still has some days where she is bloated or appears to have eaten gluten. She is at a nursery which is excellent at catering for her but also at an age where children don't constantly wash their hands before or after playing with toys and eating, then sharing and putting things in their mouths, and it is horrible to know when she is in pain and that there is something that I could have done to prevent this.
Overall the difference in Amber has been amazing! It makes any of the concerns, worries and hassle with eating disappear knowing that we have an energetic and healthy two year old running around with complete energy and that makes everything worthwhile. We are really grateful to the support received from family and friends as we have made the adjustments over the last year.

Coeliac UK have been brilliant in opening our eyes to the amount of information available, from product details, alternative options and the recipes. From having no awareness when she was diagnosed to now, we have a lot more confidence in helping Amber to choose her foods wisely as she grows up. It great to know that there is a helpline I can turn to when we struggle, as I am sure we will at times. It has also been great to give us the knowledge of the disease and be able to explain it to friends and family.
Imogen Turner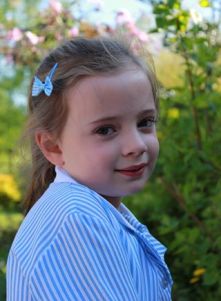 Age at diagnosis: 1
Time taken for diagnosis: Less than 1 year
From 12 months onwards Imogen was not gaining weight and experienced delayed physical development (not walking), lethargy, bouts of diarrhoea, bloated stomach, and was picking up lots of other infections.
Unfortunately we experienced some problems with the diagnosis process. Initially symptoms were explained as being due to teething, immunisations, starting nursery etc. Imogen was eventually referred to a paediatrician aged 18months, but was hospitalised before we ever got an appointment.
Imogen had contracted flu and due to compromised immune system she was not able to fight off the virus and it was affecting her bone marrow and ability to produce blood cells. She was in Great Ormond Street hospital for 2 weeks. She had to have blood transfusions and a bone marrow biopsy to rule out blood cancer, and once they had diagnosed and treated the flu they started looking for underlying causes of her compromised immune system. After investigations for various serious conditions she was finally diagnosed with coeliac disease.
It was such a relief to get a diagnosis, and to rule out some of the more serious conditions, Following diagnosis, and after following a gluten-free diet for just a few days Imogen started to improve dramatically and has really gone from strength to strength ever since. She is now 5 and is a perfectly normal healthy child.
Imogen is now at school and I just send her food. They are generally good, but we have had a couple of 'accidents' where she has been given food she shouldn't have had. Imogen is very sensitive to gluten so both times this has resulted in her being very sick at school.
Birthday parties are always a bit of a challenge, I always take her own food to make sure she doesn't feel left out.
Imogen is now a 'normal' weight and height, and is able to do everything that a child her age should. We find following the diet no problem, she is a very good eater and probably has a more healthy diet than most children.
Print page
Add to My Scrapbook