Your location: Home
What is GF catering accreditation?
What is GF catering accreditation?
What does the GF symbol mean?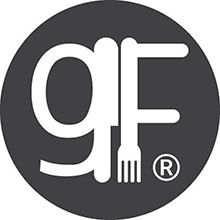 When you see the Coeliac UK GF logo you know that the restaurant is adhering to the Gluten free standard. The standard covers all aspects of gluten free preparation as well as ensuring training is in place. To make sure that caterers are doing things properly they are subject to an audit programme by an independent auditing company.
The GF symbol on a menu tells you that the dish is gluten free according to the law and that the caterer meets all aspects of the Gluten free standard.
These include:
Knowledge of the law – caterers must know about the laws on gluten free and general food safety.
Choosing and using the right ingredients – making sure caterers know the right ingredients to use, and ensuring they are using reputable suppliers.
Storage – ingredients and finished dishes are stored correctly to avoid cross contamination.
Preparation – cross contamination risk is controlled at all stages of preparation, for example using clean oil for frying, clean water for boiling, clean surfaces.
Cleaning – clean utensils and surfaces.
Personal hygiene – hands washed between use of gluten containing and gluten free ingredients.
Communication – there must be a system in place to ensure that customers are provided with correct information.
Training – Training must be provided for all staff on all aspects of preparation and serving of gluten free food.
Quality assurance – caterers must ensure that processes, documentation and training are kept up to date and carry out regular internal checks.
Complaints – customer complaints must be logged and investigated with reference to procedures in place.
Find out more about how the scheme is monitored.
Who is accredited?
Find a list of catering establishments we are working with.
How do caterers become accredited?
If you are a caterer interested in providing gluten free meals you can find information on accrediting your business in our Food Industry Professionals area.
Print page
Add to My Scrapbook